Our Top Rated Whirlpool Microwave
Our favourite Whirlpool microwave is the Whirlpool Max 35 with steam function. It's a great looking microwave with a rounded back to save space. It also comes with a steam function for healthier cooking, jet defrost, touch control buttons and is available in a range of colours.

Please note: Whirlpool microwaves can be difficult to get hold of, but they are sometimes available.
Whirlpool are probably the most innovative of all microwave manufacturers. Their Max 35 and Max 38 series break the standard rectangular microwave design, and also introduce an array of new features and functions. Take a look at all of our Whirlpool reviews below, including specifications and user opinions.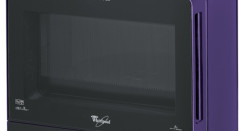 The Max 35 series isn't easy to find anymore, so if you need a 23 litre microwave consider the Russell Hobbs RHM2362S instead. Click here for the latest RHM2362S price. The Whirlpool Max 35 solo and steam purple microwave is one of the most eye catching appliances on the market at the moment. With...
Full Review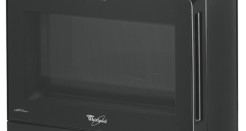 The Whirlpool Max 35 is, unfortunately, hard to find these days unless you buy second-hand (although this may change in the future). Our recommendation for an alternative 23 litre microwave is the Russell Hobbs RHM2362S. Click here to view its price. The Whirlpool Max 35 Black microwave has the same features as...
Full Review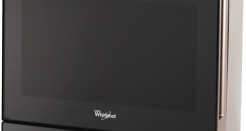 Very few places sell this microwave anymore – but if you're looking for a small microwave, the Daewoo QT1 is an excellent alternative. It's 14 litres and has a small profile (although no grill) – click here for the latest price for the QT1. The Whirlpool Max109 Limited Edition...
Full Review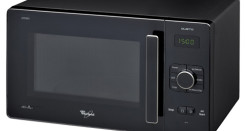 This model isn't easy to find anymore. If you're looking for a grill microwave, the Russell Hobbs RHM2031 is a good alternative. Click here to view its price. The Whirlpool GT285BL Gusto microwave is an interesting new model that looks fantastic. With its heavily rounded corners, pure black design and...
Full Review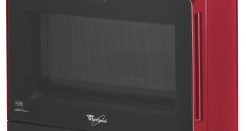 Unfortunately, the Whirlpool Max 35 range isn't widely available anymore. The Russell Hobbs RHM2362S is a good alternative if you want a 23 litre model, although it doesn't have the rounded design. Click here for the price of the RHM2362S. The Whirlpool Max 35 red solo and steam microwave is one...
Full Review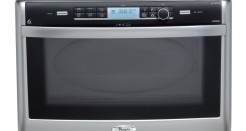 The Whirlpool Jet Chef 31L 1000W JT366 SL microwave with a grill and crisp function is certainly a model that's built for versatility. With its large interior capacity, fast cooking speed and range of unique functions, the Jet Chef is completely different to the company's popular Max series of...
Full Review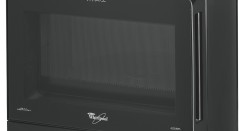 The Whirlpool Max 38 Crisp microwave is the bigger brother of the excellent Whirlpool 35. It features a similar design, and includes a range of unique features. The stand out element of the Max 38 is its unique crisp system, which browns crisps without needing oil or fat. Keep...
Full Review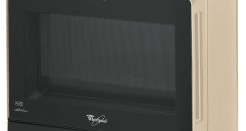 The Whirlpool Max 35 solo and steam microwave, with cream colour scheme, has to be one of the strangest looking models we've reviewed. It also has some of the most interesting and innovative features. But does this mix of new design and technology combine into something truly useful? Or are you better off sticking with a regular microwave? Keep reading our Whirlpool Max 35 review to find out!
Full Review