Our #1 Red Microwave
The Russell Hobbs RHMM701R microwave is our favourite red model on the market. It's stylish – it will look great in almost any kitchen – and also has 700W power for relatively fast cooking.
Which are the Best Red Microwave Ovens of 2017?
Red is a fantastic colour for a home appliance. The best red microwaves provide a splash of colour while cooking food quickly, evenly and efficiently. They also provide excellent value for money.
The bad news is there aren't too many microwaves available in this colour. We certainly think there should be more! Fortunately, there are several stylish and highly functional red models on the market this year, so take a look at our reviews and price comparisons below.
How to Choose a Red Microwave Oven
Choosing a microwave is difficult, but if you know you want red the lack of options makes the process much easier. Even so, it's important to get an oven that meets your requirements. Here's a quick overview of things to look out for:
Type – Most red ovens are solo microwaves. These can cook, reheat and defrost food. If you want to brown or crisp, however, you'll struggle to find a red grill microwave. The only option we're currently aware of is the Swan SM22080RN, which is a relatively new model (although feedback from buyers so far appears to be favourable).
Capacity – If you have a large family, it's important to buy a microwave with a big capacity. The average capacity is around 20 litres. Anything less than this is considered a small microwave, while anything above could be considered large. For serious cooking for more than 2-3 people, we recommend buying at least a 23 litre model – preferably more.
Power – Higher power means faster cooking…at least in most cases. 800W microwaves are suitable for basic reheating and cooking. Anything less usually cooks slower but will often be less expensive. The limited options when buying a red microwave oven mean that you may need to choose a 700W model, such as our top recommendation (Russell Hobbs RHMM701R).
Aside from these factors, you also need to consider your budget. How much do you want to spend? And how much can you actually afford? We always recommend choosing quality instead of buying a cheap red microwave just to save money, but you still need to stay within your budget.
Which Companies Manufacture Red Microwaves?
There are a few companies who currently manufacture red versions of certain microwaves. Russell Hobbs and Swan are two excellent examples.
Whirlpool was another favourite, but as of 2017 they appear to only manufacture built-in microwaves. We've left reviews of this company up though, as they may be useful if you're looking for a second-hand red microwave.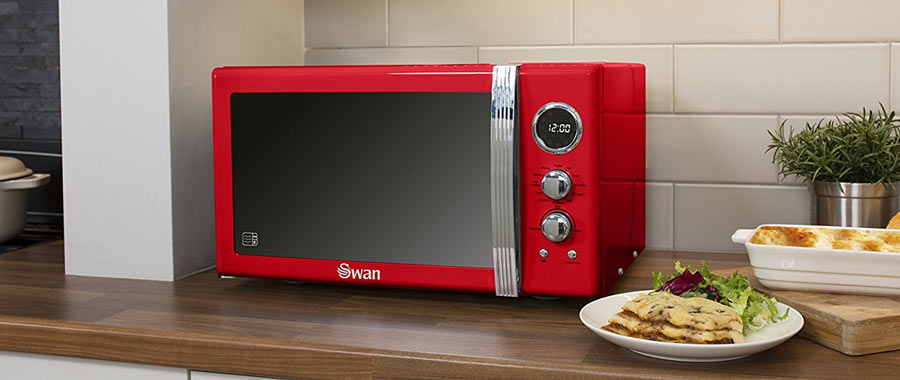 Who Should Buy A Red Oven?
The answer is: anyone who wants to liven up their kitchen decor! These microwaves usually stand out much more than black or white models, and are perfect for adding a splash of colour to a kitchen work surface. Not everyone is a fan, but red often looks particularly good in retro kitchens. That's why companies such as Swan are producing retro red microwaves that mimic the style of American 60's diners.
You shouldn't buy a microwave just because of its colour though. While red microwaves are attractive, there aren't too many models on the market at the moment. Make sure you carefully read the features and limitations of each microwave before making a decision.
Listed below are all of the red microwaves we've reviewed so far. Whenever we review a new red model, we'll add it to this list, so make sure you check back regularly for the latest reviews.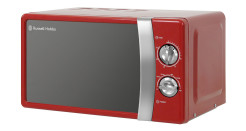 The Russell Hobbs RHMM701R red microwave is a stylish model from one of the UK's most well known kitchen appliance brands. It's designed to be perfect for basic, everyday microwave cooking, with a 17L interior capacity and 700W power. Keep reading to find out whether it's worth the money –...
Full Review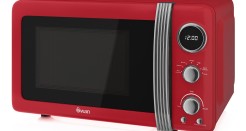 If you're looking for a microwave with more style than the average sleek design, then look no further! The Swan Retro is designed to bring back memories of days gone by – but that doesn't mean it's not a capable microwave too. Keep reading for more information about this...
Full Review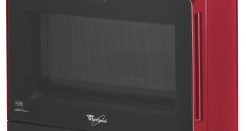 Unfortunately, the Whirlpool Max 35 range isn't widely available anymore. The Russell Hobbs RHM2362S is a good alternative if you want a 23 litre model, although it doesn't have the rounded design. Click here for the price of the RHM2362S. The Whirlpool Max 35 red solo and steam microwave is one...
Full Review
The Russell Hobbs Heritage RHM2064R microwave oven (red) is one of the most unique and interesting machines on the market today. It's designed to follow modern design trends, with an exterior that's packed with curves and a bright, bold red colour scheme. Aside from its appearance, the Russell Hobbs RHM2064R also comes with five different power levels, auto cooking menus and a 20L capacity.
Full Review
The red Daewoo KOR6N9RR microwave oven is an attractive model with a range of features. It's a solo, 800W microwave that's relatively compact. At the time of writing, the microwave cost around £60, although this price regularly changes. The Daewoo KOR6N9RR red touch control solo microwave comes with a number of useful features. With auto defrost, auto cook and one touch cook menus, you should have more than enough options for cooking a wide range of different foods.
Full Review