Cheap Microwaves – Guide To Buying A Cheap Microwave in 2018
Buying a cheap microwave isn't difficult. Just walk into any supermarket and you'll find microwaves for less than £30. Finding a cheap microwave that has all the features you need is a different matter! MicrowaveReview.co.uk has put together this guide to finding a cheap microwave to help you get the most for your money.
What To Look For In A Cheap Microwave
There are a number of factors you need to consider before buying any microwave. These include:
Size
The size of the microwave really does matter. This is a trade-off between minimising surface space and maximising the cavity size. As a general rule, the more people in your household the bigger the microwave needs to be to hold large dishes. If you live on your own, a smaller microwave may be a suitable option, and these are often cheaper.
Power
The wattage of a microwave is probably the second most important factor. As a general rule, the higher the power rating the quicker foods cook. 600W microwaves, such as the Daewoo QT1, are often cheaper but lack the power to cook food quickly. 1000W microwaves can cook rapidly, and food is often heated more evenly.
Cooking Menus
Features such as automatic defrost aren't essential, but are useful to have. Auto cook menus take a lot of the guesswork out of microwave cooking.
If you're on a tight budget, you usually need to sacrifice one of these areas. The size of the microwave is probably the most important factor – there's no point buying a tiny microwave if you want to use it for your entire family. Most cheap microwave ovens have a relatively low power rating, but this isn't a problem as long as you don't mind waiting a bit longer for your food.
Keep in mind that a microwave should last around 10 years before needing to be replaced. It may make more sense to pay a bit more for a microwave that has all the features you want, rather than choosing the cheapest and having to replace it in the near future.
Many of the microwaves available for £50-£70 provide excellent performance, features and a high wattage, so these are the ones we recommend.
Examples of Cheap Microwaves
Please note: the prices listed here were correct at the time of writing but can change at any time. MicrowaveReview.co.uk is not responsible for any changes in prices as these are out of our control.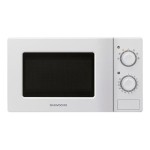 Daewoo KOR6L77 Microwave Oven

The Daewoo KOR6L77 microwave is a simple model that's available for an excellent price. It comes with a 20L capacity – which is enough for most small-medium dinner plates. It's also a 700W microwave which means that it cooks food faster than cheaper models with only 600W power. While the KOR6L77 isn't the most stylish on the market, it's a solid microwave that provides great value.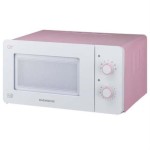 Daewoo QT3 Compact Microwave
This is the perfect option if you need a simple, inexpensive microwave that looks fantastic. The Daewoo QT3 is a compact model, meaning it doesn't take up much space on the work surface. Despite the price tag, we think the QT3 is one of the best looking microwaves on the market and it's available for an excellent price.
We gave the Akai A24002 a rating of four stars because it provides excellent value. Costing less than many other solo microwaves, it still has a 20L capacity and impressive 800W power ouput. Other features include automatic cooking programs, extended warranty and six power levels. Considering the price, the Akai is one of the best cheap microwaves of 2015.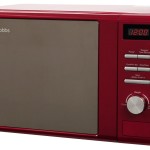 Russell Hobbs RHM2064R Microwave
If your budget can stretch a little further then the RHM2064R is an excellent choice. We awarded it 4.5 out of 5 stars, mainly due to its stylish design and excellent price tag. It doesn't have the features of more expensive models, but certainly doesn't look like a budget microwave. It also has an automatic defrost section which can be very handy.
Non Branded Microwaves
There are also "non brand" microwaves. These can often be bought in supermarkets or online for very cheap prices (less than £30 in some cases). While these are often lacking in features and power – many cheap microwaves don't even come with a digital display – they do the job if you just use your microwave for occasionally reheating food.
When Should You Replace A Microwave?
As we mentioned earlier, a high quality microwave should last around 10 years. Cheaper microwaves may not be as reliable, but should still last a reasonable length of time. You typically only need to replace a microwave if it breaks or doesn't have all the features you need. If the seal around the edge of the food is broken ors showing defects then you should replace the microwave though.
Last updated: 02/11/2015