Our #1 White Microwave
Our #1 rated white microwave at the moment is the Russell Hobbs RHM2079A 20L. It's one of the best looking microwaves on the market, and comes with a range of functions such as 5 power levels and auto cook menus. If you're looking for a white solo microwave, this is a good option.
White microwaves range from safe and simple to sleek and modern, depending on the brand and model. We've reviewed a large number of white microwaves, including combination, solo and grill models. Take a look at our reviews of white models below, including price comparisons and buyers opinions.
Who Should Buy a White Microwave?
The simple answer is that a white microwave is a good choice for almost any situation. The completely neutral colour means that these models are suited to nearly all kitchen decors, and white is often associated with a contemporary appearance.
There are some exceptions though. The style of an individual microwave matters a lot when looking for a white model. Some of the "Apple-esque" sleek white appearance, while others look dull and unappealing.
The great thing about choosing a white model is that you have such a large range of options. Whether you're looking for a large combination microwave, or just a basic solo model, there's almost certainly a white microwave that fits your requirements. The same can't be said for less common colours, such as green or purple.
Most microwave manufacturers produce white models, including Kenwood, Panasonic and Daewoo. We've listed all the white models we've reviewed so far below, so take your time and browse through them to see if there's one that fits your personal requirements. Each microwave has a list of features, buyer reviews and price comparison to help you make the right decision.
The Bosch HMT84M421B microwave is a relatively simple looking model – but it has a number of interesting features. It's also highly rated by buyers. In this article, we'll look at the features of the HMT84M421B and dive deeper into how reviewers rate the product. Bosch HMT84M421B Bosch HMT84M421B Bosch HMT84M421B...
Full Review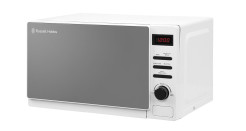 There aren't too many microwaves that make us say "wow" when we first see them. But the Russell Hobbs RHM2079A is certainly one of them. With its stylish, interesting white design, the microwave is sure to stand out from your other appliances. But what about its features? And do buyers...
Full Review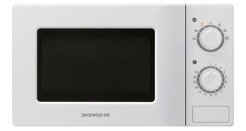 The Daewoo KOR6L77 isn't a microwave that's going to stun guests with a beautiful or unique design. But, considering the low price, it has a relatively large capacity (20L) and some useful features – including five power levels. Is the KOR6L77 a microwave you should consider buying? And what do reviewers think of...
Full Review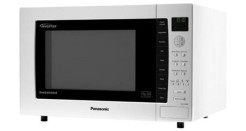 Most retailers no longer sell this model, but the Panasonic NN-CF778SBPQ is a 27 litre model that's a great alternative (although slightly smaller). Click here to see its price. The Panasonic NN-CT870WBPQ 32L white combination microwave is a powerful and attractive model that's designed for serious cooks. With 1000W microwave power...
Full Review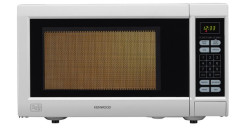 The K25MW12 is no longer sold on many shopping sites, but the Russell Hobbs RHM2563 is a great option if you need a 25 litre model. Click here to see the latest price. The Kenwood K25MW12 white microwave oven is a basic model that's available for a relatively low price. Despite its affordable...
Full Review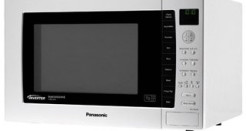 This model isn't available on most shopping sites anymore. Click here to see the price of the model we recommend instead – the Whirlpool Jet Chef. The Panasonic NN-CT857WBPQ 23L 1000W combination microwave is a powerful and large appliance. With an extra 5 litre capacity compared to the previously reviewed Panasonic NN-CF760M,...
Full Review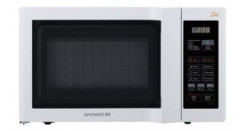 Most places don't sell the KOG6L6B anymore, but the Russell Hobbs RHM2031 is a good substitute with a 20 litre capacity and grill. Click here to view the price for the RHM2031. The Daewoo KOG6L6B white microwave with grill is a budget option that can be bought for a relatively low price. Compared...
Full Review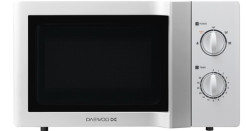 The Daewoo KOR6L65 20L manual microwave is a simple model with 800W power output, dual speed timer and an attractive white design. Its purpose is to provide efficient microwave performance for the relatively low price. If you're looking for a compact, reasonably powerful microwave on a budget, then keep...
Full Review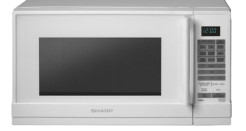 This microwave isn't widely available anymore, so we recommend the Russell Hobbs RHM2031 grill model as an alternative. Click here to view its price. The Sharp R658WM 20L microwave with quartz grill is an attractive model that's available for a relatively low price. It comes with a number of different...
Full Review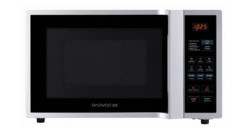 The Daewoo KOC9Q1T combination microwave is a 28L, 900W model with a white finish. It's similar in specification to the recently reviewed Daewoo KOC9Q1TSL, and also has an almost identical design. Keep reading this Daewoo KOC9Q1T review to find out more about the microwave, including its features, selling points,...
Full Review