There aren't many 750W microwaves, but they occupy the halfway point between the standard 800W models and 700W microwaves. It's important to read reviews and information about a 750W model before you buy, to check how fast the model cooks food and whether it heats food evenly.

750W microwaves are a strange choice, in a sense, because there is little price difference between them and 800W models. While there is a performance difference between the two categories, you're not likely to notice that much difference in cooking speed. With that said, if speed is important to you, then an 800W or higher microwave is probably the best choice.


Who Should Buy a 750W Microwave?
If there's a 750W microwave that has all the features and functions you want, it's worth considering whether you really need that extra 50W of power output. For many people, a 750W microwave will cook fast enough. If, however, you want to cook large quantities of food quickly, then you should consider a 900W or even a 1000W microwave.

There aren't too many models with this power output available at the moment, although brands such as Whirlpool and Samsung do manufacture them. If we had to pick one 750W model that stands out from the rest, it would probably be the Whirlpool Max 38 Crisp. This is a grill microwave that adds extra features compared to the popular Max 35.

Take a look below at the 750W microwaves we've reviewed so far – and keep checking back as we regularly add new ones.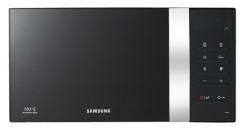 This model is no longer widely available, but the excellent 20 litre Russell Hobbs RHM2076SB is a great alternative. Click here to see its latest price. The Samsung ME76VBBH 20L solo microwave is an interesting looking model. It's one of the most modern microwaves, when it comes to appearance, on...
Full Review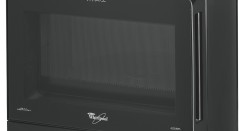 The Whirlpool Max 38 Crisp microwave is the bigger brother of the excellent Whirlpool 35. It features a similar design, and includes a range of unique features. The stand out element of the Max 38 is its unique crisp system, which browns crisps without needing oil or fat. Keep...
Full Review