Our #1 Solo Microwave
If you're looking for a powerful, simple to use solo model – the Russell Hobbs RHM2362S is an excellent choice. It has a relatively large 23L capacity, stylish design and 800W power.
Best Solo Microwave Reviews of 2017
Solo microwaves are often the cheapest models, with prices ranging from £30 and up. While they don't have a grill or conventional oven, solo models are effective for basic kitchen tasks, such as cooking, reheating and defrosting. Unlike more versatile models, however, they aren't capable of crisping, baking or roasting.
This doesn't mean solo models don't come with useful features though. Many of the more expensive models have a variety of functions, including cooking programs, fast defrost settings and auto cook menus. There are also a range of powers available, with higher power models able to cook or reheat much faster. Other considerations include the capacity, style and brand.
Listed below are all the models we've reviewed so far in this category. Reviews contain price info, specification and buyer's opinions, along with information about which is the best solo microwave available at the moment.
What is a Solo Microwave Oven?
A solo model is what you might call a basic microwave oven. In other words, they are the simple models you're used to seeing in kitchens.
These models are great for reheating, defrosting and cooking, although the speed and efficiency varies depending on the brand, model, power and other factors (see our guide below for more information on choosing the right model). They are notorious for not being able to provide the crispy exterior you get from a regular oven though, which is why grill microwaves are also available.
There are many brands manufacturing models in this category, but the most popular are probably Daewoo, Morphy Richards, Panasonic and Russell Hobbs. Newcomers, such as Swan, are also making an impact on the market, although others, such as Whirlpool, have fallen away in recent years.
Advantages and Disadvantages
While solo models are sufficient for most people's cooking needs, especially if used in conjunction with a convection oven, it's worthwhile knowing the pros and cons compared to other types. Here's a quick overview:
Pros
Often the cheapest option – although beware of cheap solo microwaves that sacrifice quality and performance to reduce cost.
Prefect for simple reheating, cooking ready meals or defrosting.
Available in a wide range of different shapes and styles.
Cons
Limited applications compared to grill or combi microwaves.
Can't brown or crisp foods.
Also can't bake foods like a conventional oven.
What Can You Do With A Standard Microwave?
Solo microwave ovens are designed to excel at simple tasks, such as cooking a ready meal, reheating the previous night's food or defrosting meat. They are also capable of other tasks, such as cake baking, although many people find that the lack of a heating element results in a soft exterior.
The most attractive feature of a standard microwave is the price. Branded models can cost as little as £50, and supermarkets often sell "ultra" basic models for less than this. If you go for the cheapest option, however, don't expect any advance programs or features.
Not all solo models are cheap though. There's a huge range of prices available, depending on the size, power and features you want.
How to Choose a Solo Model
The great thing about buying a solo is that there are so many options – but this can also make it difficult to decide. While these models don't have a grill or convection, they still come with a range of features, so calling them basic microwave ovens may do them a disservice.
Power. It goes without saying that the best solo microwave ovens usually have a high power rating. While 800W models are able to cook foods relatively quickly, 900W microwaves are even faster and usually cook food more evenly. There are 600W or 700W models available, but we usually only recommend these if you're on a tight budget or need a specific feature (such as a mini microwave).
Capacity. The interior capacity determines how much you can cook at any one time. A big microwave may have a 30 litre capacity or more, while a small one may have half that (along with a much smaller footprint). The size you need depends on the type of cooking and the size of your household.
Price. While cheap digital microwaves may be tempting, they nearly always sacrifice on one of power, capacity or durability. The best priced microwaves provide value for money – no necessarily the lowest price. We recommend setting a budget before you start looking and sticking to it (although there are always great deals available at major shopping sites).
Style. Whether you care about style is a matter of personal preference, but most people want a colour that matches the rest of their kitchen.
Features. Do you need an automatic defrost setting? Or auto-cook menus? Make sure you know which features are included before you buy.
Other considerations. You also need to consider the brand, warranty, digital or manual microwaves and buyer reviews.
To sum up this section, the best microwave to buy depends on your personal requirements. The size of your household, budget, type of cooking and style preferences determine which is likely to be the best model.
Listed below are all our solo microwave reviews. Take your time to browse through them and find the best model for you – and let us know if you have any questions.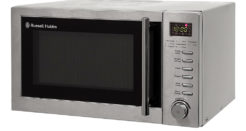 The Russell Hobbs RHM2048SS is a sleek stainless steel microwave from one of the UK's top manufacturers. But is it worth the money? How does its performance compare to other solo models? Let's find out in our RHM2048SS review. Russell Hobbs RHM2048SS Russell Hobbs RHM2048SS Overview of Features Professional design...
Full Review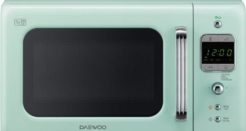 The Daewoo KOR7LBKM retro microwave is a stylish solo model produced by one of the UK's top manufacturers. It has 800W power output, 20 litre capacity and a host of interesting features, but is it worth the money? And how does this Daewoo "mint" microwave, as the colour is described, perform...
Full Review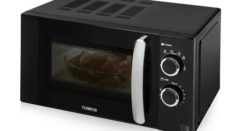 At first glance, the Tower T24009 manual black microwave is an attractive model for a very reasonable price. It's also received many positive reviews from buyers. But how does the microwave perform on everyday tasks? And does it have any drawbacks? Let's find out in our Tower T24009 review. Tower T24009...
Full Review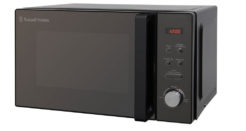 The Russell Hobbs RHM2076B black microwave is a solo model with 800W power, 20 litre capacity and a stylish mirrored door. It's also one of the most popular solo microwaves on many shopping sites, and has been highly rated. But how does the model perform when cooking? And does it suit...
Full Review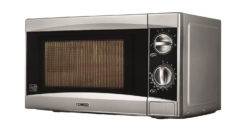 The Tower T24001 silver manual microwave is a solo model with 800W power, 20 litre interior capacity and a push button door. Its manufacturer isn't as well known as brands such as Russell Hobbs, but the model has received positive feedback from buyers. But does it live up to expectations?...
Full Review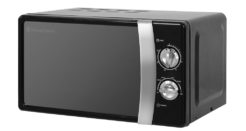 If you're looking for a compact and attractive model, the Russell Hobbs RHMM701B 17L black microwave appears to be the perfect option. It's built with a stylish black design, includes several basic features and has 700W power – everything you would expect from a relatively inexpensive modern appliance. But does...
Full Review
The Bosch HMT84M421B microwave is a relatively simple looking model – but it has a number of interesting features. It's also highly rated by buyers. In this article, we'll look at the features of the HMT84M421B and dive deeper into how reviewers rate the product. Bosch HMT84M421B Bosch HMT84M421B Bosch HMT84M421B...
Full Review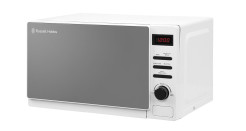 There aren't too many microwaves that make us say "wow" when we first see them. But the Russell Hobbs RHM2079A is certainly one of them. With its stylish, interesting white design, the microwave is sure to stand out from your other appliances. But what about its features? And do buyers...
Full Review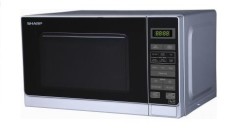 The Sharp R272SLM silver solo microwave is a medium size, relatively high powered model that's available for a reasonable price. But does it match other 20L microwaves in terms of features? And what do reviewers think of it? Keep reading to find out. Sharp R272SLM Sharp R272SLM Sharp...
Full Review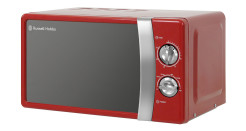 The Russell Hobbs RHMM701R red microwave is a stylish model from one of the UK's most well known kitchen appliance brands. It's designed to be perfect for basic, everyday microwave cooking, with a 17L interior capacity and 700W power. Keep reading to find out whether it's worth the money –...
Full Review