Our #1 Cream Microwave
The Russell Hobbs RHM2064C digital 20L microwave is one of the most stylish cream models we've reviewed. It has a sleek, attractive design – but it's not all about the looks. The microwave also comes with a 20L capacity, 800W power and a variety of auto cook menus.
Which are the Best Cream Microwaves in the UK?
A few years ago, there were barely any cream models on the market. Now there are plenty to choose from, including combination models and small microwaves, as manufacturers begin to realise how sought after this colour has become. This is great news for buyers, as you'll almost certainly be able to find a microwave that matches your requirements.
Listed below are what we think are the best cream microwaves available at the moment. Each has received strong reviews from buyers on shopping sites for its performance as well as its colour. Further down the page you'll find a list of our in-depth reviews of cream models(new reviews are added regularly).
Our Top 5 Cream Microwave Ovens
Before we get to the recommendations, it's important to point out that we don't think it's a good idea to buy a microwave based on colour
alone
. While cream coloured microwaves look fantastic, and may suit your kitchen perfectly, it's still vital to make sure you're getting a model that provides value for money. With that said, here are our top five cream models.
1. Russell Hobbs RHM2064C (Our #1 Recommendation)
The Russell Hobbs RHM2064C is one of the most stylish cream microwaves on the market. But it's not just a pretty appliance, it cooks food quickly and has a range of features, which is why it's #1 on our list.
It's a 20 litre model, making it suitable for most families, and provides 800W power output. Aside from the standard settings and attractive exterior, the model also comes with a range of useful options. These include an automatic cook menu, for items such as popcorn, pizza reheating and fish, as well as an automatic defrost option. Other features include a pre-set function and child lock.
If you're looking for a stylish cream microwave and don't need a combination model, the Russell Hobbs RHM2064C is probably the best option at the time of writing. It's also available for a very reasonable price – click here to see its price.
2. Swan SM22030CN Retro (Best Retro Model)
When it comes to retro microwaves, cream is the perfect colour for that "American Diner" look. So it's no surprise that the Swan Retro is such a popular model. With its circular digital clock, silver handle and generally attractive design, it's one of the best looking retro models on the market.
Fortunately, it's also a great all-round solo microwave. It has 800W power output, which should be enough for most cooking tasks. It's also a 20 litre model with five power levels, defrost setting and a 60 minute timer.
If you're looking for a cream retro microwave, the Swan SM22030CN is one of the most attractive models available right now. It's a little pricey considering the specifications, but has received strong reviews from buyers and looks amazing. Click here to see its price.
3. Daewoo KOC9Q3TC (Best Combination Model)
The Daewoo KOC9Q3TC hasn't been as highly rated by buyers as others on this list, but is still one of the best cream combination microwaves. It has a large 28 litre capacity, making it suitable for big families, along with a 900W microwave power output for fast and even cooking. Additionally, the model has a 2700W oven function and 1250W grill.
Aside from being a combination microwave, the Daewoo KOC9Q3TC has several other useful features. These include a steam cleaning setting, generous 10 power levels, keep warm function, automatic defrost and cook menus. There are, however, several reviewers complaining that their microwaves have stopped working relatively quickly, although others seem pleased with their purchase.
If you need a cream combination microwave that's able to roast, bake and grill, then the Daewoo KOC9Q3TC is amongst the best options. It's attractive, relatively inexpensive and comes with a wide range of useful features. Click here to see its price.
4. Russell Hobbs RHMM701B (Best Compact Model)
If you're looking for a cream microwave but don't have a lot of space, the Russell Hobbs RHMM701C is an option to consider. It's cheaper than most of the other models on this list, with an RRP of just £54.99. It's also a 17 litre model, so it will take up less space on your kitchen worksurface.
The downside to this smaller size and lower price is that it only has 700W power output. Despite this, the model can still cook food relatively quickly and includes five power levels for extra control. For this reason, it's our recommended model if you're looking for a small cream microwave. Click here to see its price.
5. Akai A24006C (Unique Design)
This is our wildcard entry. The Akai A24006C doesn't stand out in terms of performance or price, as it's a 700W model with a 20 litre capacity that costs more than the other solo models on this list.
So why have we included it? Simply because it has one of the most unique designs of any cream microwaves. With its rounded window, silver door handle and knobs and attractive colour, it has the retro appeal many people want for their kitchens.
And, don't get us wrong, it's not a bad microwave. So if you enjoy its appearance and don't mind paying a bit extra, it's an option to consider. Click to view its price.
Who Should Buy A Cream Model?
Cream microwaves tend to have a retro appearance that's become fashionable over the last few years. Combined with similar colours for other appliances, such as your kettle and coffee maker, cream can create a soothing and attractive kitchen.
The main consideration when it comes to microwave colour is how the appliance will fit into your existing decor. Cream microwave ovens look great in most situations, but are especially attractive in retro kitchens. The neutral colour tone means that there aren't too many kitchens where a cream microwave looks out of place.
Which Companies Manufacture Cream Models?
There are a few companies that produce excellent cream models, but the main ones are Daewoo, Swan and Russell Hobbs. Daewoo also manufacture the excellent KOR6N9RC, which has a stylish retro appearance.
We've reviewed some of the best cream microwave ovens below, so take your time and have a look at the models available. Keep in mind that some companies offer multiple colour schemes for each model of microwave, so you may be able to find a cream version of a microwave not listed here. We also regularly add new microwaves – make sure you check back regularly.
Reviews of Cream Microwaves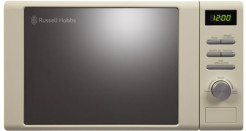 The Russell Hobbs Heritage RHM2064C microwave oven in cream is a 20L, 800W appliance that features one of the most stylish and retro designs we've ever seen. The microwave isn't all about appearance though, with a number of interesting features and a relatively low price tag. In this Russell...
Full Review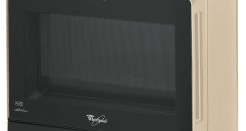 The Whirlpool Max 35 solo and steam microwave, with cream colour scheme, has to be one of the strangest looking models we've reviewed. It also has some of the most interesting and innovative features. But does this mix of new design and technology combine into something truly useful? Or are you better off sticking with a regular microwave? Keep reading our Whirlpool Max 35 review to find out!
Full Review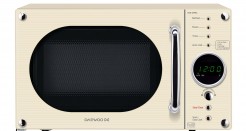 The cream Daewoo KOR6N9RC digital microwave is more than just "another" microwave. With its unique and stylish design, beautiful colour scheme and range of simple functions it's easy to see why the Daewoo KOR6N9RC is one of the most popular microwaves on the market.
Full Review