Our #1 Green Microwave
There aren't too many green microwaves on the market – but the Swan Products Retro Digital Microwave is certainly an option to consider. It's a 20 litre model with a stylish retro design, five power levels and 800W power, making it a decent all-rounder for reheating and occasional cooking. It's also available in both lime green and a darker green.
Green microwave range from the subtle and stylish, such as certain Daewoo models, to the bold and futuristic (we're looking at you
Fagor Spoutnik
!) If you're looking for a microwave that's a little different, then a green model may be the perfect option. Listed below are all the green microwaves we've reviewed, with product specifications and buyer's opinions.
There are a variety of different types of green. The futuristic bright green of the Fagor Spoutnik, for example, is likely to appeal to a different market than the more subdued and stylish Daewoo QT2. When choosing a microwave, it's important to choose a colour that matches the existing decor of your kitchen.
Unfortunately, green microwaves are relatively hard to come by at the moment. It's an unusual colour, so there aren't too many manufacturers producing models with a green colour scheme. The models listed below are the exception to the rule.
While green is an attractive colour, there are limited options when buying a microwave in this category, and finding a large combination or grill microwave is almost impossible. This means that you should be careful about buying a green microwave based on colour alone – it's more important to choose an appliance that satisfies your personal requirements.
We regularly review new microwaves – including green models – so if you don't find the right appliance for you, please keep checking back.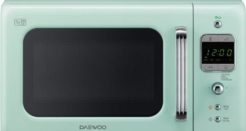 The Daewoo KOR7LBKM retro microwave is a stylish solo model produced by one of the UK's top manufacturers. It has 800W power output, 20 litre capacity and a host of interesting features, but is it worth the money? And how does this Daewoo "mint" microwave, as the colour is described, perform...
Full Review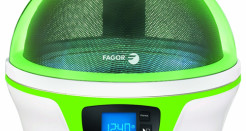 Perhaps unsurprisingly, the SPOUT7GF is quite hard to find these days. If you're looking for a solo microwave though, the Russell Hobbs RHM2362S is our recommended model. Click here for the RHM2362S's price. The Fagor SPOUT7GF Spoutnik green microwave is undeniably the weirdest looking model we've reviewed. While we often praise...
Full Review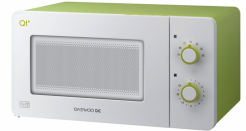 The QT2 can be difficult to find – but don't worry! The Daewoo QT1 is still widely available. Click here for the QT1's price. The Daewoo QT2 compact microwave oven is almost identical to the QT1 which we've previously reviewed. The only difference – that we could find – is...
Full Review