22L microwaves are uncommon, but provide a little extra capacity compared to popular
20L appliances
. Not all manufacturers sell 22L microwaves, but an example of a company that do is Sharp.
Who Should Buy a 22 Litre Microwave?
Once you get about the 20L mark, you find more microwaves that are designed for power users. While 22L isn't a huge difference compared to 20L models, microwaves in this category can fit larger dinner plates and cook more food at the same time.
If you have a large family, but don't have the work surface space required for a larger model such as a
31L microwave
, then a model between 20-25L could be the perfect option. While there aren't many 22L microwaves on the market right now, you may have more luck by searching the 23, 24 and 25 litre categories.
For people who want to cook large amounts of food, and with enough work surface space, it may be worth looking for a larger microwave. Also keep in mind that it's usually more important to find a microwave that matches all of your requirements, including power, features and colour, rather than just looking at size alone.
While there currently aren't many 22L microwaves on the market right now, if we review a new one it'll be listed on this page. If you have your heart set on a 22L model then make sure you bookmark this page and check back regularly.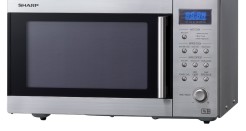 This model isn't widely available anymore, but the excellent Russell Hobbs RHM2362S is a good alternative. Click here for the price for the RHM2362S. The Sharp R27STMA stainless steel solo microwave is a high quality yet reasonable priced machine. It's an 800W microwave, providing plenty of power for cooking quickly and...
Full Review