28 litre microwaves are often powerful combination ovens that are built for serious microwave users. If you use a microwave for the majority of your cooking,  28L microwaves could be the perfect option. For basic use, however, you may not need a microwave this size.


Which companies manufacture 28L microwaves?
There aren't a huge amount of companies that manufacture 28L microwaves, although some of the major brands have models in this category. Samsung, for example, manufacture a "chic" combination oven that's perfect for people who use their microwave a lot. Daewoo have the most models in this category, with a variety of different 28L combination ovens available.


Who should buy a 28L microwave?
28L models are perfect for people who need to cook large amounts of food. If you're cooking for a large family, or regularly entertain guests, then a 28L microwave may be a good option. 28L models are also more suitable as a replacement for an oven than smaller microwaves.

Most of the microwaves in this category are combination models. This means that the microwave comes with a grill and convection oven built in, making them perfect for an oven replacement, or if you just want a second oven. Combination models are capable of a lot more varied cooking styles, and the grill allows you to crisp and brown foods.

Listed below are all of the 28L microwaves we've reviewed so far. If you have any questions about a specific microwave, please leave a comment on the relevant review and we'll try to get back to you as soon as possible.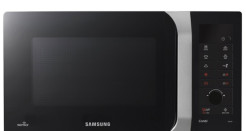 It's hard to find this model now, so instead we recommend the excellent Panasonic NN-CF778SBPQ which is a 27 litre model. Click here to view its price. The Samsung CE107F-S Chic Silver is a combination microwave with a range of features. The CE107F-S, like most of Samsung's products, is sleek and...
Full Review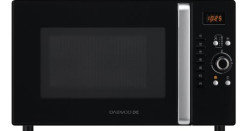 The Daewoo KOC9Q3T black combination microwave is a 28L, 900W model with a number of different features. The sleek black design means that it'll suit most kitchens, and its combination of grill, oven and microwave make it suitable for a variety of cooking requirements. Keep reading our Daewoo KOC9Q3T...
Full Review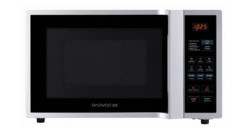 The Daewoo KOC9Q1T combination microwave is a 28L, 900W model with a white finish. It's similar in specification to the recently reviewed Daewoo KOC9Q1TSL, and also has an almost identical design. Keep reading this Daewoo KOC9Q1T review to find out more about the microwave, including its features, selling points,...
Full Review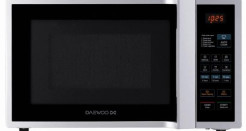 The Daewoo KOC9Q1TSL combination microwave oven has a relatively large interior capacity of 28L, 900W power output and a stainless steel cavity. It also comes with a grill, convection oven and a variety of other features. In this Daewoo KOC9Q1TSL review we'll discuss the main features of the product,...
Full Review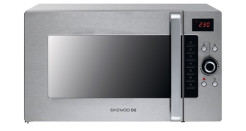 The Daewoo KOC9Q4T 28L, 900W combination microwave has one of the most unique front panel designs of any microwave we've reviewed so far. With its attractive stainless steel finish, range of features and high power output it certainly seems like a model that's worth considering if you need a...
Full Review