Which are the Best Sharp Microwave Ovens?
Looking to buy a Sharp microwave but not sure which model to choose? Or have you got your eye on one of their microwaves and want to read more about it? This page contains all our reviews of Sharp models – including our top recommendation.
Sharp is one of the most popular manufacturers of home electronics in the UK. They produce a large range of microwaves – and many of their models are highly rated by buyers. While their appliances often can't match the style of competing brands, we're big fans of the company's microwaves and think they provide excellent value.
Our Top Rated Sharp Microwave
Fair warning: the Sharp R959SLMA is NOT for everyone. It's a beast of a microwave – with a huge 40L capacity, 900W power output, 1400W grill, convection oven and a range of other features. If you're looking for a simple microwave, this is not for you. But if you want a microwave that functions as an oven replacement, the Sharp R959SLMA is one of the highest rated options.
Who Are Sharp?
The Sharp Corporation is a Japanese company that specialises in developing electronic products. While they are probably best known for their TVs, they also make everything from mobile phones (we were surprised too) to fax machines.
Of course, what we're really interested in is their microwaves. The good news is that Sharp makes a variety of microwave ovens to suit almost any requirements. So whether you're looking for a small appliance for your apartment, or a huge convection oven replacement for an entire family, there's probably an option for you. It's important to read reviews before you buy though (even if most Sharp models are reliable and cook efficiently).
What Type of Microwaves do They Make?
Sharp produces big, bold and functional microwaves. Their 40L model, for example, is perfect for power users who need to make the most of their microwave. Sharp also produce smaller, compact models too though, and several of their microwaves have earned our "Editor's Choice" badge.
Most of Sharp's models are solo microwaves. This means they are great for reheating, cooking and defrosting, but don't have a convection oven or grill. There are some combination microwaves in their range though, including our top rated option.
One of the common complaints about Sharp microwaves is that they don't have the sleek design of brands such as Russell Hobbs. This is a fair comment – most Sharp appliances are designed for function rather than form. Even so, the company produces some excellent microwaves despite their appearance.
Sharp Microwave Reviews
We've reviewed a number of microwaves made by Sharp. You can view all the reviews below, or click a specific product to learn more about it.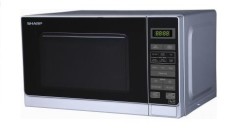 The Sharp R272SLM silver solo microwave is a medium size, relatively high powered model that's available for a reasonable price. But does it match other 20L microwaves in terms of features? And what do reviewers think of it? Keep reading to find out. Sharp R272SLM Sharp R272SLM Sharp...
Full Review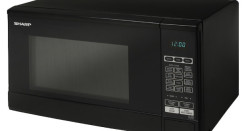 The Sharp R270KM is no longer widely available, as it has been replaced by more advanced microwaves. If you need a 20L model, we recommend the Russell Hobbs RHM2076SB. Click here to view its price. The Sharp R270KM 20L black microwave is a compact model with a large number of automatic cook menus. It's...
Full Review
The Sharp R82STMA 25L stainless steel combination microwave features an imposing design, powerful microwave output and a variety of settings. It's also reasonably priced compared with other combination models. Keep reading our Sharp R82STMA review for an in-depth look at the product's features, as well as a summary of reviewer's...
Full Review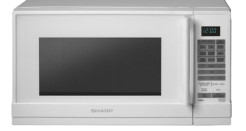 This microwave isn't widely available anymore, so we recommend the Russell Hobbs RHM2031 grill model as an alternative. Click here to view its price. The Sharp R658WM 20L microwave with quartz grill is an attractive model that's available for a relatively low price. It comes with a number of different...
Full Review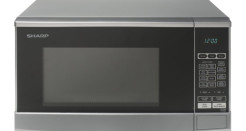 The Sharp R270SLM 20L Solo Microwave is an 800W model with a number of different features and settings. It has a silver design, digital display and 10 microwave power levels, along with all the other features you'd expect from a modern microwave. This Sharp R270SLM review discuses the main...
Full Review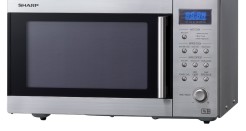 This model isn't widely available anymore, but the excellent Russell Hobbs RHM2362S is a good alternative. Click here for the price for the RHM2362S. The Sharp R27STMA stainless steel solo microwave is a high quality yet reasonable priced machine. It's an 800W microwave, providing plenty of power for cooking quickly and...
Full Review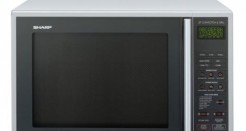 The Sharp R959SLMA 40 litre combination microwave oven is one of the most popular in the UK at the moment. With its large capacity, 900W of power and quartz grill, it's no surprise that the Sharp R959SLMA has been bought by thousands of customers. Keep reading this Sharp R959SLMA review to learn more about the microwave, including its features, positives and negatives.
Full Review