Fagor microwaves are probably the strangest looking models you'll ever see. With their rounded, flying saucer appearance and bright colour schemes, they aren't microwaves you're likely to forget in a hurry! All of our Fagor microwave reviews appear on this page, so take your time to browse the available models.


Who should buy a Fagor microwave?
I'm sure there are a few of your wondering why anyone would consider buying a microwave that looks more like an alien from Toy Story than a high quality kitchen appliance – and to a certain extent you'd be right. The "crazy" Fagor microwaves are really designed for people who are more interested in buying an eye catching model than choosing a microwave with the best features.

With that said, it's important to note that Fagor also produce some more serious microwaves, including built in combination microwaves. Even the novelty Fagor microwaves do work as intended and are far from just a joke model. While they tend to have relatively low power outputs and not many features, their unique designs and colour schemes make them attractive to some people. The SPOUT7GF, for example, has a circular design and a luminous green colour scheme, so it's sure to stand out in any kitchen.

Listed below are all of the Fagor microwaves that we've reviewed so far. More are added on a regular basis, so make sure you keep checking back for the latest reviews and price information. If there's a microwave that we haven't reviewed yet, please let us know using the contact form.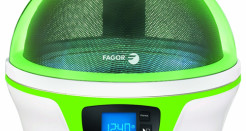 Perhaps unsurprisingly, the SPOUT7GF is quite hard to find these days. If you're looking for a solo microwave though, the Russell Hobbs RHM2362S is our recommended model. Click here for the RHM2362S's price. The Fagor SPOUT7GF Spoutnik green microwave is undeniably the weirdest looking model we've reviewed. While we often praise...
Full Review