What is the Best Russell Hobbs Microwave?
Looking for a Russell Hobbs microwave? Or are you thinking of buying one of the company's models and want to know more about it? All our reviews from this brand are listed below, along with our top pick.
Russell Hobbs is one of the most prolific manufacturers of microwaves in the UK. They are also amongst the most popular – and for good reason! The company produces a range of high-quality models, including the excellent RHM2362S which is our favourite solo microwave. They also sell everything from compact 17L models right up to powerful 900W 30L combination microwaves.
We're big fans of this brand. With a few exceptions, their products are generally high-quality, stylish and provide great value (although they tend to be more expensive than less well-known brands). They also produce such a wide range of microwaves that there is an option regardless of your requirements.
Our Top Rated Russell Hobbs
Russell Hobbs is probably the most prolific microwave manufacturer – so it's difficult to choose a "best" model. In general, most of their microwaves are great. If we had to pick one, however, it would be the Russell Hobbs RHM2362S. It's a 23L model with spacious interior, auto-cook menus, 800W power and a range of other features. Plus, it's got great reviews on shopping sites (at the time of writing) – so it's definitely doing something right!
Who Are Russell Hobbs?
The brand Russell Hobbs is a subsidiary company that's based in Manchester. The company produces a range of home appliances, including kettles, irons, juicers, bread makers and food processors.
Russell Hobbs microwaves are often stylish or eye catching. That doesn't mean they sacrifice quality though – the company produces some of the best home microwaves on the market. For the ultimate in style, take a look at the Heritage range.
What Type of Microwaves do They Manufacture?
As we mentioned, Russell Hobbs are one of the most prolific manufacturers of home appliances. They have a huge range of products, including flatbed, digital, manual and retro models. Their models also range in size from small 17 litre appliances up to larger 30 litre models, and are available in almost every colour (including stainless steel).
The company produce solo, grill and combination models. In short, if you need a microwave there's almost certainly an option that meets your requirements.
All Russell Hobbs Microwave Oven Reviews
Listed below are all the products we've reviewed so far from this brand. Each review contains detailed information about the appliance's features, design and performance. If you want to learn more about a specific model, this is the place to come!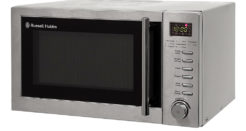 The Russell Hobbs RHM2048SS is a sleek stainless steel microwave from one of the UK's top manufacturers. But is it worth the money? How does its performance compare to other solo models? Let's find out in our RHM2048SS review. Russell Hobbs RHM2048SS Russell Hobbs RHM2048SS Overview of Features Professional design...
Full Review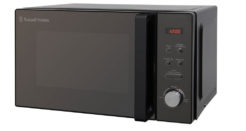 The Russell Hobbs RHM2076B black microwave is a solo model with 800W power, 20 litre capacity and a stylish mirrored door. It's also one of the most popular solo microwaves on many shopping sites, and has been highly rated. But how does the model perform when cooking? And does it suit...
Full Review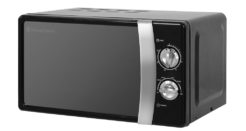 If you're looking for a compact and attractive model, the Russell Hobbs RHMM701B 17L black microwave appears to be the perfect option. It's built with a stylish black design, includes several basic features and has 700W power – everything you would expect from a relatively inexpensive modern appliance. But does...
Full Review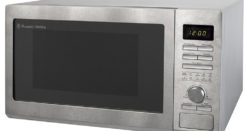 One of the most popular combination microwaves, at the time of writing, is the Russell Hobbs RHM3002 family microwave. It's a stainless steel model with a variety of features, including a powerful grill, fan-assisted convection oven and 30 litre interior capacity. But is the model worth the price tag? And what...
Full Review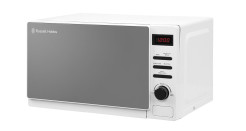 There aren't too many microwaves that make us say "wow" when we first see them. But the Russell Hobbs RHM2079A is certainly one of them. With its stylish, interesting white design, the microwave is sure to stand out from your other appliances. But what about its features? And do buyers...
Full Review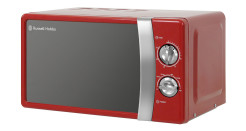 The Russell Hobbs RHMM701R red microwave is a stylish model from one of the UK's most well known kitchen appliance brands. It's designed to be perfect for basic, everyday microwave cooking, with a 17L interior capacity and 700W power. Keep reading to find out whether it's worth the money –...
Full Review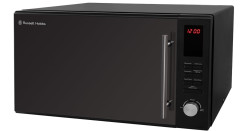 The Russell Hobbs RHM3003B black combination microwave has an impressive interior capacity of 30L. It also comes with a grill and convection oven – all for a very reasonable price. Keep reading to find out more about what the Russell Hobbs RHM3003B has to offer, and whether reviewers think it is...
Full Review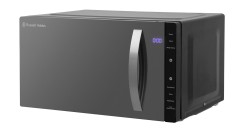 If you're fed up with turntables that constantly get stuck, only allow you to use a portion of the microwave's interior and add an extra item to the washing up, then a flatbed microwave is an excellent option. The Russell Hobbs RHFM2363B Black Flatbed microwave does away with the turntable altogether,...
Full Review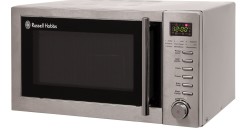 The Russell Hobbs RHM2031 is a grill microwave that's currently being sold for a very reasonable price. How does it compare to other grill microwaves though? And what features does it have? Keep reading our review to find out. Russell Hobbs RHM2031 Russell Hobbs RHM2031 Russell Hobbs RHM2031...
Full Review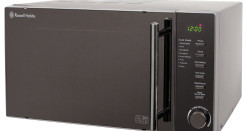 The Russell Hobbs RHM2017 silver microwave is undoubtedly a stylish model. But, more importantly, is it a microwave you can rely on? Is it worth the money – especially considering that it is marginally more expensive than other 20L solo microwaves? And what settings does it have? Keep reading to...
Full Review