30 Litre Microwaves – Reviews & Top Models
Recommended 30 Litre Microwave
If you need more space than a typical solo microwave provides, a 30L model can be a good alternative. While there aren't a huge amount of freestanding microwaves available in this size range, our top recommendation is the 
Russell Hobbs RHM3002 Combination
, which also received our "Editor's Choice" award.
Want to buy a 30 litre microwave but not sure which to choose? This page lists all our reviews of 30L models to help you make a decision.
If you need to prepare meals for the whole family, or just want to cook more food than the average microwave can handle, a 30 litre model could be a good option. Microwaves with this capacity are much more spacious, so you can fit bigger dinner plates or casserole dishes.
Why Buy a 30 Litre Microwave?
The most obvious reason to buy a microwave in this category is that it provides more space than the average solo microwave. The most common size for a solo model is 20 litres, so having 50% increased capacity allows you to cook a lot more food simultaneously.
Most microwaves in this category are combination models. Combi microwaves have a grill and convection oven along with the basic functions you would expect. This allows for a wider variety of cooking types, including baking, roasting, grilling and browning. While most people wouldn't replace their convection oven with a combi, they are an excellent supplemental cooking device.
30 litres is far from the largest microwave on the market though, so they aren't for everyone. While they can fit bigger dinner plates than 20 or even 25 litre models, they may not be the best choice for large families. You also need to take into account the size of your kitchen. If you're looking for a compact model, this is probably the wrong category!
It's also important to choose a microwave based on your requirements – not just because of its size. Make sure you consider factors such as reliability, cooking power, microwave levels, auto cook programmes and brand along with internal capacity. If you want to cook using tall containers, such as a baby bottle, remember to check the internal height.
Range of choice is another issue – as there aren't as many 30L microwaves as other size categories. Fortunately, there are some excellent models available from brands such as Kenwood and Russell Hobbs. Listed below are all the microwaves we've reviewed in this category.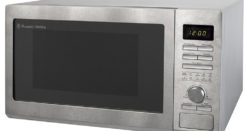 One of the most popular combination microwaves, at the time of writing, is the Russell Hobbs RHM3002 family microwave. It's a stainless steel model with a variety of features, including a powerful grill, fan-assisted convection oven and 30 litre interior capacity. But is the model worth the price tag? And what...
Full Review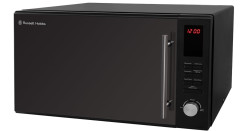 The Russell Hobbs RHM3003B black combination microwave has an impressive interior capacity of 30L. It also comes with a grill and convection oven – all for a very reasonable price. Keep reading to find out more about what the Russell Hobbs RHM3003B has to offer, and whether reviewers think it is...
Full Review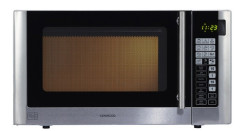 We now recommend the smaller but well-received Russell Hobbs RHM2031 if you need a grill microwave for your kitchen. Click here for its latest price. The Kenwood K30GSS12 microwave with grill is designed to be a powerful, spacious microwave that's perfect for large families. If you need a microwave with a large capacity...
Full Review