Recommended 25 Litre Microwave
The 25 litre category has a number of great microwaves, but we think the top model is the Russell Hobbs RHM2563. It's a sleek model with enough space for a large dinner plate, child lock and 5 power levels – and has been well-received by buyers.
25L microwaves are often powerful combination or grill appliances. The extra five litres capacity compared to the most common 20L capacity is immediately noticeable, making 25L models perfect for families or people who regularly use the microwave for more than just basic tasks. Sharp, Russell Hobbs and Whirlpool all manufacture 25L microwave ovens.
Who should buy a 25L microwave?
If you're looking for a larger microwave than the standard 20L models (the most popular size) then a 25L microwave could be a good option. They provide a noticeably larger interior capacity, although this does come with the downside of taking up more kitchen work surface space. If this isn't an issue, however, then a 25l model makes it easier to cook large amounts of food.
25L microwaves tend to either be grill or combination models, although there are also solo microwaves available in this category. Not all manufacturers produce 25L models, but some of the more popular ones include Kenwood, Whirlpool, Russell Hobbs and Bosch.
How much do 25L microwaves cost?
The cost of any microwave depends on a variety of factors, including its features, type and size. 25L microwaves can be bought for a range of prices, from relatively inexpensive solo models costing less than £70 to much pricier combination microwaves. The important thing is to buy a microwave that provides value for money while performing all the features you need.
Listed below are all of our reviews for 25L microwaves. We regularly add more, so keep checking back.
The Bosch HMT84M421B microwave is a relatively simple looking model – but it has a number of interesting features. It's also highly rated by buyers. In this article, we'll look at the features of the HMT84M421B and dive deeper into how reviewers rate the product. Bosch HMT84M421B Bosch HMT84M421B Bosch HMT84M421B...
Full Review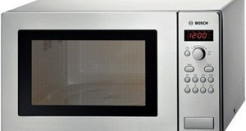 The Bosch HMT84M451B brushed steel freestanding microwave is a 25 litre model that can also be installed beneath a wall cupboard. It features an attractive and stylish design, spacious capacity and 900W microwave power output. Keep reading our Bosch HMT84M451B review for a more in-depth look at the microwave's...
Full Review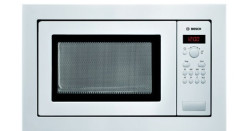 The Bosch HMT84M621B built in microwave is a 900W model with an interior capacity of 25L. It features an attractive and stylish front panel, along with a variety of power levels and auto cook programmes. Keep reading our Bosch HMT84M621B review for more information about the product, and also...
Full Review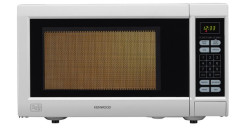 The K25MW12 is no longer sold on many shopping sites, but the Russell Hobbs RHM2563 is a great option if you need a 25 litre model. Click here to see the latest price. The Kenwood K25MW12 white microwave oven is a basic model that's available for a relatively low price. Despite its affordable...
Full Review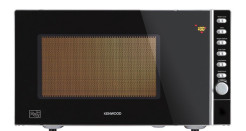 This model is no longer widely available. For this reason, we recommend the 25 litre Russell Hobbs RHM2563 instead – click here to view its latest price. The Kenwood K25MMS12 black microwave oven is a powerful, large solo model with an attractive black design. It's certainly a contemporary microwave when it comes...
Full Review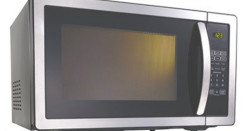 This microwave isn't easy to find on shopping sites anymore. If you need a 25 litre model, the Russell Hobbs RHM2563 is a good alternative – click here to see its latest price. The Kenwood K25MSS11 stainless steel microwave oven is a relatively inexpensive yet powerful appliance. It's a solo model with...
Full Review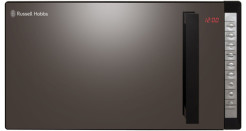 The RHM2561BCG isn't widely available anymore. A great combination microwave alternative is the Daewoo KOC9Q3TC though – click here for its price. The Russell Hobbs RHM2561BCG 25L black microwave with convection oven and grill is one of the most stylish, attractive models we've ever reviewed. With its sleek and futuristic design...
Full Review
The Sharp R82STMA 25L stainless steel combination microwave features an imposing design, powerful microwave output and a variety of settings. It's also reasonably priced compared with other combination models. Keep reading our Sharp R82STMA review for an in-depth look at the product's features, as well as a summary of reviewer's...
Full Review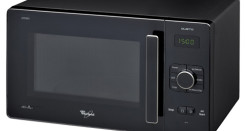 This model isn't easy to find anymore. If you're looking for a grill microwave, the Russell Hobbs RHM2031 is a good alternative. Click here to view its price. The Whirlpool GT285BL Gusto microwave is an interesting new model that looks fantastic. With its heavily rounded corners, pure black design and...
Full Review