The RHM2561BCG isn't widely available anymore. A great combination microwave alternative is the
Daewoo KOC9Q3TC
though – 
click here
for its price.
The Russell Hobbs RHM2561BCG 25L black microwave with convection oven and grill is one of the most stylish, attractive models we've ever reviewed. With its sleek and futuristic design that also doesn't look tacky (unlike the fun but far from subtle Fagor Spoutnik) combined with wide range of functions this is definitely a microwave to consider. Keep reading our Russell Hobbs RHM2561BCG review for a more in-depth look at the product's features, price and how reviewers have rated it.
Russell Hobbs RHM2561BCG Features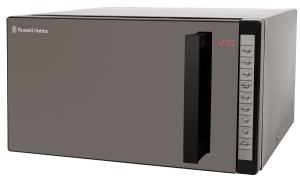 Like the recently reviewed Sharp R82STMA, the Russell Hobbs RHM2561BCG combination microwave is a 25L model. That means it's capable of fitting medium-large dinner plates without dominating the kitchen in the way larger models can. The black housing, mirrored finish to the door and stylish overall design mean that this microwave won't look out of place in any kitchen.
The Russell Hobbs RHM2561BCG is a combination microwave, which means it comes with an additional grill and convection oven setting. The grill power is 1100W and oven 2500W, so you can cook a variety of dishes.
Other features of the Russell Hobbs RHM2561BCG 25L black combination microwave include a removable turn table, easy-clean stainless steel interior and five microwave power levels. The model also comes with a weight defrost function, automatic cook menus and a digital timer.
Overview of features:
Combination microwave with a stylish design
Mirrored door finish for extra pizzazz
900W microwave, 1100W grill, 2500W convection oven
Digital timer
Grill rack for crisp and browning food
Five microwave power levels
Weight defrost settings
Automatic cook menus
Clock
Russell Hobbs RHM2561BCG Reviews
The Russell Hobbs RHM2561BCG 25L microwave has received positive reviews from buyers so far. We've summarised the positive and negative comments from buyers below.
Things reviewers like about the RHM2561BCG:
Size is big enough to fit most plates without taking up too much work surface space
Design looks fantastic in the kitchen
Convection oven works exactly as you'd expect
Automatic programs appear to be accurate and useful
Interior is easy to clean thanks to the stainless steel design
Excellent value for money compared to other combination microwaves
Things reviewers didn't like:
The microwave takes a bit of getting used to as the instructions aren't as clear as they should be (this is a common theme with many microwaves unfortunately)
Mirrored finish shows finger marks unless cleaned regularly
Russell Hobbs RHM2561BCG Conclusion
The Russell Hobbs RHM2561BCG 25L combination microwave is an impressive model, and not just because of its stunning design. Its range of features, full combination of grill, oven and microwave and strong performance mean it provides great value for money. If you're looking for a combination microwave in this price bracket, we definitely recommend considering the RHM2561BCG.