Combi Microwave Reviews – The Best Combination Microwaves in the UK
Our #1 Combination Model
If you're looking for a powerful combi microwave oven with a huge capacity, the Sharp R959SLMAA is our top recommendation. With a 40 litre interior, stylish design and rapid cooking, it's one of the best on the market.
Combi microwaves are all-in-one kitchen appliances. Along with standard functions, these models come with a grill and oven, allowing you to brown, crisp, bake and roast food without using your full-size convection oven. If you regularly need more oven space, or just want to cook foods quickly, a combination microwave is a great choice.
As you'd expect, a microwave convection oven combo is often more expensive than a solo model. Even so, it's possible to find combis from around £90 and up, which isn't too much more than a standard model. Considering you get a microwave and oven in one, we think the prices are very reasonable for most models.
Aside from the grill and conventional oven, a microwave combination oven has all of the features of a solo microwave. If you want a grill for browning your food, but don't need a conventional oven, then a grill microwave is probably a better option. For those who need the ultimate in versatility, a combi model is often the best choice.
On this page, we've started by listing our top choices for a combi appliance. These models are powerful, provide great value for money and have been highly rated. We've also included a guide to choosing a combination microwave.
Note: The models on this page are freestanding combi microwaves – visit our built-in page for integrated models.
Which are the Best Combination Microwaves of 2017?
The table below shows our current top recommendations for a combi appliance. While you should choose the model that is closest to your requirements in terms of size and budget, we think each of these microwaves provides excellent value.
| Image | Microwave | Colour | Capacity | Power | View Price |
| --- | --- | --- | --- | --- | --- |
| | Sharp R959SLMAA | Silver | 40 litres | 900W | View Price |
| | Morphy Richards ES8 | Black or White | 23 litres | 800W | View Price |
| | Sharp R861SLM | Silver/Black | 25 litres | 900W | View Price |
| | Panasonic NN-CF873S | Stainless Steel | 32 litres | 1000W | View Price |
| | Delonghi EC92 | Black | 28 litres | 900W | View Price |
| | Panasonic NN-CT585S | Stainless Steel | 27 litres | 1000W | View Price |
| | Panasonic NN-CT555W | White | 27 litres | 1000W | View Price |
---
1. Best Combi Oven: Sharp R959SLMAA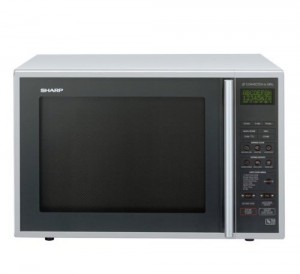 Our top recommendation for a combi is the Sharp R959SLMAA. It's far from the cheapest model on this list, but it boasts a huge (for a freestanding model) 40 litre capacity, powerful convection oven and a variety of automatic cook functions.
So what makes this machine stand out from the crowd? Most importantly, its grill and convection oven are both powerful and cook quickly. The grill, in particular, does a great job of browning and crisping, and can handle large amounts of food simultaneously.
Aside from its cooking speed, we like the design of the R959SLMAA and think it looks great in most kitchens. There are also eight automatic cook menus and five power levels, so you can adjust cooking speeds depending on the type of food.
Of course, it's not for everyone. If you have a small kitchen, the large size might be unsuitable. It's relatively expensive, so it's not a budget combination microwave. We also think it's a shame that the stands don't have four legs, as the three legged design makes them slightly unstable.
Even with these minor drawbacks, the Sharp R959SLMAA is an excellent combination oven that we highly recommend. It has a powerful grill and convection oven, and has proven to be a popular model amongst buyers. If you're looking for a large combination microwave, this should be near the top of your list.
---
2. Best Small Combination Microwave: Morphy Richards ES8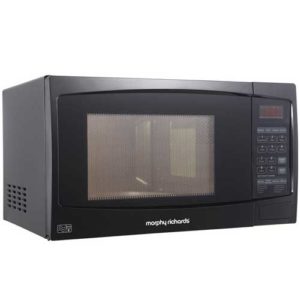 Combination microwaves, by nature, have a larger average size than solo models. This means you're unlikely to find a high-quality combi with less than 20 litre capacity. There are still compact combination microwave ovens available though, and one of our favourites is the Morphy Richards ES8.
Available in both black and white, the ES8 is a 23 litre combi that's available for a very reasonable price. It's not as powerful as larger and more expensive options, but if you need a versatile appliance that fits in a small kitchen it's an excellent choice.
The power is 800W, so it can cook food relatively quickly, while the grill is a respectable 1200W. The convection oven has a maximum temperature of 190 degrees Celsius, which is something to keep in mind if you need to bake or roast at higher temperatures.
If you're looking for a relatively slimline combination microwave on a budget, the ES8 is an option to consider. It's one of the most affordable combi models on the market, yet still has some useful settings and can cook food quickly. It's not big enough for large families, but for everyday cooking for couples it's a great choice.
---
3. Best Flatbed Combination Microwave: Sharp R861SLM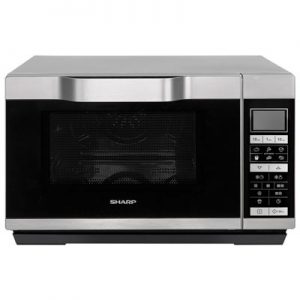 One of the most interesting combi models on the market at the moment is the Sharp R861SLM. It's not the largest, nor is it the most powerful, but boasts a flatbed design and a variety of useful settings.
Let's start with the interior. The model has a 25 litre capacity, which puts it on the lower end of what we recommend for families. This is slightly misleading though, as the flatbed design doesn't require a turntable. This allows you to use the entire interior for cooking.
The power is 900W and it can cook food quickly and evenly. The grill isn't the most powerful we've seen, at 1000W, and the convection oven's maximum temperature is 200 degrees Celsius. This is enough for most types of cooking but doesn't provide the higher temperatures offered by a regular convection oven (or more expensive combination appliances).
Other features include 14 cooking programmes, a defrost mode, child lock and a silver design. The dimensions of the machine are 51 x 30 x 47 cm (WxHxD). It also has a drop down door, which is designed to allow easy access to the interior.
If you're looking for a flatbed combination microwave, the Sharp R861SLM is our top recommendation. It's easy to use, able to fit larger dinner plates than turntable models of the same size, and can cook food quickly and evenly.
---
Why Buy a Combination Microwave Oven?
When buying any type of microwave, it's vital to balance your requirements with cost. While a combination microwave convection oven is often powerful and versatile, that doesn't mean everyone needs one. Here's an overview of the pros and cons.
Pros of Combi Models
A greater variety of cooking options compared to a basic microwave.
Often come with more features and settings than solo microwaves.
A combination microwave and convection oven is often excellent as a second oven, or even as a replacement.
Not as expensive as many people assume.
Both freestanding and built in microwave combination oven models are available.
Cons of Combi Models
Often more expensive than solo or grill models.
If you just want to heat, reheat or defrost food, a combination microwave and oven probably isn't necessary.
Which are the Best Brands?
We always advocate choosing an appliance based on its performance and buyer feedback, not on brand alone. It's often easy to get caught up in a brand's reputation and buy a model that doesn't provide the same value for money as lesser known manufacturers.
With that said, there are some brands that excel at manufacturing powerful microwaves. A good example is Daewoo, a company that manufacture our top rated combi model at the moment. Other manufacturers of combination models include Russell Hobbs, Morphy Richards and Sharp.
How to Choose a Model
We cover the main considerations when choosing a microwave on our homepage, but here's a quick overview.
Power. If you're buying a combi model, you probably want a powerful and versatile microwave. Make sure you look at the microwave, grill AND oven power before buying.
Capacity. Again, if you want a model for serious cooking, a large capacity is important.
Built in or freestanding. A built-in combination microwave may look great, but is difficult to install after your kitchen is built. Freestanding models are the "regular" type that can be placed on kitchen work-surfaces without any installation.
Price. Combi models can be expensive. Make sure you know your budget before you buy – although we advise against buying a cheap combination microwave purely because of the price (these models are often low quality and unable to cook food evenly).
Appearance. While appearance is probably the least important factor, most people want a model that looks good in their kitchen. You're in luck if you want a silver, cream or black combination microwave, as there are many around, although you may struggle to find more exotic colours.
Other Features. Some models come with additional features, such as steam cooking, which you may or may not require. There is at least one brand producing a combination microwave oven with rotisserie too, if you want even more cooking options.
As a note of warning, be aware that you are often much more limited in choice when it comes to buying an integrated combination microwave oven. This is because the model must fit the design of your kitchen, as well as the colour scheme.
Also, there is no such thing as the best combi microwave oven for all situations. The right model for you depends on your requirements, budget and personal preferences. Some models may be suitable as a full oven replacement, while others are only designed to handle small meals. So make sure you take your requirements into account when buying.
Conclusion
In summary, combination microwaves are the most versatile option, and are even capable of cooking full roast dinners. Cooking in a combination microwave can take some getting used to though, especially if you've only used a solo model before, so it's important to look for models that are easy to use, powerful and provide great value for money.
Listed below are all our combi microwave reviews, along with specifications and price info. If you have any questions, or if there are specific combination microwave oven reviews you would like to see on the site, please use the contact form.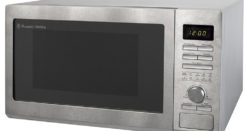 One of the most popular combination microwaves, at the time of writing, is the Russell Hobbs RHM3002 family microwave. It's a stainless steel model with a variety of features, including a powerful grill, fan-assisted convection oven and 30 litre interior capacity. But is the model worth the price tag? And what...
Full Review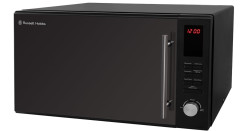 The Russell Hobbs RHM3003B black combination microwave has an impressive interior capacity of 30L. It also comes with a grill and convection oven – all for a very reasonable price. Keep reading to find out more about what the Russell Hobbs RHM3003B has to offer, and whether reviewers think it is...
Full Review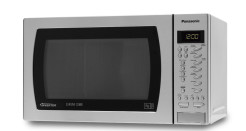 The Panasonic NN-CT579S slimline combination microwave is a stylish, highly functional model that comes equipped with a convection oven and grill. It's also designed to be slimmer than other 27 litre microwaves – so it doesn't take up as much kitchen workspace. Keep reading to find out what we think...
Full Review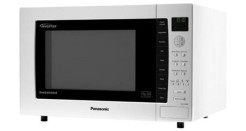 Most retailers no longer sell this model, but the Panasonic NN-CF778SBPQ is a 27 litre model that's a great alternative (although slightly smaller). Click here to see its price. The Panasonic NN-CT870WBPQ 32L white combination microwave is a powerful and attractive model that's designed for serious cooks. With 1000W microwave power...
Full Review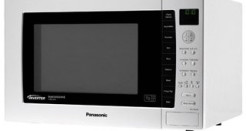 This model isn't available on most shopping sites anymore. Click here to see the price of the model we recommend instead – the Whirlpool Jet Chef. The Panasonic NN-CT857WBPQ 23L 1000W combination microwave is a powerful and large appliance. With an extra 5 litre capacity compared to the previously reviewed Panasonic NN-CF760M,...
Full Review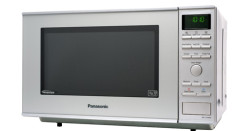 The Panasonic NN-CF760M flatbed combination microwave is a large, silver appliance with a range of interesting features. This isn't a microwave designed for the occasional user, and its high price reflects this. Instead, the NN-CF760M is built for people and families who rely on their microwave to cook large...
Full Review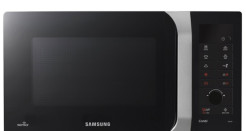 It's hard to find this model now, so instead we recommend the excellent Panasonic NN-CF778SBPQ which is a 27 litre model. Click here to view its price. The Samsung CE107F-S Chic Silver is a combination microwave with a range of features. The CE107F-S, like most of Samsung's products, is sleek and...
Full Review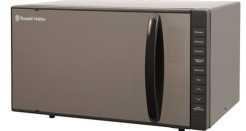 The Russell Hobbs 23L Grey Digital Microwave with grill and convection oven is a very modern looking machine at a respectably low price. It has a number of features that wouldn't look out of place in the specifications of a high microwave. Appearance-wise, the RHM2361GCG is clean and simple,...
Full Review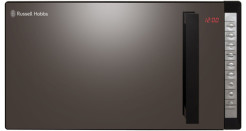 The RHM2561BCG isn't widely available anymore. A great combination microwave alternative is the Daewoo KOC9Q3TC though – click here for its price. The Russell Hobbs RHM2561BCG 25L black microwave with convection oven and grill is one of the most stylish, attractive models we've ever reviewed. With its sleek and futuristic design...
Full Review
The Sharp R82STMA 25L stainless steel combination microwave features an imposing design, powerful microwave output and a variety of settings. It's also reasonably priced compared with other combination models. Keep reading our Sharp R82STMA review for an in-depth look at the product's features, as well as a summary of reviewer's...
Full Review