Which is the Best Samsung Microwave Oven?
Samsung is a brand that needs no introduction – although the company's microwaves probably aren't as well-known as their other products. On this page, we've listed all our Samsung microwave reviews, along with our top pick from this brand.
When most people think of Samsung, mobile phones, TVs and other consumer electronics are usually their first thoughts. But Samsung actually produces a variety of kitchen appliances, including microwaves. We've reviewed a number of Samsung ovens and think they are generally effective models – whilst also much more stylish than many competitors.
Our Top Rated Samsung Microwave
Our favourite Samsung microwave at the moment is the Samsung MS23F301EAK/EU. It's a stylish microwave and combines 800W microwave power with an advanced heat distribution system for better cooking.
Who Are Samsung?
There aren't many people who haven't heard of Samsung – but their microwaves often fly under the radar. This is a shame, as they produce some excellent models.
If you don't know the history of the brand, Samsung was first founded in Korea in 1938. Since then, it has become one of the largest companies in the world with a variety of divisions and subsidiary companies.
The company produces a range of products, from kitchen appliances through to medical equipment. They are probably best known for their mobile phone range (such as the Samsung Galaxy series).
What Type of Microwaves do They Produce?
As you would expect from such a large brand, Samsung produces a range of microwaves in almost every category. Most are solo microwaves, but there are grill and combination models available. Their microwaves tend to fall in the 20-30 litre range.
It's probably no surprise that Samsung microwaves are usually stylish, and come with an array of settings and features. If you're tired of the boring appearance of most microwaves then a Samsung model could be a good choice.
That doesn't mean we recommend all microwaves from this brand though – there are certainly some that focus too much on style rather than performance. Make sure you check out the reviews below to find out whether a specific model is worth buying.
Samsung Microwave Reviews
We've reviewed a number of microwaves from this brand. While none of Samsung's models are currently our top picks in individual categories, they are solid appliances that won't let you down. Read all of our Samsung reviews below, including price comparisons and buyers opinions.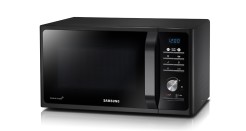 The Samsung MG23F301TAK/EU black grill microwave is a 23L model from one of the most well-known electronics brands in the world. But is it worth the money? And what do reviewers think of it? Keep reading to find out. Samsung MG23F301TAK/EU 23L Samsung MG23F301TAK/EU 23L Samsung MG23F301TAK/EU Black Microwave...
Full Review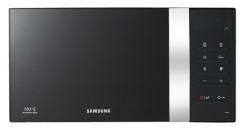 This model is no longer widely available, but the excellent 20 litre Russell Hobbs RHM2076SB is a great alternative. Click here to see its latest price. The Samsung ME76VBBH 20L solo microwave is an interesting looking model. It's one of the most modern microwaves, when it comes to appearance, on...
Full Review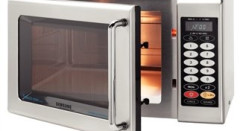 The Samsung CM1069 Microwave is a microwave with a large 26L capacity, and a powerful 1100W power rating. The CM1069's appearance is more functional than "sexy," which suits its target market of small catering businesses rather than the home. The controls are clear and simple, the interior is stainless...
Full Review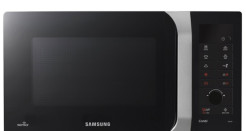 It's hard to find this model now, so instead we recommend the excellent Panasonic NN-CF778SBPQ which is a 27 litre model. Click here to view its price. The Samsung CE107F-S Chic Silver is a combination microwave with a range of features. The CE107F-S, like most of Samsung's products, is sleek and...
Full Review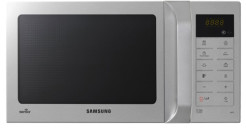 This model isn't widely available anymore, but the Russell Hobbs RHM2362S is an outstanding alternative. Click here for the Russell Hobbs RHM2362S's price. The Samsung ME89F-1SS 23L solo silver microwave oven is the first Samsung model we've reviewed, and it's also one of the most attractive on the market. With a...
Full Review