This model isn't widely available anymore, but the 
Russell Hobbs RHM2362S
is an outstanding alternative. 
Click here
for the Russell Hobbs RHM2362S's price.
The Samsung ME89F-1SS 23L solo silver microwave oven is the first Samsung model we've reviewed, and it's also one of the most attractive on the market. With a range of features, relatively low price tag and 800W power output, this is a microwave that certainly promises a lot. But does it live up to expectations? Keep reading our Samsung ME89F-1SS review from more information about its features, along with comments from buyers.
Samsung ME89F-1SS Features
The design of the Samsung ME89F-1SS silver microwave is one of its best features. It has a stylish, sleek and ultra modern appearance that looks fantastic. If you have a contemporary kitchen, the ME89F-1SS certainly won't look out of place.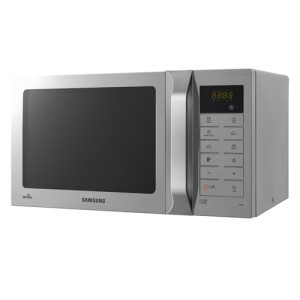 It's a 23L microwave, making it suitable for relatively small kitchen, and comes with a display lock function to prevent children from opening it when in use. Other features include a "Triple Distribution System" – which is designed to distribute microwave energy from three different points for more even cooking – and a ceramic interior cavity for easy cleaning.
The Samsung ME89F-1SS silver microwave also comes with a rapid defrost function, which is perfect for when you forget to get the chicken out for the evening meal, and a simple one touch cook system.
Overview of features:
One touch sensor system
23L capacity but with a compact design
800W power output
Attractive stainless steel trim
Triple distribution system for even cooking
Rapid defrost function
Steamer function
Easy to use controls
Six different microwave power levels
Useful instruction manual – something that can't be said for many microwaves!
Samsung ME89F-1SS Reviews
The Samsung ME89F-1SS doesn't have many reviews on the biggest shopping sites, but we found plenty from around the web. It has received mainly positive reviews, although there are a few minor issues that reviewers had.
The Samsung ME89F-1SS 23L silver microwave is said to be stylish, compact and look great on a kitchen work surface. Buyers had to spend some time getting used to the controls, but after a brief period of acclimatisation found it easy to use. The steam function is a bonus, and is effective at cooking vegetables (without losing important vitamins and other nutrients).
Other positive comments include that the instruction booklet is useful, has a range of one touch menus and six different power levels.
No microwave is perfect though, and the Samsung ME89F-1SS has a few minor problems. Firstly, the pull handle door is said to be a bit too difficult to open compared to push button models. One reviewer also mentions that he found the control panel confusing to use.
Samsung ME89F-1SS Conclusion
The Samsung ME89F-1SS solo 800W microwave is a model that has a number of useful and interesting features. These features, combined with the attractive appearance, mean that this is a microwave you should consider if searching for a solo model in this price bracket. Other options include the Russell Hobbs RHM2064R and Daewoo KOR6L6BD.