Our Top Rated Steam Microwave
If you're looking for a microwave that can do almost anything – including steaming – then the Whirlpool Jet Chef Combi Microwave with grill, steam function and 31L capacity is a great option. Click the link below to find out more about this excellent steam microwave.
What are Steam Microwaves?
Steaming food has a number of advantages, but the main one is that you can cook vegetables without losing all the nutrients. Having a steam microwave allows you to add more variety to your meals without needing additional appliances.
What Are Steam Microwave Advantages and Disadvantages?
There are a number of advantages to steaming food. These include:
When you steam food the structure is maintained. If you often find that vegetables become too soft – steaming is a great option.
Steamed foods keeps its minerals and vitamins. In fact, steaming vegetables such as brocolli retains around 60% more nutrients.
You can use steam to cook almost anything.
Cooking using steam doesn't require any oil, which reduces calories and makes your meals healthier.
Steam microwave ovens make it easy to cook food in a healthier way without sacrificing too much speed. There aren't many disadvantages – although steam microwaves tend to cost more money.
Steam Microwave Oven Reviews
Unfortunately, there aren't many steam microwaves on the market. The main manufacturer is Whirlpool who build both steam microwave combination ovens and solo models. Listed below are all the steam microwaves we've reviewed so far.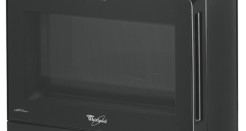 The Whirlpool Max 35 is, unfortunately, hard to find these days unless you buy second-hand (although this may change in the future). Our recommendation for an alternative 23 litre microwave is the Russell Hobbs RHM2362S. Click here to view its price. The Whirlpool Max 35 Black microwave has the same features as...
Full Review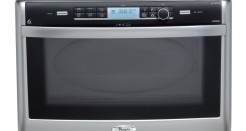 The Whirlpool Jet Chef 31L 1000W JT366 SL microwave with a grill and crisp function is certainly a model that's built for versatility. With its large interior capacity, fast cooking speed and range of unique functions, the Jet Chef is completely different to the company's popular Max series of...
Full Review