Featured Microwaves
We review lots of microwaves at MicrowaveReview.co.uk, and some really stand out from the crowd. Listed below are our top microwaves – we recommend looking at these first (although that doesn't mean microwaves that don't make this list are necessarily bad).
When deciding upon whether a microwave makes this featured list, we take into account the price, buyers opinions and the specification. Grill, combi and solo microwaves are listed in this category.
How We Decide On Featured Microwaves
To become a featured microwave, a model has to provide excellent performance compared to alternatives in its price range. Featured microwaves aren't necessarily the "best," but instead are the ones that we believe are the strongest in their particular category.
We also sometimes feature microwaves that bring something different to the market, such as a unique design or interesting programmes. If you own a microwave that you believe should be featured, let us know using the contact form.
There are a large number of different factors that you need to consider when buying a microwave. You need to consider your requirements in these categories, amongst others, even when looking at featured microwaves. The best microwave for you depends on your personal situation, so just because a microwave is featured doesn't mean it's the perfect choice.
Here's a brief overview of features you should consider:
Power – this affects how quickly food is cooked and is one of the most important considerations.
Size – This is self explanatory, but something that many people overlook. Larger microwaves often cost more, but are sometimes required when cooking for big families or using the microwave as a replacement oven.
Automatic programs – Many microwaves come with auto defrost and cooking functions based on the weight of the food.
Preset programmes – These are often useful for cooking popular foods.
Safety features – A child lock is important for family microwaves.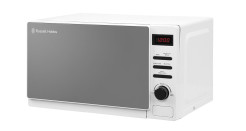 There aren't too many microwaves that make us say "wow" when we first see them. But the Russell Hobbs RHM2079A is certainly one of them. With its stylish, interesting white design, the microwave is sure to stand out from your other appliances. But what about its features? And do buyers...
Full Review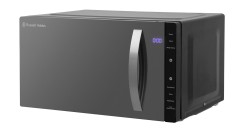 If you're fed up with turntables that constantly get stuck, only allow you to use a portion of the microwave's interior and add an extra item to the washing up, then a flatbed microwave is an excellent option. The Russell Hobbs RHFM2363B Black Flatbed microwave does away with the turntable altogether,...
Full Review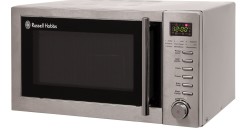 The Russell Hobbs RHM2031 is a grill microwave that's currently being sold for a very reasonable price. How does it compare to other grill microwaves though? And what features does it have? Keep reading our review to find out. Russell Hobbs RHM2031 Russell Hobbs RHM2031 Russell Hobbs RHM2031...
Full Review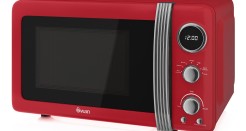 If you're looking for a microwave with more style than the average sleek design, then look no further! The Swan Retro is designed to bring back memories of days gone by – but that doesn't mean it's not a capable microwave too. Keep reading for more information about this...
Full Review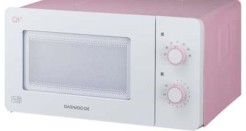 We haven't seen many pink microwaves, so we were excited when the new Daewoo QT3 was released in a pastel-pink colour scheme. It's a compact microwave oven with a 14 litre capacity and low 600W power. On paper, it looks like an excellent choice for a small household or for the occasional...
Full Review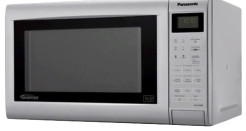 The Panasonic NN-ST452WBPQ white microwave oven is a stylish model with plenty of power and capacity. It's a solo microwave, so it doesn't come with a grill or convection oven, but its high power output means it's suitable for cooking large amounts of food quickly. Keep reading our Panasonic...
Full Review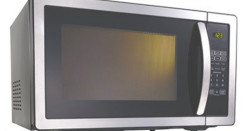 This microwave isn't easy to find on shopping sites anymore. If you need a 25 litre model, the Russell Hobbs RHM2563 is a good alternative – click here to see its latest price. The Kenwood K25MSS11 stainless steel microwave oven is a relatively inexpensive yet powerful appliance. It's a solo model with...
Full Review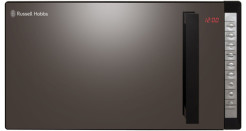 The RHM2561BCG isn't widely available anymore. A great combination microwave alternative is the Daewoo KOC9Q3TC though – click here for its price. The Russell Hobbs RHM2561BCG 25L black microwave with convection oven and grill is one of the most stylish, attractive models we've ever reviewed. With its sleek and futuristic design...
Full Review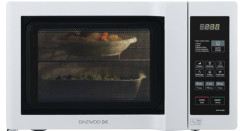 The Daewoo KOR6L6BD duo plate digital microwave is perfect for people who need to heat multiple dishes at the same time. It comes with two shelves, providing more functional space to use inside the cavity. It's a 20 litre model with 800W output, and features an attractive white colour...
Full Review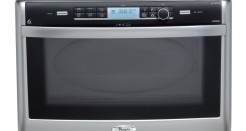 The Whirlpool Jet Chef 31L 1000W JT366 SL microwave with a grill and crisp function is certainly a model that's built for versatility. With its large interior capacity, fast cooking speed and range of unique functions, the Jet Chef is completely different to the company's popular Max series of...
Full Review