Recommended 14 Litre Microwave
14L microwaves are perfect for small kitchens, caravans or just if you don't want a large appliance. We think the best 14 litre model on the market at the moment is the Daewoo QT1. It's small – yet has a dual wave system for more even cooking.
14 litre microwaves are amongst the smallest on the market. They are compact models with small turntables, and are usually designed for apartments or even caravans. While 14L microwaves are a good choice for those with limited space, they are often too small for families or regular microwave users.
Who Should Buy a 14L Microwave?
14L microwaves are built for a very specific purpose – to cook small amounts of food in a tight space. If you have the work surface space and plan on using your microwave a lot, then a larger model is nearly always the best choice.
20L microwaves
are often a good compromise between space saving and interior capacity.
If you don't plan on using your microwave for much more than reheating soups or cups of tea, or if you don't have a lot of work surface space, then a 14L microwave may be a good choice. Small microwaves are also useful for motor homes and caravans.
Due to their small size, 14L microwaves tend to be relatively basic and have a low power output. Considering they are only built for cooking small quantities of food, this isn't usually a problem, but is something to keep in mind.
Which Companies Manufacture 14L Microwaves?
Unfortunately, there aren't many companies that manufacture microwaves this small. Daewoo are currently the only models that we've reviewed so far, although the QT1 and QT2 are both great little microwaves. If you don't see a 14L model you like, you may want to consider the next size category up, which is
17L microwaves
.
We regularly review new microwaves, so keep checking back for more reviews of 14L models. While there aren't many of these microwaves on the market at the moment, new microwaves are released regularly.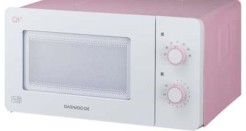 We haven't seen many pink microwaves, so we were excited when the new Daewoo QT3 was released in a pastel-pink colour scheme. It's a compact microwave oven with a 14 litre capacity and low 600W power. On paper, it looks like an excellent choice for a small household or for the occasional...
Full Review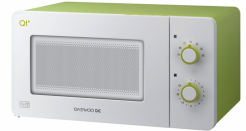 The QT2 can be difficult to find – but don't worry! The Daewoo QT1 is still widely available. Click here for the QT1's price. The Daewoo QT2 compact microwave oven is almost identical to the QT1 which we've previously reviewed. The only difference – that we could find – is...
Full Review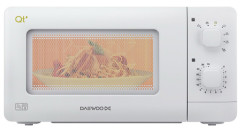 The Daewoo QT1 compact microwave oven is a small, attractive model that's perfect for small kitchens. It features a modern white design, with plenty of curves and a simple control panel containing just two knobs (power and timer). It's also relatively cheap at just £60.18.
Full Review