Our Top Rated 31L Microwave
The excellent Whirlpool Jet Chef gets our vote as the top 31L microwave on the market at the moment. It's a stylish model with a powerful 1000W microwave, quartz grill and even a steam function. Click the link below to view more details about this excellent microwave.
31 litre microwaves are large and often powerful. They are an excellent choice for large families, where big quantities of food is regularly cooked. 31L microwaves tend to be more expensive than smaller models, and are often grill or combination ovens.
Who should buy a 31L microwave?
When you get above the 30L mark, the microwaves are all designed to cope with cooking large amounts of food. If you're a "power" user who needs to cook large amounts of food quickly and easily then a 31L model may be an excellent choice. These microwaves often aren't cheap, but are powerful and come with a range of features.
Most 31L microwaves are
combination microwaves
. This means that they come with a built in grill and convection oven, allowing you to use the microwave in a similar way to a conventional oven. There are exceptions, however, so if you just need a large solo microwave those are available too (such as the
Daewoo KOR1NOA
).
Which companies manufacture 31L models?
A number of manufacturers produce microwaves in this category. Daewoo, for example, have several entries listed below. Whirlpool, who are known for producing microwaves with unique and interesting features, also have the Jet Chef microwave in this category.
While 31L microwaves aren't as popular as smaller models, they are an excellent choice if you need a lot of interior capacity. Listed below are all of our 31L microwave reviews. More are added on a regular basis, so make sure you bookmark this page.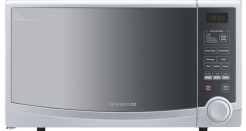 This model isn't widely available anymore, but for an alternative we recommend the Whirlpool Jet Chef. Click here for the Jet Chef price. The Daewoo KOG1N1ASL 31L 1000W digital microwave with grill features one of the most contemporary designs we've seen. With its combination of silver colour scheme and...
Full Review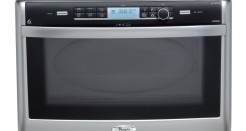 The Whirlpool Jet Chef 31L 1000W JT366 SL microwave with a grill and crisp function is certainly a model that's built for versatility. With its large interior capacity, fast cooking speed and range of unique functions, the Jet Chef is completely different to the company's popular Max series of...
Full Review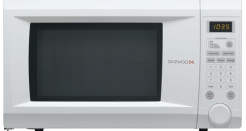 The Daewoo KOR1NOA is a large, powerful microwave from one of the world's best kitchen appliance manufacturers. It comes with a range of features, including 10 microwave power levels, an auto cook function and one touch menus. The Daewoo KOR1NOA 31L microwave is a solo model, which means it...
Full Review