Best Mini Microwaves – Which Small Microwave Should you Buy?
If you have a small kitchen or just want to save countertop space, a bulky appliance probably isn't the best choice! To help you find a slimmer option, we've reviewed our top three mini microwaves below. But if you want a quick overview, here are our recommended small microwaves:
UPDATE Early 2017: Several of the models on our original list of the best small microwaves are no longer widely available (namely the Whirlpool 35 and 38). We've adjusted our list to reflect this, but for reference we've left information about these models below. You also may be able to find these appliances second-hand.
We've also added two new entries – the excellent Russell Hobbs RHMM701R and RHM1714B which are both 17 litre models. For a true mini microwave, you still can't beat the Daewoo QT1 in our opinion though.
Mini microwaves are an excellent choice if you live in a small apartment, have a tiny kitchen or just don't plan to use it for much beyond reheating leftovers. They also make sense in mobile homes or caravans – or if you just want to save money. Compact microwaves tend to be cheaper than larger options, and take up far less surface space.
The problem is that there are surprisingly few compact microwave ovens available at the moment. And you need to very careful which you buy, as there are some poor-quality appliances on the market.
That's why we've created our list of the best small microwaves of 2018. Each of these models has been well received by buyers and has a maximum capacity of 17L. This means they are all small enough for caravans or small kitchens, yet can still cook relatively quickly and evenly.
Which are the Best Small Microwave Ovens of 2018?
| Image | Microwave | Capacity | Power | View Price |
| --- | --- | --- | --- | --- |
| | Daewoo QT1 | 14 litres | 600W | View Price |
| | Russell Hobbs RHMM701R | 17 litres | 700W | View Price |
| | Russell Hobbs RHM1714B | 17 litres | 700W | View Price |
| | Whirlpool Max 35 | 13 litres | 700W | Discontinued |
| | Whirlpool Max 38 | 13 litres | 700W + Grill | Discontinued |
| | Daewoo QT3 | 14 litres | 600W | View Price |
---
The QT1 is a more traditional mini microwave oven than the previously popular Whirlpool series (which have now been discontinued.) It has the standard rectangular design, with a tiny 14L capacity and a power level of 600W. Despite its low power, the QT1 is one of our favourite models. It's built for a very specific purpose – to provide reliable cooking in a small space – and does that extremely well.
Features of the QT1 include a compact design, seven different power levels and a 25.5cm turntable. This is smaller than the Whirlpool Max, and the QT1 also has less power. Considering the price is less than half of the Max 35 though, the Daewoo QT1 compact mini microwave provides excellent value for money.
If you're looking for a compact microwave for your kitchen, caravan or apartment, the Daewoo QT1 is our top recommendation. It's also proven to be extremely popular amongst buyers, with hundreds of positive ratings on shopping sites. In fact, the only reason to keep reading further is if you need more capacity than the 14L interior can provide.
Bonus: Did you know that the QT1 has a more flamboyant cousin? The Daewoo QT3, which we recently reviewed, has similar features including a compact 14L design and 600W power. Instead of the modern and sleek QT1 design, however, the QT3 features a stylish pink backing along with a white front. The performance difference between the two is negligible, but the styles are very different.
---
The Russell Hobbs RHMM701R has proven to be an excellent appliance with a stylish retro design. It's a 17 litre model, which means it's larger than the tiny QT1, and hence not as suitable for the smallest kitchens or caravans (although it should still be small enough for these locations). Even so, it's one of the best small microwaves on the market at the moment.
One thing we like about the RHMM701R is that it's a very attractive appliance. While it can take some effort to keep the mirrored finish looking it's best, there's no denying that it provides a classy touch that isn't found on many microwaves. Other features include five power settings, an easy to clean design and 700W power output. It's also available in black, should you prefer a more understated colour.
As we said in our full review, the RHMM701R is an excellent appliance that's available for a very reasonable price. There are reports of the interiors starting to become rusty, although this seems to be limited to a small group of buyers. Other than this, it is a popular microwave that looks great, cooks evenly and is relatively small compared to most models.
---
The Russell Hobbs RHM1714B is also a 17 litre model, which means it isn't quite as mini as the QT1. So if you're looking for the smallest possible microwave, it probably isn't the one to go for.
If, however, you need more power and a bit of extra space, the Russell Hobbs RHM1714B could be an excellent option. It's a stylish yet understated model with 700W power output, a 24.5cm turntable and several auto cook options. It also comes with weight defrost and a digital timer.
Like the other Russell Hobbs models on this list, it's also an attractive model. With a curved handle and mirrored door, it certainly draws the eye. Other features include five power levels, count down timer and a digital display.
It's difficult to choose between the RHM1714B and RHMM701R if you're looking for a 17 litre microwave. Both are great models, however, so you can't really go wrong with either.
---
Discontinued Mini Microwaves
The following are excellent models but no longer available on major review sites. We've listed them below for reference, which could be useful if you can find them second-hand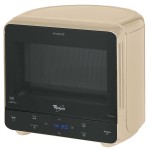 The Whirlpool Max 35 was one of the best mini microwaves on the market. It features a curved back design, which means that it can have a larger turntable than would otherwise be possible for a microwave this size. In fact, the 28cm turntable is larger than many bigger microwave ovens.
Other features of the Whirlpool Max 35 include a 3D distribution system, for even heating throughout the entire oven cavity, and one touch operation. The Max 35 is the second most expensive option on this list. If you need a small microwave that maximises the available space, however, then it's probably the best option.
Note: While Whirlpool seems to have discontinued there freestanding range, they still have some built-in microwaves. You can view them here.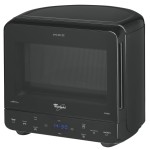 Another option from Whirlpool, the Max 38 has a number of additional features. The main benefit of choosing the Max 38 over the Max 35 is the unique crisp system. This browns crisps without burning the food, due to the quartz grill.
Aside from this, the Max 38 features the same space saving design of the Max 35, including the relatively large 28cm turntable. It's more expensive than the Max 35 though, which is something to keep in mind.
---
Summary
As you can tell, there are surprisingly few small microwaves on the market at the moment. Considering many people struggle with finding kitchen counter space for all their appliances, we find this surprising! While there are plenty of 20L models, there aren't many below this that are worth buying.
The good news is that the four mini microwaves on this list all provide excellent value for money. They don't take up a lot of space, cook food relatively quickly and have received strong reviews from buyers.
While buying a mini microwave can be an excellent option for those with small kitchens, it also has its drawbacks. Smaller microwaves tend to have lower power ratings, and hence cook much slower, so it's important to be aware of this before you buy. If you're used to an 800W microwave, you'll really notice the difference when downgrading to a 600W or even a 700W model.
Even so, for many people the slower cooking time is more than outweighed by having a small and compact appliance. If we had to choose the best mini microwave, it would have to be the Daewoo QT1. This is the smallest on our list that's not been discontinued, with a capacity of just 14L, and has proven to be widely popular amongst buyers.