Kenwood Microwave Reviews – Which Should You Buy?
Our #1 Kenwood Microwave
In our opinion, the best Kenwood microwave is the K25MMS14. It's a solo model with a 900W output, impressive cooking speed and large 25 capacity – plus it's available for a very reasonable price.
Kenwood are a mainstay of the UK appliance industry and have a reputation for producing excellent products. While they are well-known for their breadmakers and food processors, the company's microwaves are also a popular choice. It's worth pointing out the company is owned by Delonghi, but Kenwood microwaves have different designs and features.
In this article, we'll go through the best Kenwood microwave ovens, along with mini-reviews to help you make an informed decision. Each of the microwaves on this list provides great value for money and excellent cooking performance, but make sure you read the reviews to find out which is best suited to your requirements.
---
1. Kenwood K25MMS14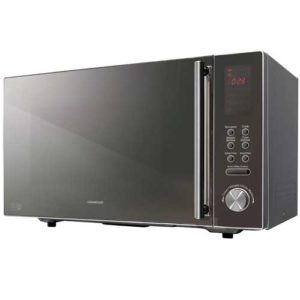 The Kenwood K25MMS14 is a solo microwave with a powerful 900W output. It has a sleek silver design along with a range of useful features – yet is available for a very reasonable price.
With its silver design and simple control panel, the microwave won't look out of place in any kitchen. The display is bright and clear, so you can always see your current settings, and the control dial makes it quick to set a cooking time. You might need to read the manual a couple of times to get the most out of the machine, but we think the control panel is straightforward once you get the hang of it.
Like all the best 900W microwaves, the K25MMS14 has enough power to cook food fast without leaving cold patches. If you're tired of microwaves that don't cook evenly, it's a great choice. There's also five power levels, eight automatic cook programmes (including fish, vegetables and pizza) and a defrost function.
Additionally, the 25 litre capacity makes it suitable for large families. With a turntable diameter of 31.5cm, there aren't many dinner plates that won't fit. The capacity is amongst the largest for a solo microwave, so if you need to cook plenty of food but don't want to pay for a combination microwave, this model could be a good option.
In our opinion, the K25MMS14 is the best Kenwood solo microwave at the moment. It's a stylish model with a range of useful features, including a large capacity and variety of automatic programmes. If you're looking for an attractive appliance that's great for cooking food quickly and evenly, you can't go wrong with the K25MMS14.
---
2. Kenwood K30CSS14 Combination
The Kenwood K30CSS14 is a stainless steel combination microwave. This means it has a grill and convection oven in addition to the microwave. It also has a large capacity and a decent selection of automatic cook menus.
Let's start with the convection oven and grill. These can be combined to roast, bake and crisp foods while cooking with the regular microwave function. This allows for faster cooking and prevents the watery, soggy texture that's often associated with microwave foods.
It has a huge 30 litre capacity, making it one of the largest models we've reviewed. If you have a large family, the big turntable will make cooking much easier – although it still doesn't come close to the 40 litre capacity of the Sharp R959SLMA. The obvious drawback of this larger size is that it's a bulky model, so it isn't suited for small kitchens or caravans.
Other features include push control buttons, digital display and a stylish stainless steel design. The machine also comes with 10 automatic cook programmes for foods such as vegetables and pizza.
Unfortunately, there are some drawbacks. There are reports of steam being caught in the oven (which reduces visibility) and the control panel can take some getting used to. With dimensions of 52 x 33 x 50cm (WxHxD), it's also far from a compact machine. These are relatively minor issues considering the quality of the appliance though.
The K30CSS14 is our favourite Kenwood combination microwave. It's an attractive (if somewhat bulky) model that cooks food quickly and has a variety of options. If you're looking for a microwave that can do it all – for a very reasonable price – it's a great option.
---
3. Kenwood K20MSS15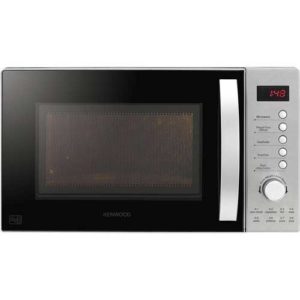 Another excellent Kenwood solo microwave is the K20MSS15. It's an 800W model, so it doesn't quite have the power of the K25MMS14, but it makes up for this with a lower price and an (arguably) more stylish design.
The K20MSS15 is designed for simple everyday cooking rather than large or complicated meals. It's a solo model, so it doesn't have a grill or convection oven, and the 20 litre capacity is relatively small. These factors, combined with the 800W power output, mean it's not the fastest or most advanced Kenwood microwave.
That doesn't mean it's not worth buying though. While it's not the best option for large families, it's a great microwave for small kitchens or for simple reheating and cooking. If you just want a straightforward microwave that can cook quickly and evenly, it's an option to consider.
Other features of the K20MSS15 include a bright LED display, stylish curved handle and a dial for selecting cooking times. There are also eight automatic cook programs, including for fish, pasta and vegetables.
Like any microwave, the K20MSS15 isn't perfect. The turntable isn't as stable as we would like, which can be frustrating when you're trying to cook something that can spill. The small size will also put people off – but this is clearly a microwave that's designed for couples rather than large families.
Overall, the Kenwood K20MSS15 isn't going to win any awards for innovation. But if you're looking for an attractive microwave that doesn't cost too much, cooks quickly and is simple to use, it won't let you down.
---
4. Kenwood K30GSS13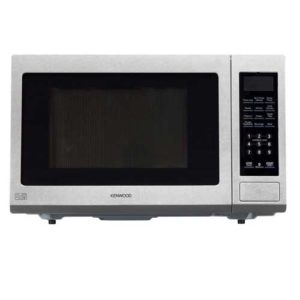 The K30GSS13 is a microwave with grill. It's one of the most expensive Kenwood models on this list, but we think it provides value due to its excellent performance and large size. It also has a range of useful features to speed up your cooking.
As we mentioned, the K30GSS13 is a grill microwave. This means it can brown and crisp foods, although it doesn't come with a convection oven function. The grill operates at 1000W, which isn't the most powerful we've seen, but it's more than capable of providing the satisfying crunch that's missing from microwave cooking.
Away from the grill, the model has a 900W microwave. This allows it to cook quickly and evenly. It also has a 30 litre capacity, making it a great option for big families or cooking larger meals. The downside is that it's relatively big and heavy. We like how the machine has a push button to open the door, although this can be surprisingly stiff.
Other features include 11 power levels, a defrost function and an LED display (although this can be difficult to read in bright sunlight.) It's a stylish stainless steel model, with the high build quality you would expect from a model in this price range. Nine automatic cooking programmes are also included, and you can "quick-start" the machine by pressing 1-6 (for 1-6 minutes.)
The K30GSS13 is probably the best Kenwood grill microwave. It's a powerful microwave in its own right, but combined with the 1000W grill can quickly and evenly cook crispy foods. There are a few minor drawbacks, such as the stiff handle, but overall it's an excellent machine.
Summary
Kenwood microwaves have a reputation for being reliable, high-quality and able to cook food evenly. The company produces a variety of models, including solo, grill and combi microwaves, so they almost certainly have an option that meets your requirements.
If we had to choose the best Kenwood microwave review, it would be the Kenwood K25MMS14. If you're looking for a powerful solo microwave with a range of useful features, you can't go wrong with this model.
This model is no longer widely available. We recommend the Russell Hobbs RHM2076SB instead if you need a 20 litre microwave. Click here for the latest price for the RHM2076SB. The Kenwood K20MSS10 20L stainless steel microwave is a relatively small appliance with a power output of 800W. While...
Full Review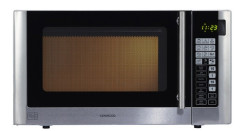 We now recommend the smaller but well-received Russell Hobbs RHM2031 if you need a grill microwave for your kitchen. Click here for its latest price. The Kenwood K30GSS12 microwave with grill is designed to be a powerful, spacious microwave that's perfect for large families. If you need a microwave with a large capacity...
Full Review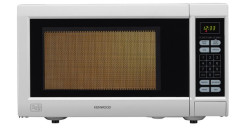 The K25MW12 is no longer sold on many shopping sites, but the Russell Hobbs RHM2563 is a great option if you need a 25 litre model. Click here to see the latest price. The Kenwood K25MW12 white microwave oven is a basic model that's available for a relatively low price. Despite its affordable...
Full Review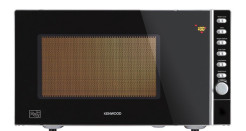 This model is no longer widely available. For this reason, we recommend the 25 litre Russell Hobbs RHM2563 instead – click here to view its latest price. The Kenwood K25MMS12 black microwave oven is a powerful, large solo model with an attractive black design. It's certainly a contemporary microwave when it comes...
Full Review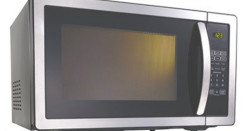 This microwave isn't easy to find on shopping sites anymore. If you need a 25 litre model, the Russell Hobbs RHM2563 is a good alternative – click here to see its latest price. The Kenwood K25MSS11 stainless steel microwave oven is a relatively inexpensive yet powerful appliance. It's a solo model with...
Full Review