Built-in Microwave Reviews – The Best Integrated Microwaves from Major Brands
Our #1 Integrated Microwave
If you're looking for a large and powerful built-in combination microwave, the Neff C17MR02N0B is our top pick. It has a 1000W microwave, fan assisted convection oven and grill, along with a huge internal capacity.
Microwaves are an essential modern appliance. That doesn't mean they are particularly stylish though – in fact, most freestanding models are an eyesore (with some notable exceptions, such as the Russell Hobbs RHM2064P and Russell Hobbs RHM2080BR). The good news is that a built-in microwave is often far more pleasing on the eye. They might be more expensive, but if you're looking for a sleek and fitted appearance are always the best option.
In this article, we've listed some of the best integrated microwaves available in the UK, including models from brands such as Neff and Bosch. We've also provided the pros and cons of a built-in appliance to help you make an informed decision.
Note: As the space available for an integrated appliance is nearly always limited, the selections below may not fit your kitchen. Make sure you check the dimensions before you buy. 
Which are the Best Built-in Microwaves?
Here are our top picks for built-in microwave ovens. We've also reviewed our top 3 models below.
| Image | Microwave | Type | Capacity | Power | View Price |
| --- | --- | --- | --- | --- | --- |
| | Baumatic BMC460BGL | Combination | 44 litres | 900W | View Price |
| | Bosch HMT75M654B | Solo | 20 litres | 800W | View Price |
| | Bosch Serie 6 HBC84H501B | Combination | 44 litres | 900W | View Price |
| | HOTPOINT MWH 122.1 X | Microwave with Grill | 20 litres | 800W | View Price |
| | Neff C17MR02N0B | Combination | 45 litres | 1000W | View Price |
| | Neff H53W50N3GB | Solo | 17 litres | 800W | View Price |
---
1. Best Built-in Combination Microwave: Neff C17MR02N0B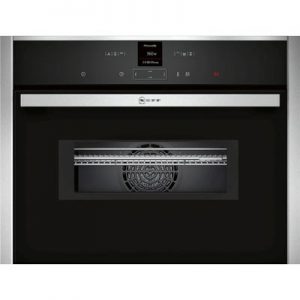 The C17MR02N0B might not have the catchiest name, but it's our top pick if you need a built-in oven and microwave. It's a powerful appliance with a range of settings, large capacity and a flatbed design – although it has a high price to match. We also listed this model as our favourite Neff microwave.
As you would expect from a premium built-in combination microwave, it has a powerful 1000W output along with a convection oven that can heat up to 275 degrees Celsius. There's a dual grill and the fan is oven assisted, making the C17MR02N0B a true competitor to a regular convection oven.
That's just the beginning of this model's features though. With a stylish stainless steel design, touch controls, 14 automatic cook programs and a plate warming function, this is one of the most feature-packed microwaves we've ever reviewed. In fact, the biggest drawback of this machine is that it may take some time to feel comfortable using all its features.
There are a few minor drawbacks. The lack of a back-up battery means you'll need to reset the clock and other settings after a power cut. The instruction booklet also isn't great – especially considering the wide range of features.
Overall, however, the Neff C17MR02N0B is a fantastic built-in combination microwave. It's expensive – but in this case you get what you pay for.
---
2. Best Built-in Solo Microwave: Bosch HMT75M654B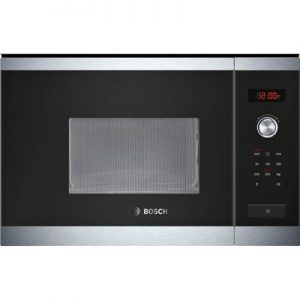 If you're looking for a relatively small built-in microwave, the HMT75M654B could be a good option. It's an 800W model that has a variety of settings, including automatic defrost and 5 power levels. But how do you know if this model is right for your home?
To start with, the Bosch HMT75M654B is not built for large families. It only has a 20 litre capacity, so while it can handle medium-size dinner plates it's too small for cooking big meals. This isn't necessarily a drawback though, as it means it has a compact size and still provides ample space for reheating, cooking and defrosting basic meals.
A nice feature of the microwave is that the dial can be pushed into the machine. This provides a completely flat front panel that looks great and is also easy to clean.
Other features of the microwave include several automatic cook programs, a stylish stainless steel design and a left-hinged door. It also has a bright digital display panel and a dial for selecting cooking time. Compared to integrated combination microwaves, it's also much cheaper (although be prepared to spend more than you would on a similar freestanding model).
We do have some minor complaints about the HMT75M654B. As we mentioned, it's a relatively small microwave, so don't buy it to cook large quantities of food. It can also cause the surrounding cabinets to become slightly damp if used for extended periods, although this is a common problem with built-in models.
In summary, we think the Bosch HMT75M654B is one of the best integrated solo microwaves on the market at the moment. It cooks quickly and evenly, is easy to use and looks fantastic.
---
3. Best Small Built-in Microwave: Neff H53W50N3GB
If you're looking for an even smaller microwave than the 20L Bosch listed above, the Neff H53W50N3GB could be an option to consider. It's a 17 litre built-in microwave yet still has 800W power output and a number of useful features.
The H53W50N3GB has the typical style of Neff models with a stainless steel exterior and simple control panel. The digital display is bright and easy to see while the dial makes it easy to set precise cooking times. It also comes with seven automatic cooking programmes, five power levels and a 1.3 metre cord.
The downside to this model is that it's relatively basic. There's no automatic defrost mode and the frame is made out of plastic instead of steel. Also, while it can fit a small/medium size dinner plate, the 17 litre capacity is too small for large meals.
Even so, the Neff H53W50N3GB is a great option if you need a small microwave for your fitted kitchen. It's far from the most innovative or powerful microwave, but does a great job of cooking and reheating.
---
What are the Pros and Cons of Integrated Microwaves?
Pros:
Integrated models are generally more stylish than freestanding models as they don't need to be placed on work-surfaces.
Unlike standard microwaves, which are placed on kitchen work surfaces, integrated microwaves can be placed at eye level.
Built in models also save work surface space.
Cons:
Built in microwaves are nearly always more expensive than stand-alone models
Once you've installed a built-in model, it can't be moved around the kitchen.
Built-in microwaves can be difficult to install into pre-existing kitchens.
Keep in mind that the best time to buy a built-in model is when installing a new kitchen. Unless there's an obvious space for the microwave, it can be more difficult (although not necessarily impossible) to install them into an existing kitchen.
Prices of built in microwaves vary greatly depending on the power, size and features of the model. The cheapest built-in models are considerably more than freestanding models though – you'll nearly always pay a premium for that stylish appearance.
How to Choose an Integrated Microwave
Aside from being installed into your kitchen, built-in models are the same as freestanding models in almost every other way. You still need to think about the features that you want, including the power, size, colour and programs.
To help you make an informed decision, here's a quick run down of the most important considerations:
Type. If you need a model that can do it all, a built-in combination microwave oven is the best choice. These models have both a grill and convection oven, allowing you to grill and bake. A built-in microwave with grill is useful for browning food, while solo models are often considerably cheaper.
Capacity. The size of a model is always a major concern, but integrated microwaves are much more constrained than freestanding as they must fit into a specific gap. Depending on your kitchen, you may need to look for a large or small built-in microwave, but be aware that this affects the interior capacity too.
Power. The more powerful the model, the quicker it cooks. Higher power often leads to more even cooking.
Appearance. It's a safe bet that if you're buying an integrated model you want it to match the rest of the kitchen. This may reduce the options available, although many models come in multiple colours.
Brand. Many brands produce microwaves, but not all manufacture integrated models. Some of the most popular manufacturers include Russell Hobbs, Neff,  Bosch and Hotpoint.
Aside from these main considerations, you also need to think about other factors such as whether auto-cook programs are included or if the model has an auto-defrost setting.
As always, the best built in microwave isn't necessarily going to be the same for everyone. Your personal requirements determine which is best suited to your kitchen.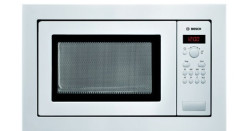 The Bosch HMT84M621B built in microwave is a 900W model with an interior capacity of 25L. It features an attractive and stylish front panel, along with a variety of power levels and auto cook programmes. Keep reading our Bosch HMT84M621B review for more information about the product, and also...
Full Review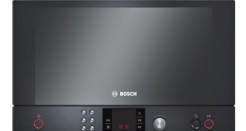 The Bosch HMT85ML53B Exxcel built in microwave is designed to be a stylish and powerful kitchen appliance. It features a 21L capacity, 900W microwave power and a variety of programs. Compared to freestanding microwaves the Bosch HMT85ML53B has an expensive price tag, but this is expected for a built...
Full Review