Which is the Best 21 Litre Microwave?
21 litre microwaves are relatively uncommon – especially if you want a freestanding model. But are there any in this category that we recommend? Or should you stick with appliances in other size categories? Keep reading to find out.
The most common microwave size is undoubtedly 20 litres. We're not sure why this has become such a widespread size for a solo microwave, but we review more appliances in this category than almost any other. There are, however, 21 litre microwaves available – although the options are much more restrictive.
This section includes all the 21 litre appliances we've reviewed so far. Most of these models tend to be built-in microwaves. This is usually because they are designed to fit into a specific cabinet space. There are a few freestanding models in this category though – although we haven't found any we would feel comfortable recommending at the current time.
Why Buy a 21 Litre Model?
The main reason to buy a 21 litre microwave is if you need a slightly larger capacity than a standard 20 litre model, but without taking up much more work surface space. You may also choose a built-in model with this capacity if it's the perfect size for your cabinets. Other than that, the models tend to be very similar to other sizes.
We've got to be honest though – there aren't many 21 litre microwaves available if you're looking for a freestanding model. You'll have much better luck looking in the 20 litre category, as there are hundreds of options from a variety of brands (including Panasonic, Sharp, Morphy Richards and many more).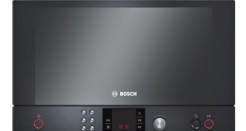 The Bosch HMT85ML53B Exxcel built in microwave is designed to be a stylish and powerful kitchen appliance. It features a 21L capacity, 900W microwave power and a variety of programs. Compared to freestanding microwaves the Bosch HMT85ML53B has an expensive price tag, but this is expected for a built...
Full Review