Our #1 Pink Microwave
There are, unfortunately, relatively few pink microwaves around. Fortunately, the main one we've reviewed so far – the Daewoo QT3 compact microwave – is an excellent choice. It's a compact microwave that's designed for caravans or small kitchens. It also has 600W power and a 14L capacity.
If you're looking for a microwave that has a bit more style than your average silver model – a pink microwave is a great choice! They certainly stand out compared to other models. So if you have a pink-themed kitchen, pink may be your ideal colour.
Who should buy a pink microwave?
Pink microwaves ovens are relatively uncommon, especially compared to colours such as
black
,
silver
and
red
. We always recommend going for quality over style when it comes to a microwave, so if there isn't a model available in pink that matches your requirements it's best to settle for a different colour.
What types of pink microwave ovens are there?
Pink microwaves are usually considered a novelty. For that reason, most are pink solo microwaves. These microwaves usually range between 600W-800W and have a capacity between 13L to 23L (although there are exceptions.
If we find any pink grill or combination microwaves, we'll add them to this page. As most manufacturers see pink microwaves as a niche item, however, there are never going to be as many options as other categories.
Listed below are all the pink microwaves we've reviewed so far. This list will be added to regularly – so keep checking back!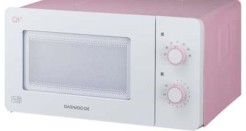 We haven't seen many pink microwaves, so we were excited when the new Daewoo QT3 was released in a pastel-pink colour scheme. It's a compact microwave oven with a 14 litre capacity and low 600W power. On paper, it looks like an excellent choice for a small household or for the occasional...
Full Review