Our Top Rated Daewoo Microwave
Daewoo manufactures a range of microwaves, but our top rated is the Daewoo QT3. It's a stylish compact model – available in both white and white/pink – that's perfect for small kitchens or if you just need a simple microwave for reheating. Its small size means the QT3 only has a 14L capacity, however, so it's not a good choice for large families.
Daewoo manufacture a huge range of microwaves, from stylish mini models right up to large, 31L combination ovens. The quality of Daewoo microwaves does vary, although most models have received strong reviews from buyers. Take a look below at the latest Daewoo microwaves we've reviewed.
Who should buy a Daewoo Microwave?
There are so many different types of Daewoo microwave available that there really is something for everyone in this category. Whether you're looking for a small model for the occasional reheating, or a large grill microwave, Daewoo have an option that may suit you. It's important to look at the features and buyer opinions of each microwave before you make a decision though, as not all Daewoo's microwaves are the same quality.
Daewoo microwave ovens tend to be stylish, although the company produce more of a mix of styles than other manufacturers. There are solo, grill and combination microwaves available in this category.
As one of the largest manufacturers of kitchen appliances, Daewoo have a huge amount of experience in0 this market. Many of their microwaves have received good reviews from buyers, and the prices are also reasonable. As with any microwave, you should always do proper research on a specific model before you buy though – don't just rely on the brand name when choosing.
We've reviewed a large number of Daewoo microwaves, and more are being released on a regular basis. Take a look at all of our reviews below. Each contains product information, buyer opinions and price comparisons.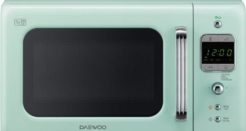 The Daewoo KOR7LBKM retro microwave is a stylish solo model produced by one of the UK's top manufacturers. It has 800W power output, 20 litre capacity and a host of interesting features, but is it worth the money? And how does this Daewoo "mint" microwave, as the colour is described, perform...
Full Review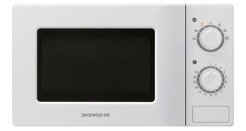 The Daewoo KOR6L77 isn't a microwave that's going to stun guests with a beautiful or unique design. But, considering the low price, it has a relatively large capacity (20L) and some useful features – including five power levels. Is the KOR6L77 a microwave you should consider buying? And what do reviewers think of...
Full Review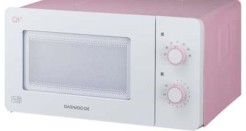 We haven't seen many pink microwaves, so we were excited when the new Daewoo QT3 was released in a pastel-pink colour scheme. It's a compact microwave oven with a 14 litre capacity and low 600W power. On paper, it looks like an excellent choice for a small household or for the occasional...
Full Review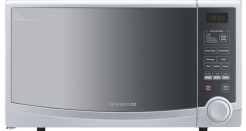 This model isn't widely available anymore, but for an alternative we recommend the Whirlpool Jet Chef. Click here for the Jet Chef price. The Daewoo KOG1N1ASL 31L 1000W digital microwave with grill features one of the most contemporary designs we've seen. With its combination of silver colour scheme and...
Full Review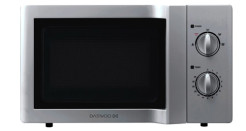 The Daewoo KOR6L65SL manual silver microwave is a 20 litre, 800W model that's available for a relatively low price. It's a manual, rather than digital microwave, but still comes with five microwave power levels and a 35 minute timer. In this review, we'll discuss the main features of the...
Full Review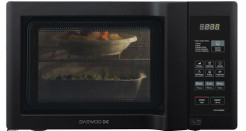 The Daewoo KOR6L6BDBK Duo-Plate black microwave is a 20L model with a power output of 800W. It's most interesting feature is the two level design, which means you can cook more than one dish at the same time. In this Daewoo KOR6L6BDBK review, we'll discuss the main features of...
Full Review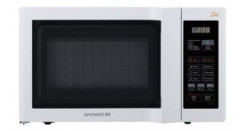 Most places don't sell the KOG6L6B anymore, but the Russell Hobbs RHM2031 is a good substitute with a 20 litre capacity and grill. Click here to view the price for the RHM2031. The Daewoo KOG6L6B white microwave with grill is a budget option that can be bought for a relatively low price. Compared...
Full Review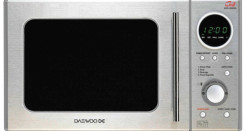 The Daewoo KOG3000SL 20L microwave with grill (click here for other grill models) is a stainless steel, compact model with dual wave system. It isn't the most attractive microwave that Daewoo have produced, but has a range of features and is priced very reasonably for a grill model. Keep...
Full Review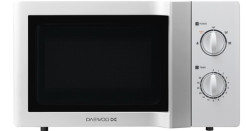 The Daewoo KOR6L65 20L manual microwave is a simple model with 800W power output, dual speed timer and an attractive white design. Its purpose is to provide efficient microwave performance for the relatively low price. If you're looking for a compact, reasonably powerful microwave on a budget, then keep...
Full Review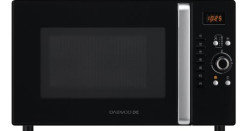 The Daewoo KOC9Q3T black combination microwave is a 28L, 900W model with a number of different features. The sleek black design means that it'll suit most kitchens, and its combination of grill, oven and microwave make it suitable for a variety of cooking requirements. Keep reading our Daewoo KOC9Q3T...
Full Review