Our Top Rated 40L Microwave
The large and powerful Sharp Combination Microwave is our top rated 40L microwave. It's a stylish model with a silver exterior, grill and convection oven. It also comes with a range of auto cook menus.
40L is a huge capacity for a home microwave, and there aren't too many available in this size category. Those that are available are suitable for big families who need to microwave large quantities of food on a regular basis. Listed below are all the 40 litre microwaves we've reviewed so far.
Who should buy a 40L microwave?
40L microwaves are amongst the largest home models available at the moment. There aren't too many microwaves this size available – the Sharp R959SLMA is the only one we've reviewed so far – but more are likely to be released in the future.
Microwaves of this size are designed for people who need to cook a huge amount of food on a regular basis. If you regularly cook for many people at the same time, then a 40L combination oven may be an option to consider. These microwaves have a large interior capacity, are capable of browning food and also have a built in convection oven.
If you just want to use your microwave for regular cooking, then a 40L model probably isn't required. They take up a lot of space on the kitchen work surface and are expensive.
Listed below are all of the 40L microwaves that we've reviewed so far. There aren't many on the market, but whenever a new model is released in this category we'll add it to the list below. Each review contains information about the microwave, including its features and settings, along with buy opinions and price info.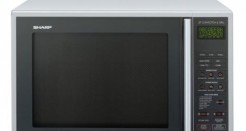 The Sharp R959SLMA 40 litre combination microwave oven is one of the most popular in the UK at the moment. With its large capacity, 900W of power and quartz grill, it's no surprise that the Sharp R959SLMA has been bought by thousands of customers. Keep reading this Sharp R959SLMA review to learn more about the microwave, including its features, positives and negatives.
Full Review