Which are the Best 950W Microwaves in the UK?
950W microwaves are relatively uncommon, but provide extra power compared to 900W models. If you're used to cooking with a standard 800W model, you'll really notice the difference in cooking speed. Only certain brands, such as Panasonic, manufacture 950W microwave ovens.
Why Buy a 950W Model?
A 950W microwave is a useful compromise between 900W model and the more powerful – and often larger – 1000W models. It's possible to buy relatively small 950W models, such as the 23L range from Panasonic. This usually isn't the case with 1000W models.
Panasonic also produce grill microwaves in this category, which are useful if you want to brown and crisp foods without worrying about a convection oven.
In reality though, the main reason to choose a 950 Watt microwave is if the model has all the features you need and happens to be in this power category. There isn't much point seeking one out for the power rating along, as the 900W category has more choice and the performance difference is likely to be minimal.
There also isn't a huge amount of choice in the 950W category at the moment. New microwaves are released regularly, but most manufacturers either choose a 900W or a 1000W power output. Panasonic are the only company to break that trend at the moment.
What's the Difference Between a 900W and 950W Model?
While you'll definitely notice a difference between an 800W and 900W microwave, the difference between a 900W and 950W is far less pronounced. Both will cook foods relatively quickly, so it's a matter of choosing a model that has the features, style and functions that you want. As always, make sure you read reviews of individual machines before you buy, and don't just choose a model because of its power rating alone.
Other features you should consider include the size of the model, whether it includes any advanced features (such as fast defrost or a flatbed design) and, of course, the price. We've got a more in-depth guide to microwave reviews on our homepage, so check it out if you need more information.
We regularly review new 950W microwaves, so make sure you keep checking back for the latest reviews and information. Listed below are all the 950W models we've reviewed so far, including rating, features, user comments and more.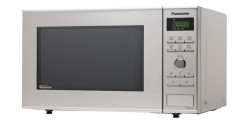 One of the most popular microwaves on review sites at the moment is the Panasonic NN-SD271SBPQ stainless steel microwave. It's a powerful model, with 950W power output and a capacity of 23 litres. In this Panasonic NN-SD271SBPQ review we'll go through the microwaves positive and negatives, and also discuss...
Full Review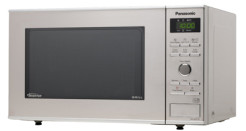 The Panasonic NN-GD371SBPQ 23L compact microwave with grill is a powerful, 950W model with a stainless steel design. While it's not the most attractive microwave on the market – it appears quite blocky and dated – there's no denying its power and interesting features such as "Chaos Defrost." Keep...
Full Review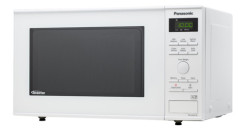 The Panasonic NN-SD251WBPQ 23L compact microwave is a powerful model that comes with a number of advanced features. It has a larger capacity than many other compact microwaves, and features a sleek, white design. Keep reading our Panasonic NN-SD251WBPQ review for more information about the product, including what buyers...
Full Review