Our Top Rated 17L Microwave
We think the Russell Hobbs RHM1714B is one of the best 17L microwaves available.  It has a stylish silver mirror finish door, black exterior and 700W power. The microwave also comes with five power levels and automatic cook menus.
17L microwaves are relatively uncommon, although several manufacturers build them. While these microwaves are larger than 13L models, they are still too small for large dinner plates. For occasionally defrosting or cooking basic food, however, a 17 litre microwave can save space and money.
Who Should Buy a 17L Microwave?
The simple answer is that you should only consider a 17L microwave if you need it for the occasional reheating or defrosting. Even then, a 20L model is better for most situations, as the turntables are larger allowing you to defrost more food at the same time.
17L microwaves are great if you live along or with one other person, or if you rarely use a microwave. Keep in mind that turntables of 17L models are quite small, so make sure you check the size of your dinner plates in comparison.
There aren't too many 17L microwaves on the market right now. Bosch and Logik both produce models in this category, but the options are limited to solo microwaves. If we review a combination or grill 17L microwave in the future we'll add it to this page.
Compact microwaves, such as 7L models, are usually designed for simple cooking tasks, and are therefore unlikely to come with a high power output or interesting features. Most 17L models are basic microwaves that are efficient, but don't have the bells and whistles of larger models. The upside is that they are often cheaper.
Whenever we review a new 17L microwave it'll be added to this page, along with price information, buyer opinions and more. If you don't see a model you like at the moment, bookmark this page and check back for the latest reviews.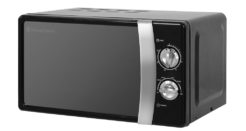 If you're looking for a compact and attractive model, the Russell Hobbs RHMM701B 17L black microwave appears to be the perfect option. It's built with a stylish black design, includes several basic features and has 700W power – everything you would expect from a relatively inexpensive modern appliance. But does...
Full Review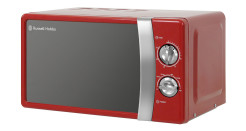 The Russell Hobbs RHMM701R red microwave is a stylish model from one of the UK's most well known kitchen appliance brands. It's designed to be perfect for basic, everyday microwave cooking, with a 17L interior capacity and 700W power. Keep reading to find out whether it's worth the money –...
Full Review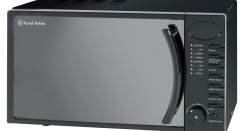 The Russell Hobbs RHM1714B black microwave is a sleek, modern model that'll look great in almost any kitchen. But does it provide enough interior space to be useful beyond basic reheating? And is it worth the money? Keep reading to find out. Russell Hobbs RHM1714B Russell Hobbs RHM1714B Russell...
Full Review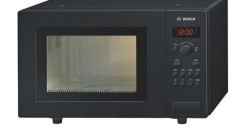 Unfortunately, this model is now difficult to find. The Russell Hobbs RHM1714B, however, is an excellent 17L alternative. Click here to see its latest price. The Bosch HMT75M461B compact 17L black microwave is a freestanding model that's designed for small kitchens. It's a simple model that's built for basic microwave tasks,...
Full Review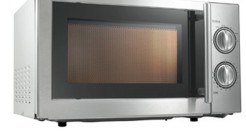 This model can be difficult to find on shopping sites. The Russell Hobbs RHM1714B is a great 17L alternative though –  click here to see its price. The Logik L17MSS11 stainless steel microwave oven is a simple, basic and relatively inexpensive appliance. It features an attractive stainless steel design, two...
Full Review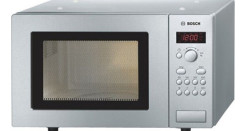 The Bosch BOSHMT75M451B solo microwave with brushed steel finish is a 17L, compact model with a relatively expensive price tag. Bosch has a reputation for quality products though, and the BOSHMT75M451B certainly looks attractive. This Bosch BOSHMT75M451B review discusses the main features of the product in depth, followed by...
Full Review