If you're looking for a compact and attractive model, the Russell Hobbs RHMM701B 17L black microwave appears to be the perfect option. It's built with a stylish black design, includes several basic features and has 700W power – everything you would expect from a relatively inexpensive modern appliance.
But does the RHMM701B cook food quickly? Does it provide value for money? And is it suitable for families? Keep reading our Russell Hobbs RHMM701B review to find out!
The Russell Hobbs RHMM701 range is available in various colours including cream (RHMM701C) and red (RHMM701R). This review is for the black model, but the only difference is the colour.
Overview of Features
Manual 700W model
17 litre capacity
Retro black design
5 different power levels for cooking and reheating a variety of foods
Defrost setting
Weight: 10.4kg
Dimensions: 25.6cm x 32.6cm x 45.1cm
In-Depth Look at the Microwave
While some microwaves attempt to prove their value with lots of features and settings, the RHMM701B takes a simpler approach. Everything about the model is designed to be straightforward, from the manual dials to the easy-to-clean surfaces. Let's take a closer look at the main features of this solo microwave.
Design
There's no denying that the RHMM701B is an attractive appliance. With its retro (or "chic") design, black colour scheme, rounded corners and silver handle, this is a microwave you're going to want to show off rather than hide away. It's also relatively slim and compact, so you won't have trouble finding a space for it on the kitchen work-surface.
The model is a manual microwave. It's controlled by two dials (one for time and the other for power) instead of a digital control panel. While manual models often don't include the same range of settings as digital, they are also simple to use – just set the power, turn the dial and the model starts cooking. When complete, the microwave provides a handy retro "ding," which will almost certainly bring back memories of your childhood.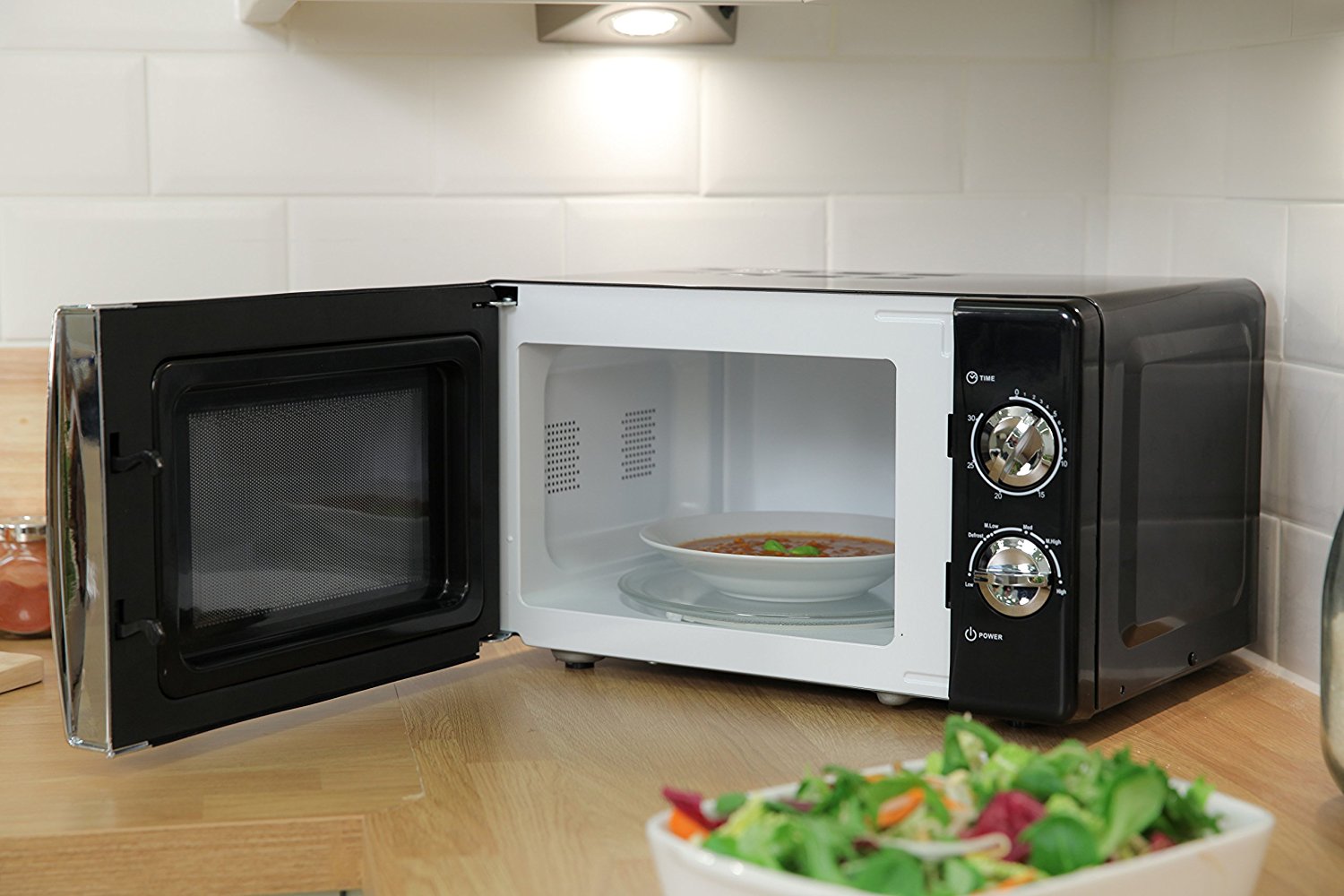 Cooking Power
As a 700W model, the RHMM701B is capable of cooking foods relatively quickly (although not as fast as more powerful microwaves). It's a solo microwave, so it doesn't come with a grill or convection oven, but is great for reheating last night's curry or quickly cooking a packet meal.
The bottom dial allows you to choose between five different power levels depending on the type of food. A defrost setting is also included.
Convenience Features
As we mentioned, the Russell Hobbs RHMM701B is a basic model meant for everyday use. It doesn't come with many convenience features beyond the various power levels and defrost setting.
The model has, however, been designed to be easy to clean. A damp cloth can be used to maintain its attractive appearance and functionality. The mirrored finish needs regular cleaning, as it can show up fingerprints quickly.
One thing to note is that the timer only goes up to 30 minutes. If you regularly need to cook for longer than this, the RHMM701B may not be the best choice.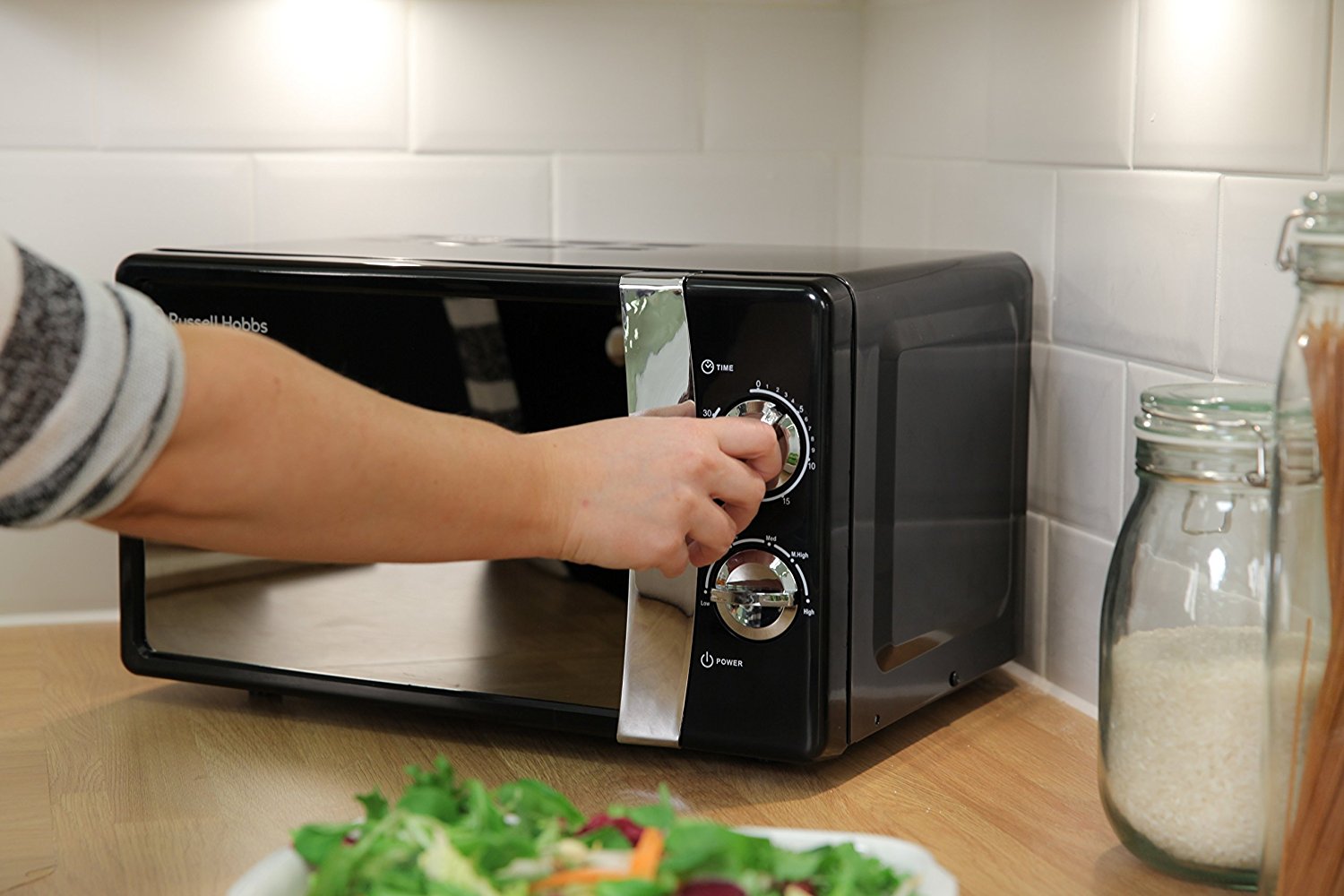 Value for Money
With an RRP of £55, we think the Russell Hobbs RHMM701B solo microwave provides excellent value for money. It doesn't have any advanced features and it's not the most powerful model, but it cooks food reasonably quickly and looks great.
Selection of Russell Hobbs RHMM701B Reviews
Most buyers who've written a Russell Hobbs RHMM701B review have praised the machine, although there are also some drawbacks mentioned. Here's a selection of positive comments from reviews:
The model is an attractive microwave with a stylish retro design
The compact size makes it easy to fit into the kitchen
Very simple model to use – no worrying about hundreds of settings and options
The 17 litre capacity is enough for basic jobs such as reheating or packet meals
Provides good value for money
And now some negative comments:
The stylish mirrored appearance of the microwave shows fingerprints very easily
More than one reviewer has mentioned the bottom of the microwave becoming rusty over time
A downside of manual microwaves is that it can be hard to set accurate times when you only need to heat for short periods
700W power means it doesn't cook as quickly as more powerful models
Conclusion
The RHMM701B excels at everyday microwaving. If you need a compact microwave for basic cooking and reheating, it's one of the best options at the time of writing. We wouldn't recommend the model if you have a large family though, as it's too small and doesn't cook as fast as more expensive models.
For the reasons above, we've given the Russell Hobbs RHMM701B 4.5 stars – but with the caveat that it's only suitable for basic tasks. Click here to view the RHMM701B's price.
Review Summary
Product:
Russell Hobbs RHMM701B Microwave Oven
Written by:
MicrowaveReview.co.uk
Date Published: 10/21/2016