Our Top Rated 23L Microwave
Our top rated 23L microwaves is the impressive Russell Hobbs Flatbed RHFM2363B. Like most Russell Hobbs models, it's an attractive microwave. But it also comes with useful flatbed design, 800W power and a cavity structure for more evenly cooked food.
23L microwaves are perfect for people who need more capacity than a 20L model can provide, but don't want a huge appliance on their kitchen work surface. Examples of major brands who manufacture 23 litre microwaves include Samsung, Panasonic and Russell Hobbs.
Who Should Buy A 23L Microwave?
23L microwaves are perfect for people or families who need a little bit more interior capacity than a 20L model can provide. The difference isn't huge, but 23L models can fit larger dinner plates and cook more food, without taking up too much work surface space.
For these reasons, 23L models are often a popular choice for small families or people who regularly use their microwave for cooking. For the occasional use, or if you live alone, a 23L model probably isn't required.
There's a lot more choice in the 23L category than in the similar 22L section, making it easier to find a model that suits your requirements. Aside from solo microwaves, the 23L category contains both grill and combination models, so there really is something for everyone. Most of the major brands have microwaves in this category, and there's also a range if different colours and styles available.
Whenever we review a new 23L microwave we add it to this page, so make sure you check back regularly. Each review contains a rating, price information, price comparison and summaries of user reviews. You can also use the "
All Microwaves
" page to see all the microwaves we've reviewed so far in an easy to view format.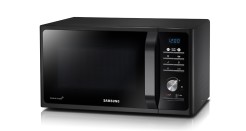 The Samsung MG23F301TAK/EU black grill microwave is a 23L model from one of the most well-known electronics brands in the world. But is it worth the money? And what do reviewers think of it? Keep reading to find out. Samsung MG23F301TAK/EU 23L Samsung MG23F301TAK/EU 23L Samsung MG23F301TAK/EU Black Microwave...
Full Review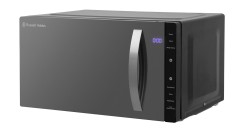 If you're fed up with turntables that constantly get stuck, only allow you to use a portion of the microwave's interior and add an extra item to the washing up, then a flatbed microwave is an excellent option. The Russell Hobbs RHFM2363B Black Flatbed microwave does away with the turntable altogether,...
Full Review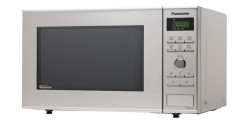 One of the most popular microwaves on review sites at the moment is the Panasonic NN-SD271SBPQ stainless steel microwave. It's a powerful model, with 950W power output and a capacity of 23 litres. In this Panasonic NN-SD271SBPQ review we'll go through the microwaves positive and negatives, and also discuss...
Full Review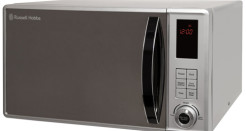 The Russell Hobbs RHM2362S 23L Silver Digital Microwave is sleek and stylish model that certainly attempts to provide value for money. The sleek design in silver is pleasing to the eye, and will look good on any kitchen counter. Functionality-wise, the RHM2362S has a number of settings to make...
Full Review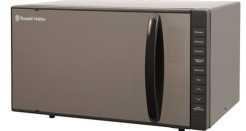 The Russell Hobbs 23L Grey Digital Microwave with grill and convection oven is a very modern looking machine at a respectably low price. It has a number of features that wouldn't look out of place in the specifications of a high microwave. Appearance-wise, the RHM2361GCG is clean and simple,...
Full Review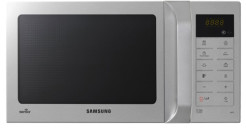 This model isn't widely available anymore, but the Russell Hobbs RHM2362S is an outstanding alternative. Click here for the Russell Hobbs RHM2362S's price. The Samsung ME89F-1SS 23L solo silver microwave oven is the first Samsung model we've reviewed, and it's also one of the most attractive on the market. With a...
Full Review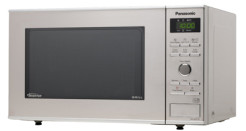 The Panasonic NN-GD371SBPQ 23L compact microwave with grill is a powerful, 950W model with a stainless steel design. While it's not the most attractive microwave on the market – it appears quite blocky and dated – there's no denying its power and interesting features such as "Chaos Defrost." Keep...
Full Review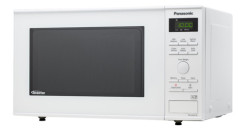 The Panasonic NN-SD251WBPQ 23L compact microwave is a powerful model that comes with a number of advanced features. It has a larger capacity than many other compact microwaves, and features a sleek, white design. Keep reading our Panasonic NN-SD251WBPQ review for more information about the product, including what buyers...
Full Review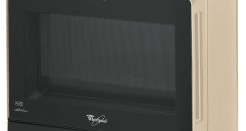 The Whirlpool Max 35 solo and steam microwave, with cream colour scheme, has to be one of the strangest looking models we've reviewed. It also has some of the most interesting and innovative features. But does this mix of new design and technology combine into something truly useful? Or are you better off sticking with a regular microwave? Keep reading our Whirlpool Max 35 review to find out!
Full Review