Our Top Rated Panasonic Microwave
Our top rated Panasonic microwave is the Panasonic NN-E271WMBPQ solo 20L. There aren't many people who would say that it's an attractive microwave. But what it lacks in style, it makes for in functionality. The NN-E271WMBPQ is a 20L compact model with a range of features, including 800W power, easy-clean lining and nine automatic programs. If you're looking for a solid, reliable and versatile solo microwave – it's a great choice.
Panasonic are one of the largest manufacturers of kitchen appliances, including microwaves. They produce a range of different models, from compact microwave right through to large combination ovens. While Panasonic microwave designs are often more functional than stylish, there is no doubt about the quality of the company's machines. Take a look at all of our Panasonic microwave reviews, including price, buyers comments and specifications, below.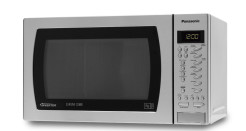 The Panasonic NN-CT579S slimline combination microwave is a stylish, highly functional model that comes equipped with a convection oven and grill. It's also designed to be slimmer than other 27 litre microwaves – so it doesn't take up as much kitchen workspace. Keep reading to find out what we think...
Full Review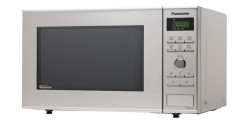 One of the most popular microwaves on review sites at the moment is the Panasonic NN-SD271SBPQ stainless steel microwave. It's a powerful model, with 950W power output and a capacity of 23 litres. In this Panasonic NN-SD271SBPQ review we'll go through the microwaves positive and negatives, and also discuss...
Full Review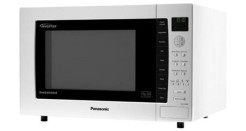 Most retailers no longer sell this model, but the Panasonic NN-CF778SBPQ is a 27 litre model that's a great alternative (although slightly smaller). Click here to see its price. The Panasonic NN-CT870WBPQ 32L white combination microwave is a powerful and attractive model that's designed for serious cooks. With 1000W microwave power...
Full Review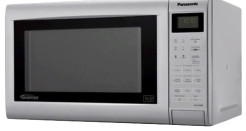 The Panasonic NN-ST452WBPQ white microwave oven is a stylish model with plenty of power and capacity. It's a solo microwave, so it doesn't come with a grill or convection oven, but its high power output means it's suitable for cooking large amounts of food quickly. Keep reading our Panasonic...
Full Review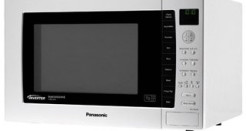 This model isn't available on most shopping sites anymore. Click here to see the price of the model we recommend instead – the Whirlpool Jet Chef. The Panasonic NN-CT857WBPQ 23L 1000W combination microwave is a powerful and large appliance. With an extra 5 litre capacity compared to the previously reviewed Panasonic NN-CF760M,...
Full Review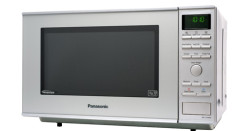 The Panasonic NN-CF760M flatbed combination microwave is a large, silver appliance with a range of interesting features. This isn't a microwave designed for the occasional user, and its high price reflects this. Instead, the NN-CF760M is built for people and families who rely on their microwave to cook large...
Full Review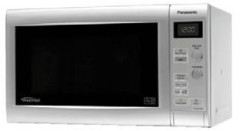 This model isn't widely available anymore. The Panasonic NN-CF778SBPQ is a good alternative though – click here to view its price. The Panasonic NN-SD466M 27L digital solo microwave is an impressive looking model. With its large capacity, 900W power output and variety of automatic programmes, this is a microwave that's...
Full Review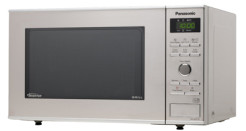 The Panasonic NN-GD371SBPQ 23L compact microwave with grill is a powerful, 950W model with a stainless steel design. While it's not the most attractive microwave on the market – it appears quite blocky and dated – there's no denying its power and interesting features such as "Chaos Defrost." Keep...
Full Review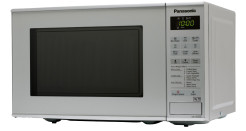 The Panasonic NN-K181MMBPQ silver combination microwave with grill is a compact yet versatile model. It has similar features to other Panasonic compact microwaves such as the Panasonic NN-E281MMBPQ and Panasonic NN-E271WMBPQ, but also includes a 1000W grill. This means you can cook a greater variety of foods. This Panasonic NN-K181MMBPQ...
Full Review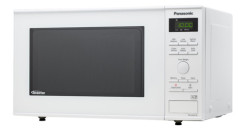 The Panasonic NN-SD251WBPQ 23L compact microwave is a powerful model that comes with a number of advanced features. It has a larger capacity than many other compact microwaves, and features a sleek, white design. Keep reading our Panasonic NN-SD251WBPQ review for more information about the product, including what buyers...
Full Review