Our #1 600W Microwave
There aren't too many 600W microwaves on the market. But, fortunately, the Daewoo QT1 is probably the only one you need. It's relatively cheap, stylish and can fit on almost any kitchen surface (including caravans).
Best 600 Watt Microwaves of 2018
Modern microwaves with a power of 600W are usually compact or mini models. So if you're looking for a microwave for caravans, a 600W option can be a good choice. The low wattage also helps you to save energy when cooking.
While food will cook noticeably slower when using a 600W model, compared to an 800W model, the price is often cheaper. If you rarely use your microwave and just want a basic model, then 600W could be enough power. Most people, however, will want a model with a little more power.
One thing to keep in mind is that many meal instructions are for 700W or 800W microwaves. The product should specify the wattage of the instructions, but you'll usually need to adjust the cooking time in order to get the best results. On the other hand, some meals or food products specify 600W instructions, which makes it a lot easier to cook food evenly and correctly.
As 600W microwaves are usually budget models, they often come with fewer features or settings than more expensive models. This isn't anything to do with the wattage of the microwave, however, but is a consequence of modern 600 watt models being designed for the budget user. Even so, it might be difficult to find a 600 watt model that has the advanced features and settings of more powerful models.
Ultimately, the only true difference between a 600W microwave oven and other models is the speed of cooking. If you want to save money and are willing to put up with slower cooking times, then there's no reason not to go for a 600 watt model. If you're often cooking food in a rush, however, then a more powerful machine is probably the best option.
Which are the Best 600 Watt Microwave Ovens?
You can read full 600W microwave reviews below, but if you want the quick answer the two best 600W models are:
Daewoo QT1 (read review)
Daewoo QT3 (read review)
The option you choose is largely down to which colour and design you prefer, as both models are almost identical in terms of performance and features. Unfortunately for people looking for small models, these are the only two 600 watt machines that are widely available at the moment (and worth the money), although we'll update this page should any more be released.
Which Brands Manufacturer 600W Models?
The short answer is: very few! The vast majority of manufacturers stick to the 800W category, as this provides a good balance between cost and cooking speed.
Daewoo are probably the most popular manufacturer of 600 watt microwaves, with their popular Daewoo QT1. This is a great little model if you need something compact that can still pack a punch, which is why the QT1 is popular for caravans or small flats.
Listed below are all the 600W microwaves we've reviewed so far. The page is updated automatically whenever we add a new review in this category.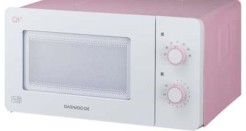 We haven't seen many pink microwaves, so we were excited when the new Daewoo QT3 was released in a pastel-pink colour scheme. It's a compact microwave oven with a 14 litre capacity and low 600W power. On paper, it looks like an excellent choice for a small household or for the occasional...
Full Review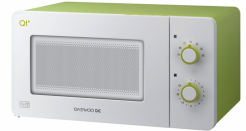 The QT2 can be difficult to find – but don't worry! The Daewoo QT1 is still widely available. Click here for the QT1's price. The Daewoo QT2 compact microwave oven is almost identical to the QT1 which we've previously reviewed. The only difference – that we could find – is...
Full Review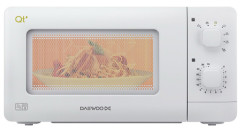 The Daewoo QT1 compact microwave oven is a small, attractive model that's perfect for small kitchens. It features a modern white design, with plenty of curves and a simple control panel containing just two knobs (power and timer). It's also relatively cheap at just £60.18.
Full Review