Our #1 1000W Microwave
Our top recommended 1000W microwave is the Panasonic NN-CT562MBPQ. It's not a new model – it was originally released in 2012 – but we haven't seen anything that's convinced us there is a better version out there (yet). It has a slimline design, 27L capacity and a range of options for cooking food quickly.
1000W microwaves cook food extremely fast and efficiently. Many 1000W models are combination microwaves, although there are exceptions. If you need a microwave that cooks food evenly and quickly, and are willing to pay a higher price, then a 1000W microwave oven could be a good option.
Who Should Buy a 1000W Microwave?
The short answer: anyone that wants to cook food quickly! The longer answer is that it entirely depends on your requirements from a microwave. 1000W models tend to be built for power users, and are often larger than less powerful models. If you're looking for a powerful yet compact model, then you'll probably be out of luck.
Panasonic, for example, manufacture a number of 32L 1000W microwaves, while Daewoo produce a 31L model. It's rare to find a small 1000W microwave, simply because these models are built for cooking large amounts of food quickly. 950W microwaves tend to be slightly smaller – if you don't have much space they may be a better option.
How to Choose a 1000W Microwave?
Choosing a 1000W microwave is dependent on your personal requirements. Do you want to use your microwave as a replacement for a conventional oven? If so, look at getting a combination microwave such as the
Panasonic NN-CT552WBPQ
. Do you just want a grill? The
Daewoo KOG1N1ASL
is a popular option.
You may also want to consider getting a flatbed microwave. If you're looking at 1000W models, you probably want to cook large amounts of food. Flatbed microwaves don't have a turntable, so you can use the entire interior space for cooking. The
Panasonic NN-CF760M
is a good example of a 1000W flatbed microwave.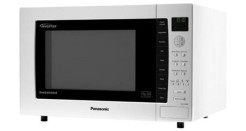 Most retailers no longer sell this model, but the Panasonic NN-CF778SBPQ is a 27 litre model that's a great alternative (although slightly smaller). Click here to see its price. The Panasonic NN-CT870WBPQ 32L white combination microwave is a powerful and attractive model that's designed for serious cooks. With 1000W microwave power...
Full Review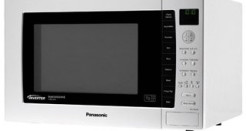 This model isn't available on most shopping sites anymore. Click here to see the price of the model we recommend instead – the Whirlpool Jet Chef. The Panasonic NN-CT857WBPQ 23L 1000W combination microwave is a powerful and large appliance. With an extra 5 litre capacity compared to the previously reviewed Panasonic NN-CF760M,...
Full Review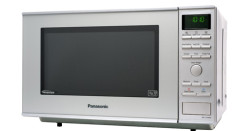 The Panasonic NN-CF760M flatbed combination microwave is a large, silver appliance with a range of interesting features. This isn't a microwave designed for the occasional user, and its high price reflects this. Instead, the NN-CF760M is built for people and families who rely on their microwave to cook large...
Full Review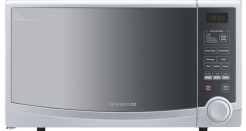 This model isn't widely available anymore, but for an alternative we recommend the Whirlpool Jet Chef. Click here for the Jet Chef price. The Daewoo KOG1N1ASL 31L 1000W digital microwave with grill features one of the most contemporary designs we've seen. With its combination of silver colour scheme and...
Full Review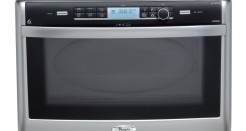 The Whirlpool Jet Chef 31L 1000W JT366 SL microwave with a grill and crisp function is certainly a model that's built for versatility. With its large interior capacity, fast cooking speed and range of unique functions, the Jet Chef is completely different to the company's popular Max series of...
Full Review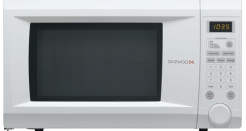 The Daewoo KOR1NOA is a large, powerful microwave from one of the world's best kitchen appliance manufacturers. It comes with a range of features, including 10 microwave power levels, an auto cook function and one touch menus. The Daewoo KOR1NOA 31L microwave is a solo model, which means it...
Full Review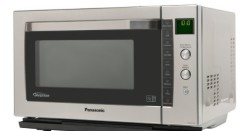 The Panasonic NN-CF778SBPQ family size combination microwave oven is a powerful, attractive and versatile model. It's range of features and fantastic power mean that it's made it onto our "Editor's Choice" list.
Full Review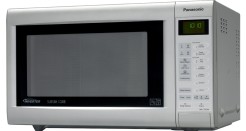 The Panasonic NN-CT562MBPQ is a beast of a microwave – there's simply no other way to put it. It's imposing, silver design combined with modern features and technology make it one of the best combination microwave ovens around. In this Panasonic NN-CT562MBPQ review, we'll discuss the features of the microwave in more detail, and provide an overview of how it's been received by existing buyers.
Full Review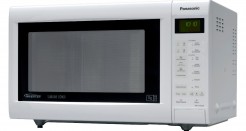 The Panasonic NN-CT552WBPQ combination microwave oven is a slim line, white model with a range of features. It uses inverter technology, has touch controls and a 27L capacity. The microwave is also designed to be 20% slimmer than similar models from Panasonic. The Panasonic NN-CT552WBPQ combination microwave oven has a variety of features that justify its relatively high price. The machine has an excellent power output of 1000W, along with a large 27L capacity.
Full Review