Our Top Rated Bosch Microwave
Our favourite Bosch microwave at the moment is the Bosch HMT84M421B 25L freestanding microwave. It's a 25 litre model, meaning that it's suitable for families or people who cook lots of food. It also has 900W power for fast cooking.
Bosch are a well known company for producing a variety of electronic equipment, including microwaves. Bosch microwaves tend to be simple and efficient, rather than flashy or stylish, but that doesn't mean their models aren't worth considering. Listed below are all the Bosch microwaves we've reviewed, along with price comparisons from around the web to help you find the best price.
What types of microwaves do Bosch manufacture?
Bosch manufactures a range of different types of microwaves to suit a variety of purposes. If you need a small and compact model, for example, then the
17L Bosch HMT75M461B
could be an option to consider. For people with larger families or who need to cook lots of food, the
25L Bosch HMT84M451B
has much greater interior capacity.
Unlike some of the other major manufacturers, Bosch also produce
built in microwaves
. These are designed to fit into the design of a kitchen, and are perfect for creating a streamlined appearance. Built in models tend to be more expensive though, and are also more difficult to move around the kitchen.
If you're more interested in function than style, then a Bosch microwave may be an option to consider. There are a number of different types available, and the prices are usually reasonable. For more stylish options, you may want to consider brands such as
Samsung
and
Whirlpool
. It's also important to buy a microwave based on its individual attributes, and not just the style or brand.
Take a look at all of the Bosch microwaves we've reviewed so far below. Whenever a new one is reviewed, it'll be added to this page.
The Bosch HMT84M421B microwave is a relatively simple looking model – but it has a number of interesting features. It's also highly rated by buyers. In this article, we'll look at the features of the HMT84M421B and dive deeper into how reviewers rate the product. Bosch HMT84M421B Bosch HMT84M421B Bosch HMT84M421B...
Full Review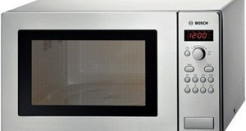 The Bosch HMT84M451B brushed steel freestanding microwave is a 25 litre model that can also be installed beneath a wall cupboard. It features an attractive and stylish design, spacious capacity and 900W microwave power output. Keep reading our Bosch HMT84M451B review for a more in-depth look at the microwave's...
Full Review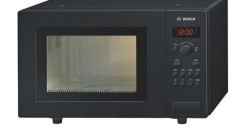 Unfortunately, this model is now difficult to find. The Russell Hobbs RHM1714B, however, is an excellent 17L alternative. Click here to see its latest price. The Bosch HMT75M461B compact 17L black microwave is a freestanding model that's designed for small kitchens. It's a simple model that's built for basic microwave tasks,...
Full Review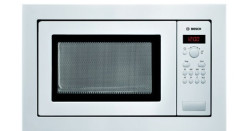 The Bosch HMT84M621B built in microwave is a 900W model with an interior capacity of 25L. It features an attractive and stylish front panel, along with a variety of power levels and auto cook programmes. Keep reading our Bosch HMT84M621B review for more information about the product, and also...
Full Review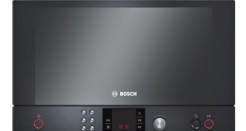 The Bosch HMT85ML53B Exxcel built in microwave is designed to be a stylish and powerful kitchen appliance. It features a 21L capacity, 900W microwave power and a variety of programs. Compared to freestanding microwaves the Bosch HMT85ML53B has an expensive price tag, but this is expected for a built...
Full Review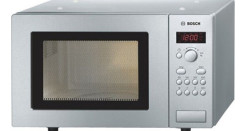 The Bosch BOSHMT75M451B solo microwave with brushed steel finish is a 17L, compact model with a relatively expensive price tag. Bosch has a reputation for quality products though, and the BOSHMT75M451B certainly looks attractive. This Bosch BOSHMT75M451B review discusses the main features of the product in depth, followed by...
Full Review