Our #1 900 Watt Microwave
The Russell Hobbs RHM3003B is a powerful combination microwave with a range of features. It has a large 30L capacity, fan assisted oven and grill – making it suitable for almost any type of cooking. If you're looking for a 900W combination microwave, this is a great choice.
Which are the Best 900W Microwaves in the UK?
900W microwaves are powerful and cook food quickly and efficiently. In general, powerful microwaves also tend to cook more evenly, although this varies between models. If you need more power than an 800W model can provide, 900W models are an excellent choice.
Our Top Five 900 Watt Microwaves
When you move above the 800W category, there are far fewer options on the market. The ones that are available tend to be larger and are more likely to be combination microwaves, although there are some excellent solo models available too. Here's a run-down of the models we think are the best 900W microwaves at the time of writing.
1. Russell Hobbs RHM3003B (Our #1 900W Combination Model)
This model has been our top rated 900W microwave for quite a while now, and is an excellent choice if you're looking for a combination model. With its large 30 litre capacity, true fan assisted convection oven and powerful grill, it is a highly versatile machine. Other features include a 31.5cm glass turntable, grill rack, mirrored door and black external appearance.
The Russell Hobbs RHM3003B combination microwave might not be the best looking or cheapest machine on the market. But with its speedy cooking and true fan oven, it is a great choice for families who need more space than their regular oven can provide. To view the latest price for this model, click here.
2. Sharp R959SLMAA (Huge 40 Litre Capacity)
The R959SLMAA is a beast. With a giant 40 litre capacity, imposing design and powerful oven and grill, this is a model that's built for serious cooking. Other features include eight auto cook menus and five power levels.
While it might be expensive, and is certainly overkill if you just want to cook and reheat basic food, this model could be the perfect solution if you want to cook large meals. Its grill and convection oven mean it can do almost any type of cooking, and it has proved to be very popular amongst buyers. Click here to view the latest price.
3. Russell Hobbs RHM2563 (Excellent Solo Model)
Moving down the size spectrum a bit, we have the RHM2563. This is also the first solo microwave on our list, so it's probably the best choice if you need a model for basic cooking, reheating and defrosting basic food. Its relatively large 25 litre capacity makes it suitable for family cooking, and it comes with a range of useful features such as auto cook menus, automatic defrost and stylish design.
The RHM2563 is also cheaper than the combination models on this list. So if you want a machine that cooks quickly and evenly, but don't need an oven or grill, it's one of the best options. To view the model's latest price, click here.
4. Swan SM22070GN (For Those Who Love the Retro Style)
Another solo 900W model is the Swan SM22070GN. While this is a solid model in its own right, with a 25 litre capacity and five power levels, we've included it on this list because of its retro design. This has become a popular style in recent years, especially for 20 litre solo microwaves, but this model is one of the few with a retro design and larger capacity.
Other features of the SM22070GN include a 30 minute manual timer, defrost setting and a glass turntable. It's also available in a variety of colours (these have slightly different names – SM22070CN is the cream version – but are all the same basic model). So if you want a powerful retro model, the Swan SM22070GN is a good choice. Click here to view its price.
5. Tower T24011 (23 Litre Solo Model)
The final entry on our list is also the smallest, with a 23 litre interior capacity. This makes it more suitable for people with small kitchens or who only need a microwave for basic reheating and defrosting. Other features include a pull handle door with mirror finish, six power levels and a manual 60 minute timer.
While there are few features that make the Tower T24011 stand out, we still think it's a solid microwave and is one of the few 900W models with a 23 litre capacity. If you need a smaller model than the rest of the machines on this list, it's certainly an option to consider. Click here to see its price.
Which Brands Manufacture 900W Models?
While 900W models aren't as common as 800W models, they are certainly becoming more popular. A number of different manufacturers produce 900W microwaves, including Panasonic, Russell Hobbs, Swan, Sharp and Tower.
900W machines are often larger than 800W models. If you're looking for a 25L or larger microwave, then the 900W category is probably a good place to start looking. There aren't too many smaller 900W models available though, as the machines are often designed with the power user in mind.
Who Should Buy A 900 Watt Model?
900W microwaves are perfect for people who need to cook in a hurry. While they aren't the most powerful on the market – some models have a power output of 1000W or higher – 900W microwaves should be fast enough for the vast majority of people.
The speed of cooking makes 900W a good choice for people with families, or who often need food quickly. If you've only ever owned a 600W or 700W machine in the past, then you'll notice a big difference in cooking speed. While the difference isn't so pronounced compared to an 800W microwave, there is still a noticeable difference in speed.
All Our 900 Watt Reviews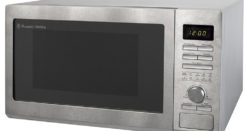 One of the most popular combination microwaves, at the time of writing, is the Russell Hobbs RHM3002 family microwave. It's a stainless steel model with a variety of features, including a powerful grill, fan-assisted convection oven and 30 litre interior capacity. But is the model worth the price tag? And what...
Full Review
The Bosch HMT84M421B microwave is a relatively simple looking model – but it has a number of interesting features. It's also highly rated by buyers. In this article, we'll look at the features of the HMT84M421B and dive deeper into how reviewers rate the product. Bosch HMT84M421B Bosch HMT84M421B Bosch HMT84M421B...
Full Review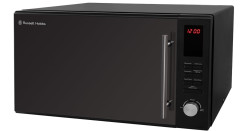 The Russell Hobbs RHM3003B black combination microwave has an impressive interior capacity of 30L. It also comes with a grill and convection oven – all for a very reasonable price. Keep reading to find out more about what the Russell Hobbs RHM3003B has to offer, and whether reviewers think it is...
Full Review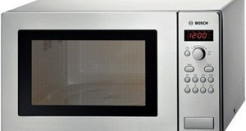 The Bosch HMT84M451B brushed steel freestanding microwave is a 25 litre model that can also be installed beneath a wall cupboard. It features an attractive and stylish design, spacious capacity and 900W microwave power output. Keep reading our Bosch HMT84M451B review for a more in-depth look at the microwave's...
Full Review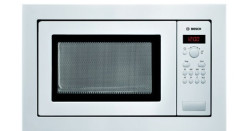 The Bosch HMT84M621B built in microwave is a 900W model with an interior capacity of 25L. It features an attractive and stylish front panel, along with a variety of power levels and auto cook programmes. Keep reading our Bosch HMT84M621B review for more information about the product, and also...
Full Review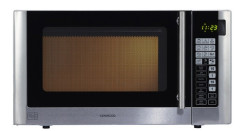 We now recommend the smaller but well-received Russell Hobbs RHM2031 if you need a grill microwave for your kitchen. Click here for its latest price. The Kenwood K30GSS12 microwave with grill is designed to be a powerful, spacious microwave that's perfect for large families. If you need a microwave with a large capacity...
Full Review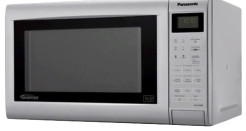 The Panasonic NN-ST452WBPQ white microwave oven is a stylish model with plenty of power and capacity. It's a solo microwave, so it doesn't come with a grill or convection oven, but its high power output means it's suitable for cooking large amounts of food quickly. Keep reading our Panasonic...
Full Review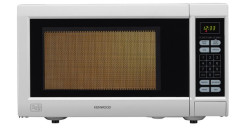 The K25MW12 is no longer sold on many shopping sites, but the Russell Hobbs RHM2563 is a great option if you need a 25 litre model. Click here to see the latest price. The Kenwood K25MW12 white microwave oven is a basic model that's available for a relatively low price. Despite its affordable...
Full Review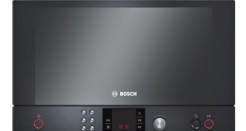 The Bosch HMT85ML53B Exxcel built in microwave is designed to be a stylish and powerful kitchen appliance. It features a 21L capacity, 900W microwave power and a variety of programs. Compared to freestanding microwaves the Bosch HMT85ML53B has an expensive price tag, but this is expected for a built...
Full Review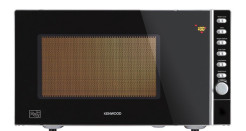 This model is no longer widely available. For this reason, we recommend the 25 litre Russell Hobbs RHM2563 instead – click here to view its latest price. The Kenwood K25MMS12 black microwave oven is a powerful, large solo model with an attractive black design. It's certainly a contemporary microwave when it comes...
Full Review