One of the most popular combination microwaves, at the time of writing, is the Russell Hobbs RHM3002 family microwave. It's a stainless steel model with a variety of features, including a powerful grill, fan-assisted convection oven and 30 litre interior capacity.
But is the model worth the price tag? And what do buyers say about it? Keep reading our Russell Hobbs RHM3002 review to find out!
Overview of Features
Stainless steel exterior design
900W standard microwave, 2500W fan-assisted convection oven and 1100W grill
Large 30 litre capacity with a 31.5cm glass turntable
10 power levels and 10 automatic cook menus
Dimensions: H 33.5cm x W 52.0cm x D 49.5cm
In-depth Look at the Microwave
Russell Hobbs describes the RHM3002 as "multifunctional" and "ideal for a busy kitchen" – and it's easy to see why. With its spacious interior cavity and range of cooking options, this is a true workhorse of a microwave. Let's dive into the features a bit more to see whether this is a model worth buying.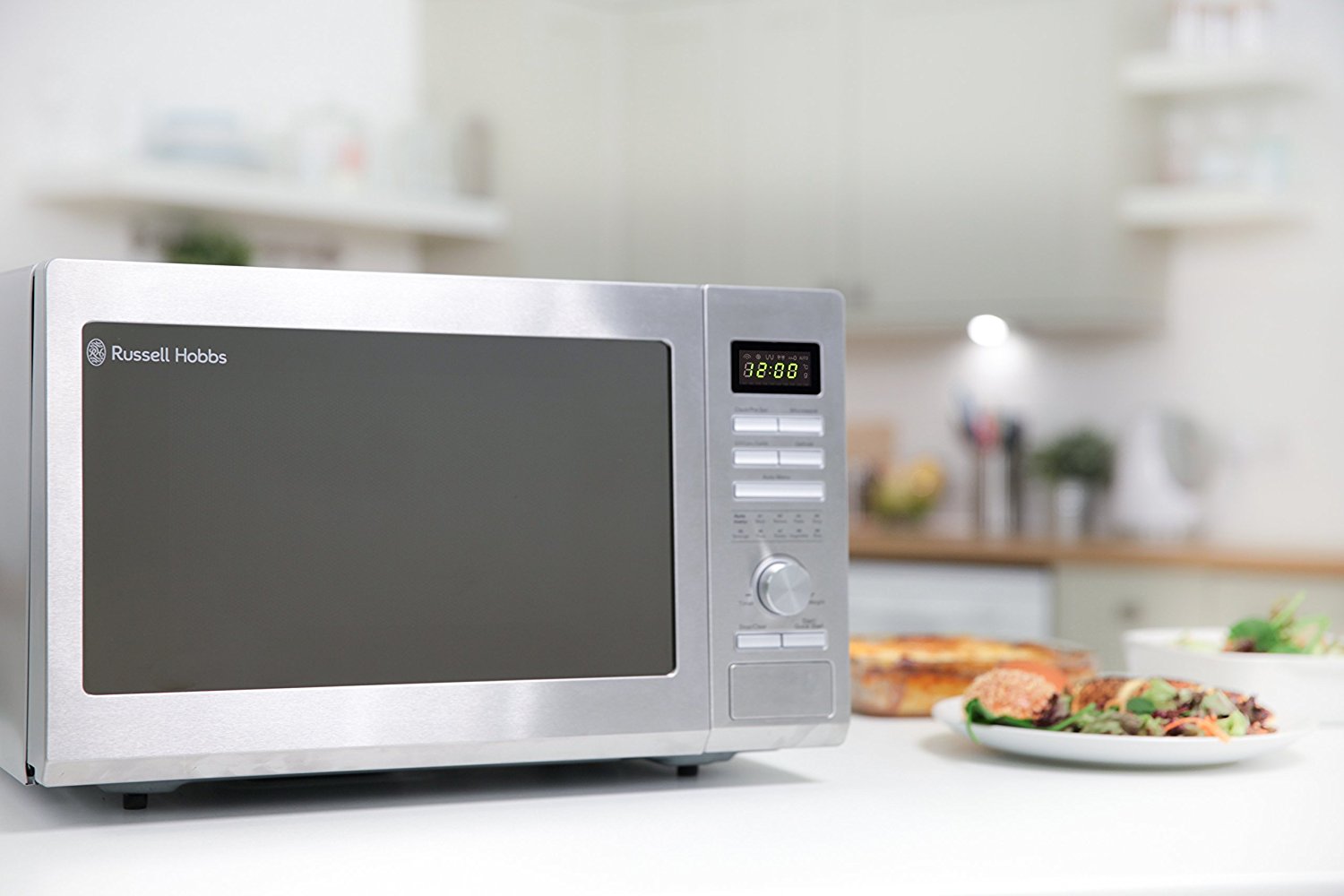 Design
There's nothing particularly interesting or unique about the design of the RHM3002, although it's a stylish model. It's built with a typical stainless steel exterior, along with a variety of buttons and a selection knob for adjusting cooking settings. We think the model will fit in nicely into almost any style of kitchen, although the shiny finish is likely to show fingermarks if not cleaned regularly.
As you would expect from a microwave with such a spacious interior, the dimensions are quite bulky. It's around half a metre wide, so keep this in mind when planning whether you have enough work-surface space.
For a quick overview of what the model looks like in a kitchen, check out the video below:
Cooking Power
The most important feature of the RHM3002 is that it's a combination model. It comes with a fan-assisted convection oven, powerful grill and regular microwave, making it highly versatile and able to cook a wide range of foods.
The microwave function is 900W, providing fast and effective cooking performance. This, combined with the 1100W grill for browning and convection oven for roasting, allows you to cook a variety of food types just like you would in a regular oven.
While most people won't replace their regular oven with a microwave, models like the RHM3002 are great if you never quite have enough cooking space.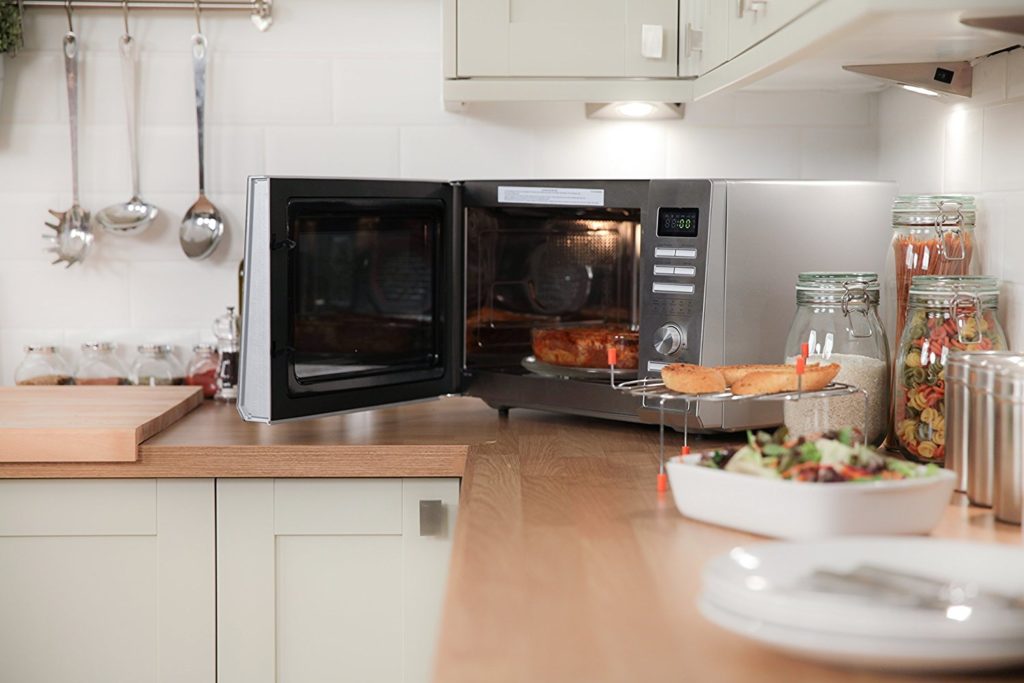 Convenience Features
With a 30 litre capacity, the model is capable of cooking a relatively large amount of food at once. This is great if you have a big family and need a microwave that supplements your primary oven – especially as the grill and convection oven allows you to use the model for genuine cooking instead of just reheating.
Aside from its size, the RHM3002 comes with many of the convenience features you would expect from a Russell Hobbs model. Ten power levels are included, giving you precise control over how your food cooks. The model also includes weight and time defrost settings, a child lock and ten automatic cook menus.
Value for Money
Russell Hobbs has quietly become one of the best manufacturers of microwaves sold in the UK, so it's no surprise that this combination model has become so popular. With an RRP of £174.99, we think the RHM3002 is fairly priced and provides decent value.
However, the microwave is often available for considerably less than the RRP. So if you can find a Russell Hobbs RHM3002 discount, we think it provides excellent value for money.
Selection of RHM3002 Reviews
We think comments from buyers who have used the model extensively are the best way to judge a microwave. For that reason, we've summarised some positive and negative comments about the Russell Hobbs RHM3002 reviews below. Let's start with the good stuff:
A "true" convection oven that doesn't rely on the grill for roasting.
Convection oven preheats quickly compared to other combination models (a reviewer mentions heating to 220°C in around five minutes)
Simple to use despite the range of cooking options (especially as it comes with an excellent manual).
Large capacity allows for cooking large quantities.
Convection and microwave functions can be used in combination for efficient cooking.
Excellent value compared to other combination models on the market.
And now some negative comments:
The power lead is relatively short, so make sure you have space near a plug socket.
While the stainless steel finish will look attractive in any kitchen, fingermarks are likely to quickly start showing.
The mirror finish on the door can make it difficult to see inside when cooking.
Grill isn't as quick to heat up as the convection oven.
The plastic feet on the microwave don't prevent the model moving on surfaces with low friction.
Conclusion
The Russell Hobbs RHM3002 is a true combination model, with a fan-assisted convection oven, powerful grill and 900W microwave. It has an attractive stainless steel design, along with a large 30 litre interior capacity for cooking plenty of food.
While there are some minor drawbacks – the short power lead and slow-heating grill in particular – this is an excellent model that's great if you have a large family. Click here to view the price of this model.
Review Summary
Product:
Russell Hobbs RHM3002 Microwave
Written by:
MicrowaveReview.co.uk
Date Published: 10/21/2016