Best Microwave Steamer – Which Food Steamer for Vegetables, Fish or Rice?
In this article, we've listed what we think are the best microwave steamers. We've chosen a mixture of vegetable, fish and rice steamers, so there's something for everyone.
Which are the Best Microwave Steamers?
1. Best Microwave Vegetable Steamer: Sistema Medium Steamer
Our favourite microwave steamer for vegetables is the Sistema Medium. Sistema are probably the most popular manufacturer for this type of kitchen utensil, and their Medium Steamer is a simple yet elegant product. It's also versatile, as it can cook vegetables, poultry and fish.
The Sistema Microwave range, which includes the Medium Steamer, is able to conveniently cook vegetables and other foods while retaining texture, flavour and colour. And with dimensions of 20.9 x 20.9 x 10.5 cm (W x L x H), it should fit even the smallest microwaves.
A handy feature of this product is the removable basket. This holds the food when cooking, but the central stalk doesn't heat up during the microwaving process, so it's easy to remove once finished.
The Sistema is a great all round steamer. It's versatile and convenient, making it much easier to get your portions of veg each day.
2. Best Microwave Rice Steamer: Kitchen Kraft KCRICECOOK
If you want to cook rice, you'll need a rice steamer. A rice cooker, as they are also known, makes it easy to cook rice quickly and without needing to worry about pots and pans. There are a few high-quality rice steamers on the market, but our favourite is made by Kitchen Kraft.
The KCRICECOOK might not have the most memorable name, but it's a well-designed product for rice cooking. It's designed to circulate air in order to cook evenly, while also retaining moisture for tasty rice.
Included in the package is a vented cover, spoon, measuring cup and base container. The rice cooker is also suitable for freezing or washing in the dishwasher.
Most importantly, the KCRICECOOK produces excellent rice in rapid time. The key is to make sure you use the right amount of water though. If you have a 900W microwave, our recommendation is to use a ratio of 1.5/1 water to rice. Then microwave on full power for around seven minutes. For different powers, adjust the time accordingly.
The Kitchen Kraft is a great microwave rice steamer that's available for a very reasonable price. It's not as versatile as other steamers, but for rice it's our top pick.
3. Best Microwave Fish Steamer: Sistema Large Plate with Steaming Tray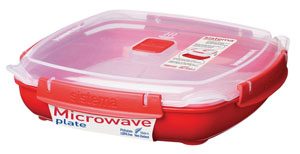 While the Sistema Medium Microwave Steamer can cook fish, we recommended getting the Sistema Large Plate for this task. It has a wider and thinner design, and comes with a rack for steaming fish or other foods.
Like other Sistema microwave steamers, the Large Plate comes with "cool" tabs for lifting and removing the steaming tray. This makes it easy remove the food after cooking.
An additional feature of the Large Plate is its steam release vent. This allows you to cook without splattering the inside of your microwave. It's also designed to be free from BPA and Phthalate.
The Large Plate is a great option if you want to cook fish in a microwave. It's durable, easy to use and the "cool" tabs make it easy to remove the fish once finished.
How to Steam Vegetables

One of the most common uses of a microwave steamer is to quickly cook vegetables. This saves on washing up and is faster than boiling on the hob.
In most cases, cooking a vegetable such as broccoli is just a matter of selecting the right cooking time. This is often a matter of trial and error, but can be affected by the power of the microwave, whether the vegetables are frozen, the type of vegetable (including the size and thickness) and the amount of water you're using.
For most people, microwaving for around two minutes on full power should be enough for a single portion of fresh vegetables. If in doubt, use a shorter time, as once a vegetable is overcooked it loses a lot of its appeal.
Advantages to Steam Cooking Vegetables in a Microwave
Some people feel steam cooking in a microwave is "cheating" or somehow not "real" cooking. Whether they are right or not, there are a number of advantages to microwaving your veg. These include:
Microwaving cuts down on the number of pans you need to use when cooking.
It's as healthy (or possibly even healthier) than other methods of cooking.
Vegetables cook much faster in the microwave than they do on the hob.
Is Microwave Steaming Healthy?
Yes! In fact, cooking vegetables in a steamer may actually be healthier, as microwaving can make certain types of nutrient more easily available to your body.
There's a common myth that microwaving "destroys" more nutrients, but this isn't the case. All types of cooking, including using the hob, reduce the amount of certain vitamins (such as B vitamins), but the amount depends on how long the food is cooked for. Boiling vegetables is thought to leach more vitamins than any other method, so microwave steaming as actually a better option.
It's also worth pointing out that cooking also releases other nutrients that wouldn't otherwise be available. Steaming spinach, asparagus, cabbage, carrots and other vegetables, for example, has been shown to increase the number of antioxidants available.
There's a caveat though. If you add too much water when steaming vegetables, you may effectively "boil" them. This can leach more nutrients than necessary and should be avoided.
Summary
Despite the myth that a microwave steamer "kills" nutrients, steaming is actually one of the fastest and healthiest ways to cook vegetables, fish and other foods. There are some excellent microwave food steamers on the market, but we think the three listed in this article provide the best value.
Aside from the fast cooking and reduced washing up, the great thing about using a steamer is how cheap they are. Most have an RRP of less than £10, yet can save you time for years to come.
Do you have any questions about using a microwave steamer? Or do you have tips for how to use one effectively? Let us know in the comments!