Purple certainly isn't the most popular microwave colour, but it's one of the most exciting. Purple microwaves are often bold, modern and usually have a retro feel, making them the perfect addition to kitchens that need a bit of extra colour. All of our purple microwave reviews are listed below, complete with the best prices from brands such as Amazon and Co-op Electrical. All price comparisons are updated every 24 hours.


Who Should Buy a Purple Microwave?
It's safe to say that purple isn't a colour that suits everyone's tastes, and these microwaves certainly aren't suitable for every kitchen style. Purple microwaves are usually exciting and stylish, but probably won't look great in a traditionally styled kitchen.

For contemporary kitchens, however, a purple microwave could be the perfect choice. They are interesting, colourful and add a splash of excitement to the kitchen work surface that just isn't possible for a black or white microwave. Purple is also a useful colour for retro style kitchens.


Which Companies Manufacture Them?
There aren't too many companies that manufacture purple kitchen appliances, although Whirlpool, Daewoo and Russell Hobbs all have models available in this colour. Many microwaves have multiple colour schemes available, but purple is an uncommon option.

Keep checking back for the latest reviews, prices and deals on purple microwaves. We regularly add new appliances to the listings below.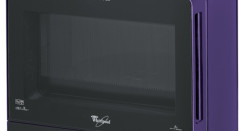 The Max 35 series isn't easy to find anymore, so if you need a 23 litre microwave consider the Russell Hobbs RHM2362S instead. Click here for the latest RHM2362S price. The Whirlpool Max 35 solo and steam purple microwave is one of the most eye catching appliances on the market at the moment. With...
Full Review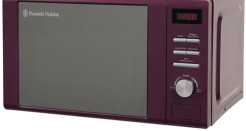 This Heritage microwave is difficult to find now, so for a 20 litre model we recommend the Russell Hobbs RHM2076SB instead. Click here to view the latest price for the RHM2076SB. The Russell Hobbs Heritage RHM2064P (purple) is a 20L capacity microwave with a surprising number of features for such a low...
Full Review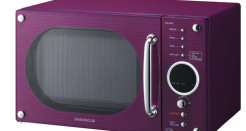 If you can't find the KOR6N9RP on shopping sites (it's quite rare these days), the Russell Hobbs RHM2076SB is probably the best 20 litre alternative. Click here for the price of the RHM2076SB. The Daewoo KOR6N9RP 20L purple microwave is one of the funkiest, craziest looking microwaves that we've ever reviewed. But...
Full Review