Our Top Rated Silver Microwave
The Russell Hobbs RHM2362S silver microwave is our top rated model in this category. It's stylish, got great features and also provides excellent value for money. Click the button below to find out what makes it such a popular microwave amongst buyers.
Along with black or white, Silver is probably the most popular microwave colour. While a large portion of silver microwaves follow the "classic" (and somewhat boring" microwave design, many also feature new and interesting designs. Stainless steel microwaves are also included in this category, and often have a sturdier and higher quality appearance.
Who Should Buy A Silver Microwave?
Silver microwaves are a popular option as the neutral style matches most kitchen decors. If you have a modern kitchen, or if you own other silver appliances, then a silver microwave is a good choice. There aren't too many situations where a silver microwave doesn't match an existing kitchen decor, but some people prefer a brighter colour such as purple, green or red.
There are a huge range of silver microwaves on the market, including built in, combination and solo models. This is one of the main advantages to choosing a popular colour such as silver – you have a much greater selection, allowing you to pick an appliance that comes with all the features you need.
Stainless steel microwaves are an excellent choice if you want a microwave with a higher quality appearance. These, like regular silver microwaves, will match most kitchen decors.
Nearly all appliance manufacturers produce silver microwaves, so you won't have any trouble finding a model from your favourite brand. Bosch, Panasonic and Kenwood are popular options.
We regularly review new silver microwaves, so make sure you bookmark this page and keep checking back for the latest models. Listed below are all the silver models we've reviewed so far, including price comparisons, product features and buy opinions.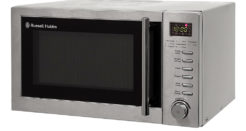 The Russell Hobbs RHM2048SS is a sleek stainless steel microwave from one of the UK's top manufacturers. But is it worth the money? How does its performance compare to other solo models? Let's find out in our RHM2048SS review. Russell Hobbs RHM2048SS Russell Hobbs RHM2048SS Overview of Features Professional design...
Full Review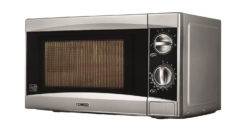 The Tower T24001 silver manual microwave is a solo model with 800W power, 20 litre interior capacity and a push button door. Its manufacturer isn't as well known as brands such as Russell Hobbs, but the model has received positive feedback from buyers. But does it live up to expectations?...
Full Review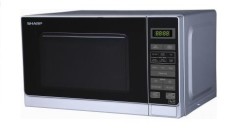 The Sharp R272SLM silver solo microwave is a medium size, relatively high powered model that's available for a reasonable price. But does it match other 20L microwaves in terms of features? And what do reviewers think of it? Keep reading to find out. Sharp R272SLM Sharp R272SLM Sharp...
Full Review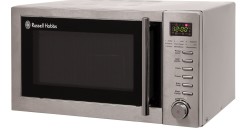 The Russell Hobbs RHM2031 is a grill microwave that's currently being sold for a very reasonable price. How does it compare to other grill microwaves though? And what features does it have? Keep reading our review to find out. Russell Hobbs RHM2031 Russell Hobbs RHM2031 Russell Hobbs RHM2031...
Full Review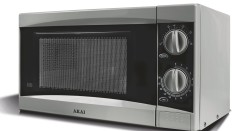 The Akai A24002 800W silver microwave is a relatively basic model with a low price to match. If you're looking for a cheap, reliable microwave, then on paper it looks like an excellent choice. But does it live up to expectations?  Keep reading this article to find out the Akai A24002's...
Full Review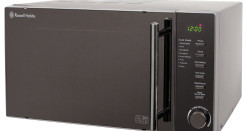 The Russell Hobbs RHM2017 silver microwave is undoubtedly a stylish model. But, more importantly, is it a microwave you can rely on? Is it worth the money – especially considering that it is marginally more expensive than other 20L solo microwaves? And what settings does it have? Keep reading to...
Full Review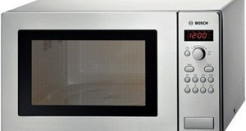 The Bosch HMT84M451B brushed steel freestanding microwave is a 25 litre model that can also be installed beneath a wall cupboard. It features an attractive and stylish design, spacious capacity and 900W microwave power output. Keep reading our Bosch HMT84M451B review for a more in-depth look at the microwave's...
Full Review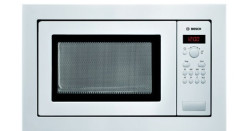 The Bosch HMT84M621B built in microwave is a 900W model with an interior capacity of 25L. It features an attractive and stylish front panel, along with a variety of power levels and auto cook programmes. Keep reading our Bosch HMT84M621B review for more information about the product, and also...
Full Review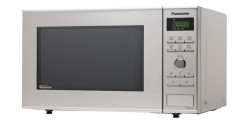 One of the most popular microwaves on review sites at the moment is the Panasonic NN-SD271SBPQ stainless steel microwave. It's a powerful model, with 950W power output and a capacity of 23 litres. In this Panasonic NN-SD271SBPQ review we'll go through the microwaves positive and negatives, and also discuss...
Full Review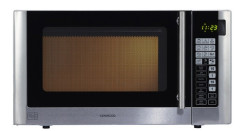 We now recommend the smaller but well-received Russell Hobbs RHM2031 if you need a grill microwave for your kitchen. Click here for its latest price. The Kenwood K30GSS12 microwave with grill is designed to be a powerful, spacious microwave that's perfect for large families. If you need a microwave with a large capacity...
Full Review