Which Are The Best Akai Microwaves in the UK?
If you're looking for a mid-range microwave oven, you may have come across Akai microwaves. Does this brand produce high-quality appliances? And which are their best models? Keep reading to find out.
A manufacturer that often slips under the radar when looking for a new microwave is Akai. While the company doesn't have the brand recognition of many of its competitors (at least in the UK), they produce a range of decent microwaves that are often reasonably priced. The company also has several retro-style microwaves that are worth looking at if this is a style you're interested in.
All Akai microwaves currently on the market use the same naming system. The name starts with A2400, and is followed by a digit for the model number and letters indicating the colour. The Akai A240006C, for example, is a retro microwave with a cream colour scheme. This naming system can be confusing at first, as it's difficult to tell the difference between models at first glance.
As far as we know, all Akai microwave ovens are solo models – although they produce both digital and manual options. There isn't a difference in naming convention between manual and digital microwaves, so you need to look at each models' specifications.
Are Akai appliances worth buying though? We think the company sells microwaves that you should consider, although none stand-out as being the "best" in a particular category. The models are usually fairly cheap though and have received strong reviews from buyers on shopping sites.
Who Are Akai?
Akai is a large electronics brand that's based on Japan (although the headquarters are currently located in Singapore). The company produces a range of products, including home appliances, professional audio products, televisions and many more.
Despite its current size, Akai is nowhere near as large as it once was. During the 1990s the company had over 100,000 employees, but collapsed several years later due to huge debts.
Today, the company both manufacturers their own products and distributes other company's offerings. Their range of home appliances includes microwaves, air conditioners, ice makers, vacuum cleaners and dishwashers.
Akai Microwave Reviews
Listed below are all the currently available Akai microwaves we've reviewed so far. While this brand isn't as prolific as others, such as Panasonic or Morphy Richards, we'll be adding new models whenever we have a chance to review them.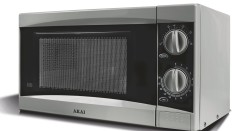 The Akai A24002 800W silver microwave is a relatively basic model with a low price to match. If you're looking for a cheap, reliable microwave, then on paper it looks like an excellent choice. But does it live up to expectations?  Keep reading this article to find out the Akai A24002's...
Full Review