Which are the Best Tower Microwaves?
If you're looking for a reliable mid-range microwave, a Tower model could be a good option. But which are the best Tower microwaves? And are there models you should avoid? Keep reading to find out!
Tower microwaves tend to be mid-range options in terms of price, size and features. The majority of their microwaves are solo models (both digital and manual) and are designed for basic reheating and cooking.
The designs of Tower microwaves tend to be standard for home appliances, with most being either black or white, so they probably aren't the best choice if you want a microwave that stands out. They have some interesting models though – including an air fryer, combi and grill microwave.
Who Are Tower?
Tower is a British brand that produces a range of kitchen appliances. Some of their most popular products include saucepans, pressure cookers and a variety of electrical items. With over 100 years of experience building kitchen products, Tower is known for their reliability and high-quality products.
As we mentioned, Tower appliances are typically mid-range when it comes to cost. They certainly aren't the cheapest on the market, but provide excellent value. Many have also been highly rated by buyers, which we think is an important metric when judging the quality of a brand.
The company produces a range of microwaves. Most are around 20-23 litres with 800W power output. This is even true for their combination microwaves, so the company might be a good choice if you want a combi without spending too much money.
All Tower Microwave Reviews
Listed below are all our in-depth reviews of Tower microwaves. We're regularly adding new models, so make sure you check back if the microwave you're looking at hasn't been reviewed yet.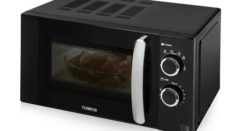 At first glance, the Tower T24009 manual black microwave is an attractive model for a very reasonable price. It's also received many positive reviews from buyers. But how does the microwave perform on everyday tasks? And does it have any drawbacks? Let's find out in our Tower T24009 review. Tower T24009...
Full Review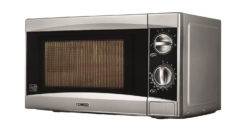 The Tower T24001 silver manual microwave is a solo model with 800W power, 20 litre interior capacity and a push button door. Its manufacturer isn't as well known as brands such as Russell Hobbs, but the model has received positive feedback from buyers. But does it live up to expectations?...
Full Review