The Russell Hobbs RHM2048SS is a sleek stainless steel microwave from one of the UK's top manufacturers. But is it worth the money? How does its performance compare to other solo models? Let's find out in our RHM2048SS review.
Overview of Features
Professional design with stainless steel exterior (see other silver models here)
20 litre interior capacity that fits medium sized dinner plates
800W microwave power for even and fast cooking, reheating and defrosting
Automatic defrost mode
Automatic cooking menus for foods such as popcorn, fish and reheating pizza
Five power levels for more control over your cooking
Child lock for increased safety
Removable glass turn-table to make cleaning simple and quick
Dimensions: 50cm x 41cm x 30cm
In-Depth Review
Design
The Russell Hobbs RHM2048SS is clearly a model designed to have a classy, timeless appeal. With its stainless steel exterior, simple front panel and silver handle, it doesn't rely on gimmicky colours and it certainly doesn't have a retro style. This may not appeal to everyone, but is perfect if you want a microwave that looks professional and sleek whilst blending into the rest of the kitchen.
Additionally, Russell Hobbs has designed the control panel to be simple to use without sacrificing features or settings. There are six buttons, allowing you to select the power level, auto cook menu, weight defrost, clock, presets and stop the microwave in mid-sequence. The time or weight (depending on the mode) is set using a dial at the bottom of the microwave. There is also a handy key for selecting the correct food when defrosting or using the auto cook menus.
Cooking Power
When it comes to cooking speed, the RHM2048SS is very much "average" with its 800W power output (click here for other 800W microwaves). This isn't a bad thing, as 800W is more than enough to cook most meals quickly and evenly.
As we mentioned, the RHM2048SS also comes with five power levels. These allow you to tailor the cooking speed to the type of food.
Convenience Features
One of the best features of the Russell Hobbs RHM2048SS microwave is the automatic defrost mode. To use this, you simply set the weight of the food before selecting the correct type. The model then calculates the best amount of time to defrost.
Other features include automatic cook menus, for foods such as fish, popcorn and reheating pizza, as well as a count-down timer and digital clock. For extra safety, the model also has a child lock, so little ones can't open the door.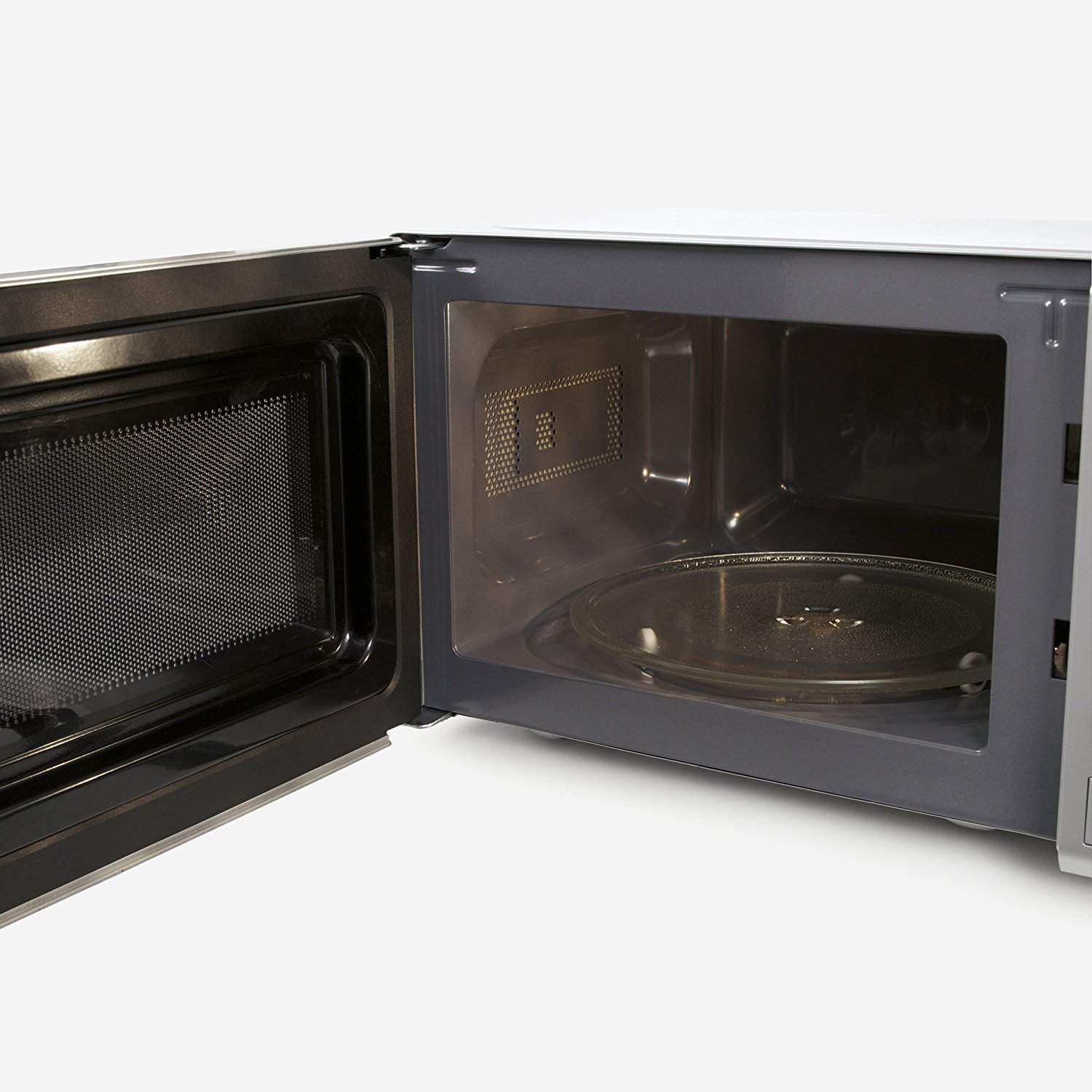 Value for Money
The RHM2048SS has proved to be a popular model, and we think this is largely due to its very reasonable price. While prices change continuously online, we found it for £65 at the time of writing. Considering the model has a sleek stainless steel exterior, 800W power and a variety of useful features, we think it provides great value for money.
Selection of Russell Hobbs RHM2048SS Review Quotes
The Russell Hobbs RHM2048SS stainless steel microwave has received strong reviews on shopping sites, with many buyers praising the machine. Here's a selection of positive comments:
Cooks food without fuss and is great for simple tasks such as microwavable meals.
Stainless steel design looks good in the kitchen.
Simple to use the various functions (although display can sometimes be difficult to read in direct sunlight).
Not too big (20L capacity) which leaves plenty of room for other appliances.
There are, however, some negative comments from buyers:
The interior is only 18cm tall, according to one reviewer, which may be too small for a microwaveable rice.
One reviewer complains that the microwave seems to cook slower than her 750W previous model.
Conclusion
As you may have gathered from this review, there's nothing that really makes the Russell Hobbs RHM2048SS stainless steel microwave stand out – but that's not necessarily a bad thing. If you're looking for a simple, straightforward solo microwave that does the job, and also want a stainless steel model, then it's an excellent choice.
Review Summary
Product:
Russell Hobbs RHM2048SS
Written by:
MicrowaveReview.co.uk
Date Published: 09/17/2015