Which are the Best 32 Litre Microwaves?
Are you looking for a microwave that's big enough to cook for an entire family? A 32 litre microwave could be the perfect choice! In this section, we've listed all our reviews of appliances with this internal cavity size.
When it comes to choosing a microwave, the cavity size is one of the most important decisions. Too small and you won't be able to cook the quantity of food you need – especially if you are cooking for multiple people. Too large and the microwave may not fit your kitchen or take up too much work surface space.
For people with a medium-size family, a 32 litre microwave is an option to consider. These models typically have average external dimensions, yet the cavity is able to handle large dinner plates or dishes. There are also both solo and combination microwaves available with this size.
Unfortunately, there currently aren't many brands manufacturing 32 litre microwaves. The most popular is probably Panasonic – although it's often hard to keep up with the models produced by this brand as there are so many! Even so, if you're looking for a large microwave but don't need a huge 40 litre model, the best microwaves in this category can do a great job.
Don't get too fixated on the size though. While 32 litres provides ample room for most dinner plates, the same could be said for microwaves with similar sizes (such as 31L models). It's more important to find an appliance that meets all your cooking requirements, budget and external dimensions rather than just focusing on internal cavity size.
Listed below are all the 32L models we've reviewed so far. Each review contains in-depth information about the product, including its features, performance and dimensions. We also rate each microwave out of 5 to help you make a quick decision.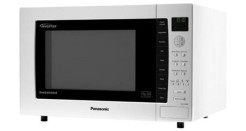 Most retailers no longer sell this model, but the Panasonic NN-CF778SBPQ is a 27 litre model that's a great alternative (although slightly smaller). Click here to see its price. The Panasonic NN-CT870WBPQ 32L white combination microwave is a powerful and attractive model that's designed for serious cooks. With 1000W microwave power...
Full Review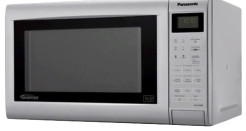 The Panasonic NN-ST452WBPQ white microwave oven is a stylish model with plenty of power and capacity. It's a solo microwave, so it doesn't come with a grill or convection oven, but its high power output means it's suitable for cooking large amounts of food quickly. Keep reading our Panasonic...
Full Review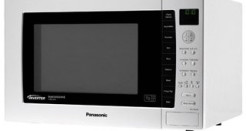 This model isn't available on most shopping sites anymore. Click here to see the price of the model we recommend instead – the Whirlpool Jet Chef. The Panasonic NN-CT857WBPQ 23L 1000W combination microwave is a powerful and large appliance. With an extra 5 litre capacity compared to the previously reviewed Panasonic NN-CF760M,...
Full Review