Which are the Best Swan Microwaves?
Do you want to buy a Swan microwave but don't know which is best model? Or is this the first you've heard of the brand and want to know more about the company? You've come to the right place! This page contains all our reviews of this brand, along with some information about the company.
Swan microwaves aren't as popular or well-known as other brands, but that doesn't mean they should be ignored. The company produces some interesting microwaves with styles that stand-out from the crowd.
One of the distinguishing features of most Swan microwaves is their retro design. If you're looking for an appliance that fits a retro kitchen, or just like the classic "American Diner" look, then a Swan could be the perfect choice. Most of their microwaves are manual solo models, although the interior capacity varies. The company also offer a wide range of colours, including lime green, cream, black and red.
Who Is Swan?
The brand name "Swan" was first registered towards the start of the 20th century by a company called Bulpitt & Sons Ltd. It was used to sell a range of domestic products such as kettles, jelly moulds and frying pans. The company was also the first to produce a kettle with an electric heating element – although it still took 9 minutes to boil!
Today, the company manufactures a range of different home products. Most are for the kitchen, such as coffee machines and microwaves, although they also manufacture fans and other products.
Latest Swan Microwave Reviews
Listed below are all the Swan models we've reviewed so far. Whenever we review a new microwave from this brand it'll be added to this list, so make sure you check back. If we haven't reviewed the product you're thinking of buying, contact us and we'll see what we can do!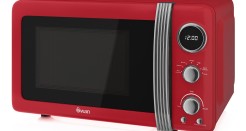 If you're looking for a microwave with more style than the average sleek design, then look no further! The Swan Retro is designed to bring back memories of days gone by – but that doesn't mean it's not a capable microwave too. Keep reading for more information about this...
Full Review