Which are the Best 13 Litre Microwaves?
If you have a small kitchen or a caravan, you probably don't want a bulky microwave taking up your work surface space. That's why a number of companies produce small or mini microwaves.
The smallest capacity we've seen from a home microwave is 13 litres – but which companies produce models in this size range? And do they have the power to cook food as effectively as larger appliances? Keep reading to find out.
Should You Buy a 13 Litre Appliance?
The answer depends on your requirements. If the most important factor to you when choosing a microwave is a small size, then a 13 litre capacity could be the perfect solution. Models with this capacity have a small footprint, making them great for kitchens where space is at a premium. They also tend to be cheap in comparison to larger microwaves.
There are a number of downsides to a 13 litre model though. The most important is lack of choice. There are very few models with this size on the market – especially since Whirlpool stopped producing the Whirlpool Max109. That's why we usually recommend a 14 litre or 17 litre alternative, as there are plenty more options in these categories.
Small microwaves also tend to be less powerful. Many have 600W power output, which means they cook food slower (and often less evenly). If you're looking for a microwave that can cook large meals quickly, a 13 litre model won't have the power to meet your requirements.
Most mini appliances also don't come with advanced features, such as automatic defrost modes or auto-cook programmes. This may not be a problem if you only need basic reheating and cooking, but is something to keep in mind.
Despite the lack of 13 litre microwaves on the market, we're always on the look-out for new and interesting models. All the microwaves with this capacity we've reviewed are listed below, so check back regularly to see if a new model has been released.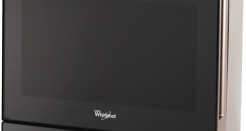 Very few places sell this microwave anymore – but if you're looking for a small microwave, the Daewoo QT1 is an excellent alternative. It's 14 litres and has a small profile (although no grill) – click here for the latest price for the QT1. The Whirlpool Max109 Limited Edition...
Full Review