The Daewoo KOR6N7RS 20L touch control microwave is an attractive, stainless steel model with a variety of features. These include an automatic defrost function, five microwave power levels and a "concave reflex system" (more on that later). In this Daewoo KOR6N7RS review we'll discuss the main selling points of the product along with reviewer's opinions.
Daewoo KOR6N7RS Features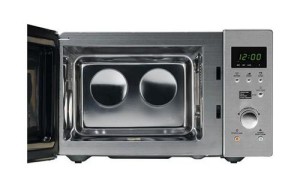 The first thing that strikes you about the Daewoo KOR6N7RS stainless steel microwave is its design. It's an undeniably attractive 20 litre model with a simple appearance. While it doesn't have the extravagance of the Daewoo KOR6N9RP or monstrous size of the Sharp R959SLMA, it's still a solo microwave that we think would suit most kitchens.
The microwave has all the features you'd expect from a mid range microwave, but has a relatively high price. There are cheaper options with similar features. Examples include the Panasonic NN-E281MMBPQ and Daewoo KOR6L6BD, which are both around £20 cheaper. On the other hand, having similar features doesn't always mean similar performance, so make sure you check out our review section below.
An interesting feature of the Daewoo KOR6N7RS is its "concave reflex system." While this sounds complicated, it effectively means that food is cooked more evenly and quickly. If you've ever had a microwave that cooks unevenly, you'll appreciate that the Daewoo KOR6N7RS's doesn't create cold spots in food.
Other features of the Daewoo KOR6N7RS solo microwave include a kitchen timer function, five microwave power levels, four different auto cook menus and an automatic defrost function. The KOR6N7RS also comes with a child lock for extra safety.
Overview of features:
Attractive stainless steel microwave
20L capacity, 800W
Concave reflex system for even cooking
Five microwave power levels
Four automatic cook menus
Automatic defrost
Kitchen timer
Daewoo KOR6N7RS Reviews
The Daewoo KOR6N7RS stainless steel microwave has received mainly positive reviews on shopping sites with a relatively high average rating. This puts it in the top tier of microwaves in terms of average review rating.
Let's start with positive comments about the microwave. One reviewer mentions that Daewoo have proven to be a dependable brand when it comes to microwaves, which is always important when buying any large appliance. It's a relatively small microwave, but reviewers think it's a good option if you're mainly going to use it for reheating or cooking small meals.
Reviewers are also impressed with the appearance of the microwave. The brushed stainless steel panel at the front, combined with the black top and sides, gives this model a sense of quality that other microwaves lack. If you need a professional looking microwave then the KOR6N7RS is definitely a good option.
Other positive comments include that the microwave is easy to use, has a clear and simple display and quiet operation. According to some reviewers the microwave tends to slide on the work surface, although this can be solved by using a mat.
Daewoo KOR6N7RS Overview
The Daewoo KOR6N7RS stainless steel 20L digital microwave appears to be a solid, dependable model. It doesn't have many extra features or settings, but for anyone who just wants a simple microwave it could be an excellent choice. It also looks fantastic, which is always a bonus!